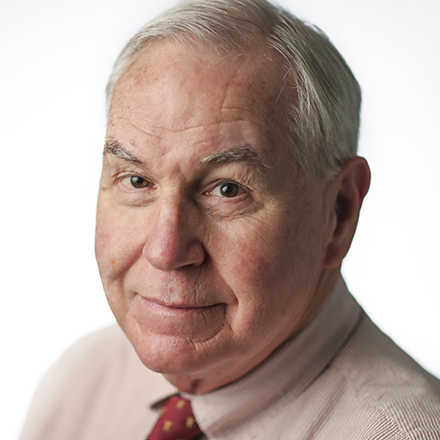 Michael Nelson
Michael Nelson is contributing editor and columnist for The Daily Memphian, the political analyst for WMC-TV, and the Fulmer professor of political science at Rhodes College. His latest books are "Trump: The First Two Years" and "The American Presidency: Origins and Development, 1776-2018."
Nelson: Ernest Withers – flawed but no less a hero
There's the civil rights movement we remember and memorialize. And then there's the civil rights movement as it really was.
The movement we remember is nowhere better presented than at the National Civil Rights Museum in Downtown Memphis. The heart of the museum is a chronologically organized tour of the era's high points from 1955 to 1968.
Whether in Montgomery, Little Rock, Greensboro, Oxford, Birmingham, Washington, Selma or Memphis, the tour unfolds like a series of morality plays. 
Bad guys – white sheriffs, state troopers, politicians, Klansmen, and, of course, an assassin – do their utmost to deny good guys – peaceful, praying, well-dressed, dignified, courageous African-Americans – their basic rights as human beings and as citizens of the United States.
Over time, event by event, the good guys win because they are good. In vivid display, we see Martin Luther King's words fulfilled. "The arc of the moral universe is long," he often said, "but it bends toward justice."                                  
King also knew that it was more complicated than that.
Surely every Memphian – and perhaps every American – remembers the "Mountaintop Speech" that King delivered at the Mason Temple on April 3, 1968, the night before he was assassinated.  
"I've been to the mountaintop ... ," King said, "and I've seen the Promised Land. I may not get there with you. But I want you to know that we as a people will get to the Promised Land."
How many of us remember King's earlier ruminations in that speech on what author Preston Lauterbach describes as "the dark side of humanity"?
"There are times that all of us know somehow that there is a Mr. Hyde and a Dr. Jekyll in us," King said. "And we end up having to cry out with Ovid, the Latin Poet, 'I see and approve the better things of life, but the evil things I do.'"
King's description of man's dual nature exactly describes Lauterbach's characterization of Ernest Withers in his new book "Bluff City: The Secret Life of Photographer Ernest Withers." Just as it does Marc Perrusquia's "A Spy in Canaan: How the FBI Used a Famous Photographer to Infiltrate the Civil Rights Movement," which was published in 2017.
Who was Ernest Withers and why is he suddenly the subject of two books, each of which has drawn national attention?
Withers was a working Memphis photographer who made his living by shooting weddings, family portraits, graduation ceremonies, nightclub revelers, Negro League ballplayers, and just about everything else that sat or moved on Beale Street and in every other part of town where African-American Memphians lived, worked, played and prayed.
Not many knew it at the time, back when history was still defined as the public actions of white male politicians, but through the sheer accumulation of images – about a million of them – Withers was using his camera to write a social history of black Memphis. 
Even more than his extraordinary photographs of Moses ­­­­­­­Wright pointing from the witness stand at Emmitt Till's murderers, of King riding in the front of the bus after the Montgomery campaign was won, of the Little Rock Nine as they integrated Central High School in the face of an angry white mob, and of two young musicians named Elvis and B.B., it's the images of Memphians celebrating the pleasures of everyday life that still make the trip to the Withers Collection Museum & Gallery at 333 Beale Street especially worthwhile.
And then there is Withers' most famous work of all: his March 28, 1968, photograph of rows of Sunday-best-attired sanitation workers marching side by side carrying picket signs reading: "I AM A MAN."
Signs that were attached to 4-foot-long, two-by-two wooden sticks – a first in the series of marches by striking sanitation workers that began six weeks earlier.
Sticks that – with the signs ripped off – were used by rowdy kids to smash store windows that "small-time shoplifters and thieves in the Beale Street area" then ran through to steal the stores' contents.
Sticks that – used in this way – made the march the first ever led by King that "turned violent from within."
Violence that in turn made King feel obligated to come back to Memphis a week later to prove he was capable of leading a peaceful march that would draw attention to the plight of the workers.
Withers provided the sticks. With help, he bought the lumber, cut it, and affixed the signs to the wood.
Not, I think, because in his work as an informant for the FBI Withers wanted the march to become violent. But rather because he wanted the kind of dramatic photograph that rows of signs on sticks would – and did – provide.
"I think we need to embrace him for all he was ... ," Lauterbach writes. "We can't simply drop people, great people especially, who don't fit our standards of purity."
That includes the FBI informant who, thanks to Perrusquia's persistent and superb reporting, we know Withers was. It even includes the functionary in corrupt Tennessee Gov. Ray Blanton's organization who 10 years after the Memphis march "helped make arrangements to have a prisoner released from the state penitentiary in exchange for money in a cash-for-clemency scheme." Withers was that as well.
Why did Withers lead the life he led? For the same complex set of reasons that make most of us the admixture of good, bad and indifferent that, as King pointed out, we are.
For the money. For the thrill. For the satisfaction of helping a federal law enforcement agency that, rightly or wrongly, he thought did more good than harm for his community. And for the opportunity to tell the FBI that some of its assumptions – that the Nation of Islam was all bad, for example – were off the mark.
Nor was talking to the FBI unusual in the black community. As Lauterbach points out, all of the Memphians who led what was then the largest NAACP chapter in the South did so.
Much of the satisfaction of reading Lauterbach's "Bluff City" and Perrusquia's "A Spy in Canaan" comes from seeing that the path of progress toward civil rights was made bumpy by flawed human beings.
It's inspiring in a way that the standard narrative isn't. If everything and everyone back then were perfect, then our imperfections must indicate some incapacity in our generation to measure up.
But if everything wasn't perfect – and it wasn't – then it should make us more accepting of our own flaws and more confident in our ability to surmount them. Yes, King said, there's a Mr. Hyde in all of us. But that's no reason for the Dr. Jekyll we also are to give way to despair.
As King suggested, the Promised Land that awaits does not depend on our being perfect, but rather on our striving for perfection in full awareness of our imperfections.
Like King, we may not get there. But like King, too, our "eyes have seen the glory of the coming of the Lord." Sometimes, even often, through the lens of Ernest Withers' camera.
---