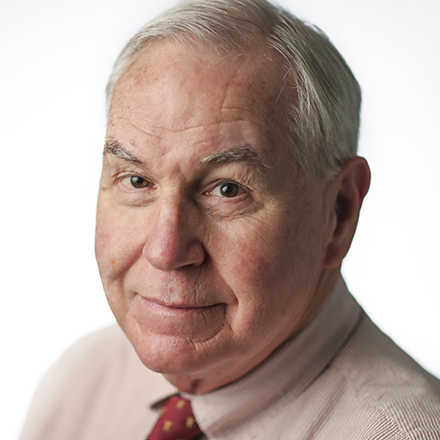 Michael Nelson
Michael Nelson is contributing editor and columnist for The Daily Memphian, the political analyst for WMC-TV, and the Fulmer professor of political science at Rhodes College. His latest books are "Trump: The First Two Years" and "The American Presidency: Origins and Development, 1776-2018."
Nelson: For Paul Manafort and Roger Stone, it all started in Memphis
People blame Memphis for all sorts of things. I know that to be true, having lived in Nashville some years ago.
But blame us for Paul Manafort and Roger Stone?
Well, kind of, at least indirectly.
Manafort is the former Donald Trump campaign manager who awaits sentencing in northern Virginia on March 8 on eight felony counts of bank and tax fraud and in Washington five days after that for conspiracy and lying to federal prosecutors and a grand jury.
Stone is the longtime Trump associate – he started promoting him for president in 1987 – who is awaiting trial for witness tampering, lying to Congress and obstruction of justice.  Among other things, Stone reportedly emailed another witness instructing him to "do a Frank Pentangeli."  "Frankie Five Angels" was the gangster in "Godfather II" who lied in his own congressional testimony.
Both Manafort and Stone are in their late 60s and may be facing what amounts to life sentences. But in June 1977 they were young, politically ambitious, and determined to advance their careers by coming to Memphis. 
The occasion was the Young Republican National Convention, which took place at the old Rivermont Hotel (now condos) on the south bluff at West Georgia and Riverside.   
Stone, who at age 21 was the youngest person to be summoned by the grand jury in the Watergate scandal, was running for national YR president. 
Stone's claim to notoriety was that when President Richard Nixon was seeking re-election in 1972, young Roger posed as the leader of the Young Socialist Alliance, handed a jar of money to an aide to Rep. Pete McCloskey, who was challenging Nixon in the New Hampshire primary, and got a receipt.  Stone leaked the receipt to the Manchester Union-Leader, which gleefully lampooned McCloskey as a left-wing dupe. Not a crime, but definitely a dirty trick.
By 1977, Stone was 25. Manafort, three years older, was his campaign manager at the YR convention.
The convention was in Memphis because Don Sundquist, before relocating here from Illinois, was YR national president from 1971 to 1973. Once in town, he soon became chair of the Shelby County Republican Party. A rising star in the local GOP, Sundquist was elected to Congress from the seventh district in 1982 and to the first of two terms as Tennessee governor in 1994. 
The Young Republicans aren't nearly as big a deal now as they once were. But in 1977, when many of the delegates to the national GOP convention that chose the party's nominee for president were still selected in local party caucuses rather than primaries, it was worth a lot for a candidate to have the support of youthful and energetic activists who were willing to go door to door and sit through six-hour meetings in church basements.
Stone and Manafort were eager to lead the Young Republicans to the right in anticipation of Ronald Reagan's candidacy in 1980. As heads of the faction known to YR insiders as "The Team," their ambitions were a source of controversy in national Republican circles. Rowland Evans and Robert Novak, the nation's most influential political columnists at the time, wrote, "Even Republicans too insensitive to worry about the impact of Roger Stone's past are getting frightened about Roger Stone's future."
As for Manafort, he already had developed "a remarkable skill for managing a gathering of great size," according to Franklin Foer in a recent Atlantic Monthly profile. "He knew how to command an army of loyalists, who took his orders via walkie-talkie. And he knew how to put on a show. In Memphis that year, he rented a Mississippi River paddleboat for a booze cruise and dispatched his whips to work over wavering delegates within its floating confines." Manafort even had files on every delegate.
It was perhaps not surprising, then, that Evans and Novak also described YR conventions as the place "where mice learned how to become rats."
Stone was opposed for president by Rich Evans of Owensboro, Kentucky, who represented the substantial moderate wing of the Republican Party back when there was such a thing.
After several bruising credentials fights went Stone's way (three competing delegations from California alone claimed the right to be seated), Evans led a walkout involving about 300 of the roughly 800 delegates.
The Republicans' rumble on the river drew national attention. Walter Cronkite told viewers of the June 10 edition of the CBS Evening News, "Delegates to the Young Republican convention in Memphis have chosen as their chairman a conservative with a Watergate past. ... Opponents of Stone contend that his election is part of a move by political conservative activists to take over the Republican Party."
Recently reflecting on the convention, Morgan Pehme, the co-director of a 2017 Netflix documentary called "Get Me Roger Stone," told the NPR program "Fresh Air" that instead of acting shamefaced about his modest role in Watergate, Stone embraced it – "this gave him street cred so that he could move up. ...  Manafort and Stone were able to take over the party and to drive their agenda through the national Young Republicans. And they ended up using the Young Republicans as a vehicle to change the trajectory of the Republican Party for grown-ups as well."
Manafort and Stone parlayed their control of the well-funded Young Republican National Federation into jobs in Reagan's successful 1980 campaign to unseat President Jimmy Carter.
Equally important was their role in that year's Senate elections, in which the Republicans won control of the upper house for the first time in a quarter century.  Stone and Manafort took advantage of recent changes in federal campaign finance laws that allowed NCPAC – the National Conservative Political Action Committee – to run negative ads against re-election-seeking Democratic senators. 
NCPAC, which they had helped to found, was the first political action committee to realize that although donations to candidates were now legally limited to just $1,000, donations to groups that operate independently on behalf of those candidates were not limited at all.
Successful in every way in 1980, Stone and Manafort joined with another Reagan operative, Charlie Black, to found the new Washington political firm of Black, Manafort and Stone. Unlike previous firms, this one both worked to elect candidates and then lobbied them after they took office. "What we were doing," Manafort told Pehme, "was trying to use our relationships that we had built up first through the YRs and then through NCPAC." 
The well-connected Black, Manafort and Stone firm attracted a variety of clients but gained a reputation for representing foreign governments of a particular kind, including regimes headed by the likes of Ferdinand Marcos in the Philippines and Mobutu Sese Seko in Zaire. The line it sold to the Reagan administration and Senate Republicans was that these dictators should be supported because they were staunchly anti-communist. Black, Manafort and Stone became known as the "Torturers' lobby."
Manafort, of course, continued to specialize in representing international bad guys.  Notoriously, in recent years he worked on behalf of the pro-Russian faction in the Ukraine, gladdening the heart of Vladimir Putin.
As for Stone, he tied himself ever more closely to Trump, whom he said represents "the anti-elitism that was first identified by Richard Nixon, mined by Ronald Reagan, and now Donald Trump."
"The best part," Stone told Pehme, "is that he's just kicking the political establishment in the balls."
Trump ended up firing both Manafort and Stone from his 2016 campaign (Stone claims he quit) because he didn't like sharing the media spotlight with the publicity-hungry duo. But along the way both men did things that got them into serious trouble with the law.
And it all started in Memphis.
---