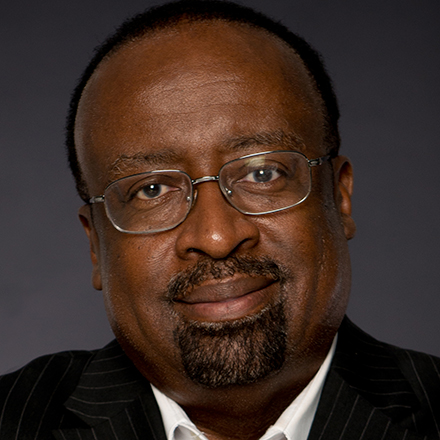 Otis Sanford
Otis Sanford holds the Hardin Chair of Excellence in Journalism and Strategic Media at the University of Memphis and is the political analyst and commentator for WATN Local 24. Contact him at 901-678-3669 or at o.sanford@memphis.edu. Follow him on Twitter @otissanford.
Sanford: Three ways of doing business in mayor's race
If Memphis Mayor Jim Strickland is experiencing stress over a looming battle to win a second term in office, he's not showing it. At least not publicly.
Strickland is just as approachable and jovial as ever, despite a recent, highly-publicized "screw-up" – the administration's term, not mine – over the percentage of city business going to minority and women-owned companies.
The mayor committed the error during his State of the City speech Jan. 28 at the Whitehaven Country Club. Minority and women-owned businesses got 12 percent of city contracts in 2015, the year Strickland was elected, he said. For fiscal year 2018, that figure doubled to 24 percent.
The cadence Strickland used in announcing the impressive percentage increase made it obvious that this would be a signature accomplishment on which to fuel a strong reelection campaign.
Except, as we now know, the numbers were wrong. Thanks to solid watchdog reporting by the Memphis Business Journal, we learned last week that city officials failed to include $154 million in city contracts awarded during fiscal year 2018, of which about $19 million went to minority firms.
That dropped the percentage from 24 percent to 17.6 percent, which actually represented a decrease in minority contracting from 21 percent recorded in 2017. City spokesman Dan Springer was quoted in The Commercial Appeal's 901 column as calling the error a "screw-up."
The description was appropriate, but not fatal. The mayor immediately owned the mistake. But he was justified in continuing to tout a significant increase in city contracting to minority and women-owned companies, even though there remains lots more work to be done.
So there was Strickland at high noon Tuesday glad-handing and greeting a receptive audience at the Memphis Rotary Club in his first major speech since the error came to light.
During his talk, Strickland repeated much of the boilerplate language from his State of the City address, including the jump in minority contracting. But this time, he smartly omitted numbers. Racial and gender diversity in city contracting is up, and that's a good thing for everyone.
"Memphis has momentum," Strickland said, reciting his 2019 campaign theme. He later added, "My job as mayor is to not just celebrate our successes, but to be clear-eyed about our challenges."
And with that, the campaign's first faux pas seemed to be over – unless of course his two major challengers, former mayor Willie Herenton and Shelby County Commissioner Tami Sawyer, try to keep it an issue going forward.
This much is clear. The 2019 mayor's race is shaping up as a three-way contest representing the past, present and, perhaps, future of city politics. Herenton, who was elected mayor five consecutive times starting in 1991, told The New Tri-State Defender last week he is running to complete an incomplete agenda.
In a startling bit of candor, Herenton told the newspaper he felt he needed to resign in 2009 amid a federal investigation into a questionable real estate deal.
The investigation, which resulted in no criminal charges, "weighed very heavily on my family and my ability to perform my duties as a mayor in the manner that I wanted to do," he told The Defender. "To make a long story short, I left before completing the agenda."
As for Sawyer, her agenda is to take Memphis in a different direction that focuses on people at the lower rung of the economic ladder.
Sawyer's grassroots activism propelled her to a seat on the county commission last year. But after just six months in that role, she is looking to energize enough young voters and disaffected Memphians to overtake Herenton as the most viable alternative to Strickland.
"By 2030, economists anticipate that black wealth will be at net zero dollars," Sawyer told The Daily Memphian in a podcast interview earlier this month. "That means there will be more debt in the black community than there will be assets. And if that's 2030 across America, imagine when that will be in Memphis.
"Those are the type of things that I looked at when I said we don't have four or five years for basic leadership. What we need now is someone who's going to look at the fact that we are underserving too many Memphians of all identities."
The challenge for Sawyer, however, is convincing voters beyond her core constituency that she is prepared to replace Strickland in the mayor's office, while also fending off criticism from older Memphians that she has not spent enough time working in the trenches.
Herenton, in The New Tri-State Defender interview, appeared to take a subtle swipe at Sawyer – without naming her – when he said today's "so-called activists" don't know "a damned thing about activism.
"We were real activists," said the former mayor, adding that he marched with Dr. Martin Luther King Jr. and risked his job as a school principal by participating in the famous Black Monday protests of Memphis City Schools in 1969. "I put everything on the line when I was very young," he said.
With that kind of rhetoric, Herenton appears to be signaling that he intends to be tougher on Sawyer than on Strickland. All of which could serve to benefit the incumbent as he shows little evidence of a candidate under stress.
So with less than seven months remaining before the city election, the campaign themes are beginning to form. For Herenton, it's unfinished business. For Sawyer, it's new business. And for Strickland, it's taking care of business.
It all promises to be interesting. And, for political observers at least, a lot of fun.
---