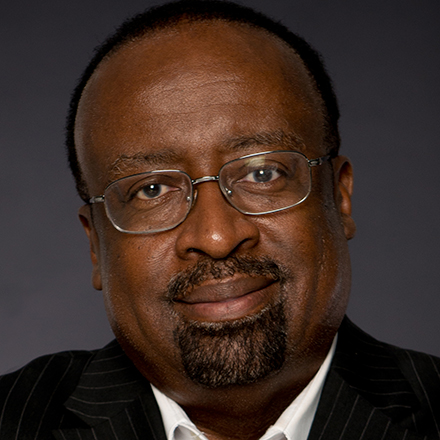 Otis Sanford
Otis Sanford holds the Hardin Chair of Excellence in Journalism and Strategic Media at the University of Memphis and is the political analyst and commentator for WATN Local 24. Contact him at 901-678-3669 or at o.sanford@memphis.edu. Follow him on Twitter @otissanford.
Sanford: A Morehouse Man moves into leadership roles. Naturally.
Van Turner Jr. amassed a number of impressive titles within a relatively short time span. But at his core, Turner is a Morehouse Man.
That means, quite simply, that he is a scholarly, well-dressed man of distinction and influence who, according to the internet's Urban Dictionary, "charms everyone he meets."
Turner, now in his second term as a Shelby County commissioner, fully embraces the moniker, just as countless other influentials who attended the prestigious men's college in Atlanta did before him – Julian Bond, Maynard Jackson, federal Judge Odell Horton and, of course, Martin Luther King Jr.
And while Turner, 44, would not compare himself to any of those legends at this point in his life, it's clear he is charting his own leadership path – one that could take him to much higher ground in politics or even the judiciary.  
Though he proudly calls himself a Morehouse Man, Turner is far from haughty. Since graduating magna cum laude from Morehouse in 1997 and earning a law degree from the University of Tennessee College of Law in 2002, the Whitehaven High School alumnus has methodically worked to build a career in law, politics and public service.
He is a partner in the law firm of Bruce Turner PLLC and started his political climb in 2009 when he was elected chairman of the Shelby County Democratic Party, a position he held for four years.
In 2010, he actively supported Democrat Mike McWherter's failed campaign for Tennessee governor, and made a cameo appearance in one of McWherter's TV ads.
Then in 2014, Turner won the District 12 seat on the County Commission. But it was on the night of Dec. 20, 2017, that Turner's prominence took a giant leap. That was the night he, Memphis Mayor Jim Strickland and the City Council orchestrated the sale of two city parks to a recently-chartered nonprofit group called Memphis Greenspace, of which Turner is director and president.
Hours after the sale, Turner personally oversaw the dismantling of the statues of Confederate Gen. Nathan Bedford Forrest from Health Sciences Park and Confederate President Jefferson Davis from Fourth Bluff Park.
The history-altering transfer of public property to an upstart nonprofit group instantly transformed Turner from a relatively mild-mannered lawyer and county commissioner to a gutsy political and community leader willing to take the heat for removing from the city's landscape two giant symbols of slavery, oppression and racism.
Turner later told Inside Memphis Business that the monuments were put in the parks "to say to the African Americans in the city 'you're still second-class citizens.'"
He added, "If we pulled down the 'whites only' signs in public places, then why did we still have Confederate monuments up, which bolsters segregation? The remnants of segregation and Jim Crow Memphis that still survived in those public parks was a problem. Memphis is a great city and I think it can be even greater. It was just time to move forward and put the past in the past."
Turner now serves as commission chairman and is leading other governmental and public policy changes in a community that has always been his home. Late last year, he started pushing for more transparency and accountability in the awarding of tax incentives that are used to lure businesses to Memphis and stimulate new development.
And this week, he and his commission colleagues voted unanimously to partner with the city to offer universal need-based pre-kindergarten throughout Memphis and the county. The commission also approved by an 8-5 vote along party lines a resolution supporting a $15 minimum wage for all public sector employees in the county.
The pre-k vote, Turner said, was a no-brainer. "Quite honestly, it had such a broad range of support, that helped us move it forward." He credits corporate executive Kathy Buckman Gibson, a strong advocate of early childhood education, for working with the city and county on pre-k expansion.
As for the minimum-wage resolution, Turner says it was simply a case of the commission using its bully pulpit to send a message to other public-sector employers that a $15 salary is good for the community.
And yet, not one of the five Republicans on the 13-member commission voted in favor of the resolution. Vice chairman Mark Billingsley, a Republican, called it more show than substance.
"I'm not really big on resolutions that don't have teeth," said Billingsley, who also took an opposing stance from Turner last year over the hiring of former commissioner Julian Bolton as the commission's legal adviser. Billingsley said, however, those differences do not diminish his respect for Turner, whom he called "a trusted friend and colleague."
But it's the upcoming city mayor's election that could strain Turner's relationship with another commissioner from his own party. Freshman Tami Sawyer, who founded the TakeEmDown 901 movement to push for removal of the Confederate statues and who was elected to the commission last August, announced earlier this month that she will run for Memphis mayor in the October election.
Turner is supporting Strickland and says he will be actively involved in the campaign if he's asked. "I think Mayor Strickland has done a good job," Turner told me in an interview this week. "When it comes to incumbents, you have to ask, is there a reason to get rid of them." In this case, he says, the answer is no.
Turner is not the only African-American elected official supporting Strickland. But with his recent visibility, he just might be the most significant.
He points specifically to Strickland's efforts to hire more police officers and his appointment of Mike Rallings as police director. And while Strickland was wrong when he boasted that city contracts with minority and women-owned businesses had doubled since he took office, Turner still gives the mayor credit for increasing those percentages from 12 percent in 2015 to the current 18 percent.
In stark terms, Turner's support of Strickland means that the African-American chairman of the Shelby County Commission is openly favoring a white man for mayor over an African-American woman in Sawyer and an African-American man in former mayor Willie Herenton.
In Memphis, that can be a tough spot to be in, and Turner acknowledges that he has received some backlash for his decision, "but not the type of backlash you would have seen 20 years ago.
"Of course, there will be people who vote race. But there will also be people who vote on platform or how well (the incumbent) is running the city."
When I asked if he thinks Sawyer is qualified to be mayor, Turner gave a qualified yes. "She has just now become a commissioner. I believe she has the mental acumen in order to learn the job (of mayor) and the initiative to get it done."
But Turner said Sawyer is not as qualified as either Strickland or Herenton, "because one is doing the job and one has done the job before."
Finally, there is the question of Turner's own political ambitions. If Strickland wins reelection, he will be forced through term limits to leave that office in 2023. Turner said without hesitation that he is interested in seeking higher office, but it would be an issue of timing.
Billingsley, however, said he sees another path for Turner. "I envision him one day being a very powerful judge. Either way, I think he's got a bright future in leadership."
And leadership seems to be the operative word to describe Turner. What else would you expect from a Morehouse Man?
---