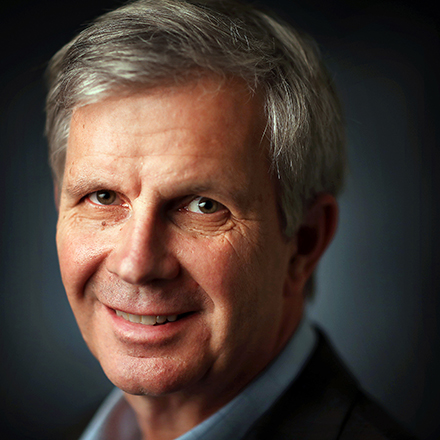 Geoff Calkins
Geoff Calkins has been chronicling Memphis and Memphis sports for more than two decades. He is host of "The Geoff Calkins Show" from 9-11 a.m. M-F on 92.9 FM. Calkins has been named the best sports columnist in the country five times by the Associated Press sports editors, but still figures his best columns are about the people who make Memphis what it is.
Calkins: What happens when you take your 98- and 94-year-old parents to Disney? Magic, of course
I was waiting at the Orlando airport when the text arrived. It was from my sister, Ellen, who was accompanying my parents on their flight to Orlando.
"We just landed," the text said. "Dad had an incident on the plane. He lost the ability to control his tongue. We will be the first off the plane and will be met by EMTs."
So what happens when you decide to take your 98- and 94-year-old parents to Disney?
The unexpected happens.
In all kinds of ways.
But you should know up front this story has a magical ending. It's a Disney story. Of course it does.
Mom's safari
The story begins in the big, red brick farmhouse in a small town outside Buffalo, N.Y., where I grew up as the eighth of the nine Calkins kids.
My mother, Virginia Calkins, actually carried 11 pregnancies to term. The first and third children were stillborn. Maybe that's why Mom kept having more. She's stubborn that way.
Mom became a doctor when that wasn't something many women did. She met my father – Evan Calkins, who is also a doctor – when she was a medical student at Johns Hopkins. But Mom's career was never her priority. She worked part-time at a psychiatric hospital so she could be home by the time we all piled off the school bus. When the state turned the psychiatric hospital into a prison, she cheerfully became a prison doctor.
Mom believed in letting us follow our interests, wherever they might lead. For my sister, Lucy, that meant getting a pet monkey. For me, that meant getting a pet raccoon. When I was diagnosed with leukemia in the third grade, Mom lugged a typewriter into the hospital every day so she could type up stories I would dictate. That's how my life as a storyteller began.
The house was always full, and not just with the nine of us. Mom arranged for three exchange students – one from the Netherlands, one from Switzerland, one from Costa Rica – to spend full years at our house. We took in three local kids for six months when their parents were killed in a car wreck. Dad would organize everyone to do farm chores on the weekends. We built a sheep house from scratch. We split logs for the kitchen wood stove.
My parents never belonged to a gym but never needed one to keep moving. Mom rode horses well into her 80s. Dad took care of patients until he was 92. But sometime in there, they got old. Mom can't do much of anything these days except read, which she does voraciously. She can't make a cup of coffee or go anywhere without a walker. She struggles to change her clothes. Dad is considerably more vigorous – he went sailing last summer and was not at all happy when he was forced to surrender his driver's license a year ago – but even he now walks with a cane, and lets someone else take care of our chickens when the snow gets too deep.
So one day, not long ago, Mom concluded she would probably never go on an African safari. This struck her as an opportunity lost. Mom was the one in charge of the Calkins menagerie, which at one point or another included horses, sheep, chickens, pigs, ducks, geese, a goat, a cow, a donkey, guinea pigs, rabbits, cats, a woodchuck and the aforementioned monkey and raccoon. And lots of poodles. Mom raised standard poodles since her childhood in Baltimore and trained her own dogs well enough that she would take them, off leash, into the hospital or the prison on rounds.
But it seemed too late for a safari. Until Erin – the woman who stops by the house every morning to help Mom and Dad get launched – offered a suggestion.
"Why don't you go to Animal Kingdom?" she said.
"Animal Kingdom?" said my mother.
"Yes, at Disney, it's just like a safari," Erin said. "You'll love it."
So it was that I found myself at the Orlando airport, waiting to take my 98- and 94-year-old parents to Disney for the first time. My plane landed half an hour before theirs. The plan was for me for meet them at the gate and we'd all go to the Animal Kingdom lodge. But halfway through their flight, my father realized he couldn't speak. He finally put together a garbled version of, "My tongue isn't working." Ellen gave him a baby aspirin and asked the flight attendants if it would be possible to radio ahead to alert the EMTs.
Fast pass
Travel agents told us if you're going to Disney, you should get the Fast Pass. As we raced through Orlando in the ambulance, it occurred to me that this wasn't exactly what the travel agents had in mind.
It was fast, certainly. I could hear the EMTs in the back, working on my father.
Q: "What year is it?"
(Long pause).
A: "2019."
Q: "Who is president?"
(Long pause)
A: "That darn Trump!"
Right then, I figured everything would be OK.
My father has always been a Democrat. Until recently – until Trump – my mother had always been a Republican. She was even a delegate to the Republican Convention in Kansas City, where Gerald Ford was nominated. I remember this because she came back with a cockatiel named "Gerry." We later added a cockatiel named "Jimmy" and the two of them got along fine.
The EMTs laughed at Dad's Trump line. But they didn't slow the ambulance at all. Dad was taken to the Orlando Regional Medical Center, where he started to explain the situation to the emergency room doctor this way: "My wife is very strong-minded. VERY strong-minded. And she got the idea that she wanted to go on a safari. So we are going to Disney. Don't tell anyone, but I have NO interest in going to Disney. NONE AT ALL."
This was true, by the way. Dad's only interest was in supporting my mother. He would have just as soon stayed home and worked on his latest book. But if Mom wanted to go to Disney, he would join her at Disney. That's what a 72-year marriage is all about.
We spent two nights at the Orlando Regional Medical Center. It was really quite a hoot. An MRI and a CT scan revealed that Dad had suffered a minor stroke but his speech quickly returned to normal and there was no other damage anyone could detect.
Dad seemed to enjoy the new audience. The new audience seemed to enjoy him right back.
The second morning, two speech therapists stopped by.
"They told us he didn't have any lingering issues," one of them told me. "But that we'd really want to meet him anyway."
The safari
We arrived in Orlando Sunday afternoon. Tuesday morning, the doctors said my father could leave the hospital in a wheelchair.
He had an 80 percent blockage in an artery in his neck. He would need to start taking aspirin and a cholesterol medicine. But otherwise, he was fine. Indeed, his wonderful nurse, Secora Ashley, said this as she wheeled us to the door of the hospital: "He gives you hope about what 98 can look like."
We caught an Uber to the lodge, where my mother and sister had spent the previous two nights. Then we took a Disney bus to Animal Kingdom where we found my mother, my sister and yet another sister – Sally had flown down to help – having lunch.
Mom and Dad have never been the most demonstrative couple. For as long as I can remember, they've slept in separate twin beds. But when I pushed Dad's wheelchair right up next to Mom's wheelchair, they both looked genuinely thrilled.
Then it was on to the safari, which was everything Erin said it would be. We piled into covered trucks that drove us past  elephants and rhinos, hippos and crocodiles. Even my father – who was skeptical of the entire enterprise, as you may remember – was smitten by the spectacle.
But the best part might have been watching my mother on the balcony of our room at the Animal Kingdom lodge. It looked out over a savanna of sorts. Mom could sit and drink a cup of coffee and watch giraffes reach up and eat their breakfast. A half dozen pelicans chased fish in a nearby stream. It wasn't exactly Africa, but it was exactly why we came.  
I posted photos of all this on Facebook and Twitter. Now that I'm back, people ask me if I enjoyed the trip. That was never the goal, of course. I didn't go because I wanted to see Disney. I went because I wanted to be a good son and help.
But did I enjoy it?
More than I could possibly explain.
Keith Easterwood is a regular guest on Gary Parrish's radio show on 92.9 ESPN. One day, he starting talking about my family's adventure, and he said some very nice things.
But he also said this about his mother, who passed away in 2013: "I would give anything just to be able to take my Mom to the grocery store."
That's the point, really. We only have our parents for so long. At a certain stage, we begin to realize that. And every day we get to spend with them – even days spent in emergency rooms – begin to feel like rare and fleeting gifts.
My parents weren't perfect. What parents are? But they taught us to work hard, to live joyfully and to care about things larger than ourselves.
We got them to pose for one last photo before we left Animal Kingdom. They're sitting in their wheelchairs, Dad on the right, Mom on the left. And there, behind them, is Disney's 145-foot sculpture of a baobab tree. They call it the Tree of Life.
---