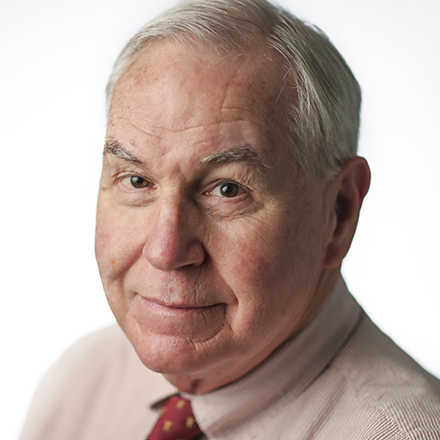 Michael Nelson
Michael Nelson is contributing editor and columnist for The Daily Memphian, the political analyst for WMC-TV, and the Fulmer professor of political science at Rhodes College. His latest books are "Trump: The First Two Years" and "The American Presidency: Origins and Development, 1776-2018."
Nelson: For Democrats in the Mid-South, the presidential election starts now
I know, I know: the presidential election is a year and a half away and we've got plenty of important political contests between now and then, especially the elections for Memphis mayor and council in October. 
Except the presidential election is also now. 
Donald Trump made clear months ago that he is seeking a second term. Democratic challengers have been lining up for nearly as long: 18 at last count, with others on the cusp of announcing. 
What role will the Mid-South play in the selection of our next president? 
Pretty much none come March 11, 2020. From then until the actual voting on Nov. 3, we shouldn't expect to see any candidates in our region at all. 
Trump will take for granted that he's got Tennessee's 11 electoral votes in the bag, along with Arkansas' six and Mississippi's five. So will the Democratic nominee, whoever that may be.
And with good reason. No Democrat has carried any of these states in this century. Nor has any come close. In 2016, Trump's margin of victory was 26 percentage points in Tennessee, 27 points in Arkansas, and 18 points in Mississippi. 
The electoral college has been under fire from Democrats recently because in two of the last five elections — 2000 and 2016 — the Republican nominee won a majority of electoral votes even as he was losing the national popular vote.
Short of a constitutional amendment to abolish it, Democrats would love to do an end run around the electoral college by getting more states to buy into an arrangement called the National Popular Vote Interstate Compact.
Under the NPVIC, every state would agree to cast its electoral votes for whichever candidate receives the most popular votes nationally, thereby assuring his or her victory. If it had been in effect in 2016, Hillary Clinton would be president.
So far, 13 states with 184 electoral votes have signed on. But there are three hitches. 
One is that the compact doesn't take effect until states with at least 270 electoral votes agree to participate. 
Another is that, not surprisingly, all of the states that have agreed so far are blue states that Clinton carried in 2016. Red states like Tennessee, Mississippi and Arkansas are solidly opposed.
And then there's the political reality that even if the Democratic nominee were to win the national popular vote, there ain't no way the Mid-South red states would actually follow through and cast their votes for that candidate.
Take it as a given, then, that the electoral college will be around for a while and that neither Trump nor his Democratic rival will see any point in campaigning in our region when the election comes down to the two of them.
The contest to become Trump's Democratic rival will be different. It's what makes March 11 a benchmark. That's the day after the March 10 Mississippi primary. It's a week and a day after the March 3 Tennessee and Arkansas primaries. 
Democratic contenders will be all over the region in the months leading up to those Mid-South events. 
Why? Because even though none of them has a prayer of winning any electoral votes here come November, all three states will be sending delegates to the Democratic National Convention in Milwaukee next July 13-16.
And with all those Democratic contenders competing according to the rules the party has in place for delegate selection, it's more likely than it has been in years that several of them will still be viable after the early contests in Iowa, New Hampshire, Nevada and South Carolina. Candidates will be scrambling for every delegate they can get.
One Democratic rule is new: So-called superdelegates will be fewer in number and, unlike the delegates chosen by the voters in state primaries and caucuses, will no longer be able to participate in the convention's crucial first ballot. Most superdelegates are Democratic officeholders, of which the Mid-South has hardly any. 
Diluting the influence of superdelegates will only elevate the importance of elected delegates. Tennessee will have 58, Arkansas 36 and Mississippi 41. That makes the Mid-South as big a prize as Michigan.
The Democrats' other rule is not new but may become newly significant in 2020: Delegates chosen in the primaries and caucuses will be awarded to every candidate who receives even 15 percent of the vote.
Here's why that matters: Candidate X may be the odds-on favorite to win the Tennessee primary, for example, but Candidates A, B and C will still find it worthwhile to campaign here because getting just a hair more than one-seventh of the vote will win them a few delegates.
That said, why should we expect that there will be more than the customary two candidates still in the running after the first four small states hold their primaries? After all, when the dust settled in 2008, the nine-candidate Democratic field was pretty much winnowed down to two: Barack Obama and Hillary Clinton.
The same thing happened in 2016, when the voting in Iowa, New Hampshire, Nevada and South Carolina narrowed the field to Clinton and Sen. Bernie Sanders of Vermont before the contest reached the Mid-South.
2020 may be different. As Matt Grossman and David Hopkins point out in their book "Asymmetric Politics: Ideological Republicans and Group Interest Democrats," the Democratic Party is a collection of constituency groups. Republicans are united by a shared conservative ideology, but Democrats are an alliance among African Americans, Latinos, feminists, LGBTQ, environmentalists, and well-to-do, mostly white professionals.
The field of Democratic candidates that is forming for 2020 mirrors this diversity. Some are straight white males, notably Sanders, near-miss Texas senatorial candidate Beto O'Rourke, Colorado Gov. John Hickenlooper, and (probably) former vice president Joe Biden. 
Others are African Americans (for example, Senators Corey Booker of New Jersey and Kamala Harris of California); Asian American (businessman Andrew Yang); Latino (former San Antonio mayor Julian Castro); gay (South Bend Mayor Pete Buttigieg); or environment-obsessed (Gov. Jay Inslee of Washingon). 
Close to a majority of the top-tier candidates are women, especially Harris and fellow Senators Elizabeth Warren of Massachusetts, Kirsten Gillibrand of New York and Amy Klobuchar of Minnesota.
That being the case, the kind of candidate who might run well among Democrats in white rural Iowa or white suburban New Hampshire is probably not the kind of candidate who will thrive in either heavily Latino Nevada or South Carolina, where the majority of Democratic primary voters are African Americans. 
Warren has already figured out that what's true of South Carolina is also true of Tennessee, Arkansas and especially Mississippi. That's why she recently spent a day in Memphis and Jackson — two cities where the population is about two-thirds black. With African-American senators Harris and Booker in the race, Warren realizes that she will have to work especially hard to earn the support of black voters in all the southern primaries.
So yes, Memphis and the Mid-South will be well off the political beaten path starting about 11 months from now. But until then, expect lots of Democratic candidate sightings.
---