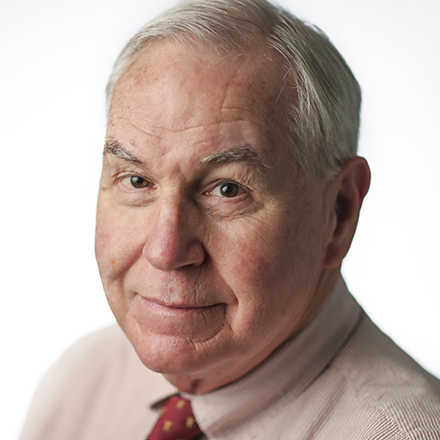 Michael Nelson
Michael Nelson is contributing editor and columnist for The Daily Memphian, the political analyst for WMC-TV, and the Fulmer professor of political science at Rhodes College. His latest books are "Trump: The First Two Years" and "The American Presidency: Origins and Development, 1776-2018."
Nelson: How to fight recidivism with great books
If there's something approaching a consensus to be found anywhere in politics and government today, it's on the issue of criminal justice reform.
Democrats don't like that so many poor people and people of color are incarcerated. 
Republicans don't like that it costs so much to keep those people under lock and key. 
Gov. Bill Lee shares the Democrats' concern about fairness and the Republicans' concern about cost and brings one more value to the discussion: compassion rooted in his Christian faith.
The big question both political parties face is how to prepare people coming out of prison to find a place in civilian life that doesn't lead them straight back into crime. 
But important as it is that Republicans and Democrats find answers to that question, we don't need to wait on them while they do.  There are efforts we can make as churches, charities, businesses, unions, schools and colleges.
One small but promising remedy for recidivism in West Tennessee is being provided through a program founded by Rhodes College religious studies professor Stephen Haynes.
You may know Steve as a Presbyterian minister who occasionally preaches or teaches classes around town while serving as theologian-in-residence at Idlewild Presbyterian Church. Or as the author of multiple books on subjects as varied as "The Bonhoeffer Phenomenon: Portraits of a Protestant Saint" and "The Last Segregated Hour: The Memphis Kneel-Ins and the Campaign for Southern Church Desegregation."
I know him as a colleague and as the founder of the Great Books Reading Group at the Women's Therapeutic Residential Center at the West Tennessee State Penitentiary near Henning in Lauderdale County.
After more than two years in which the Great Books group functioned as a not-for-credit program, the Rhodes College faculty is in the process of approving an enhanced version: a program that will grant transferrable college credits. 
The new Liberal Arts in Prison Program will involve not only faculty but also students, who will work with inmates to develop their reading and communication skills and help socialize them into the larger college community.
The Great Books course at the prison is modeled on Rhodes' much-celebrated "Search" program, a three-semester sequence of courses for freshmen and sophomores that began in 1945 and has inspired similar efforts at colleges and universities as varied as Davidson, LSU and Sewanee.
The course – whether taught on Rhodes' jewel-like Midtown campus or inside the barbed wire surrounding the women's penitentiary – is organized as a series of books that students and a professor sit around a table and discuss. Not textbooks that distill the work of great writers into predigested summaries, but the actual books, which taken together span the last three millennia.
Among the works read and discussed by both 18-year-olds at Rhodes and middle-aged convicts in the prison are Homer's "Iliad," St. Augustine's "Confessions," Shakespeare's "The Tempest," The Gospel of Luke, W.E.B. DuBois' "The Souls of Black Folks," Mary Shelley's "Frankenstein" and James Watson's "The Double Helix."
Take it from one who has taught Search to Rhodes students for nearly 30 years and also spent the first two Monday nights of this month leading a discussion of George Orwell's "Animal Farm" with about 20 prisoners: the quality of discourse is just as lively and serious in prison as on campus. 
Coincidentally on April 1, the first of those two Mondays, President Donald Trump hosted a White House celebration of the First Step Act, a bipartisan bill passed last year to expand job-training and early-release programs and reduce penalties for nonviolent drug offenders.
A month earlier, Gov. Bill Lee, with the endorsement of Democratic Tennessee Senate leader Raumesh Akbari of Memphis, proposed funding more prison education as well as eliminating the $180 fee required for low-level offenders to expunge their criminal record.
As I told Steve Haynes after my first session at the prison, if I had led a discussion by this same group of women dressed in civilian clothes in a regular classroom and then been asked what they had in common, I would not have guessed that they were prisoners. 
Or, as Rhodes student Madison Zickgraf, who helps out in the program, observes, "in the simple act of discussing great books, we access our shared humanity."
In the five semesters since Haynes introduced great books education at the penitentiary, he has made the 120-mile round trip from Memphis on about 75 Mondays, in addition to his regular teaching, research and service responsibilities at Rhodes. 
He also has recruited about 20 of his faculty colleagues to join him for two-week stints, some of them more than once, including classicist Kenny Morrell, English professor Scott Newstok, and French professor Brandy Brown.
What motivated Haynes and soon Rhodes College to get involved in prison education?
Part of the answer traces back to a 25-year-old change in federal law. Until 1994, Pell Grants to prisoners paid for correctional schooling. The money was an incentive for public universities and community colleges to get into the game.
But when Congress passed the crime bill that year, it included a provision declaring prisoners ineligible for the grants. Soon after, most colleges and universities decided that in the absence of tuition revenue, they couldn't afford to continue their programs.
Outside the South, private liberal arts colleges began picking up some of the slack as a community service, with Bard College in New York providing an especially helpful model of how to offer college-level courses in a prison setting.
Without changing the law, executive action by the Obama Administration reopened the door a bit in 2015 with its Second Chance Pell Grant program. Encouragingly, the Trump Administration liked the idea and has continued it. U.S. Sen. Lamar Alexander of Tennessee, as chair of the Senate Committee on Health, Education, Labor, and Pensions, has been trying to get the 1994 law changed as well.
Gov. Lee's proposal to fund high school and college classes at prisons is designed to regain even more of the ground that the federal government's change in Pell eligibility abandoned.
Haynes' involvement in prison education began in 2014, when out of the blue he got a call from Richard Goode, a colleague at Lipscomb University in Nashville who was involved in that school's program. Goode wanted to know if there was anyone who might want to try something similar in Memphis.
After a couple false starts, Haynes connected in 2016 with Vicki Freeman, who was in charge of women's programs for the Tennessee Department of Corrections. When Freeman heard about his interest in doing a great books-style course for prisoners, she and her Shelby County colleagues encouraged him to launch it at the soon-to-be-opened women's complex in the penitentiary near Henning.
That fall, the prison's principal, Jerry Biggers, identified 25 women with high school degrees and clean disciplinary records. Haynes accepted all of them into the new program based on essays they wrote. Since then about 70 women have participated.
In January 2017, the new great books program was off and running. It had a landmark tangible success this year, when after 25 years behind bars, a member of the group, Latasha Thomas, was granted parole at her first hearing – something that hardly ever happens. 
The parole board was impressed by Thomas' participation in the class. It was blown away when she quoted Herodotus in answer to a question about how she now defined success.
Success to her, Thomas told the board, was best described by the ancient Greek historian's account of the Athenian statesman Solon, who told the braggadocious King Croesus of Lydia that "human happiness cannot be determined until one's life is complete."
A much-cited 2013 study by the Rand Corp. found that by reducing recidivism and increasing post-release employment, prison education saved $5 for every $1 that was spent.
That dollar is a taxpayer dollar, which is not what Rhodes, a private liberal arts college, or the various donors recruited by Haynes – some employing the Rhodes Liberal Arts in Prison Go Fund Me page – intend to spend.
So if you like a 5-for-1 return, imagine how good 5 for 0 is going to feel.
---