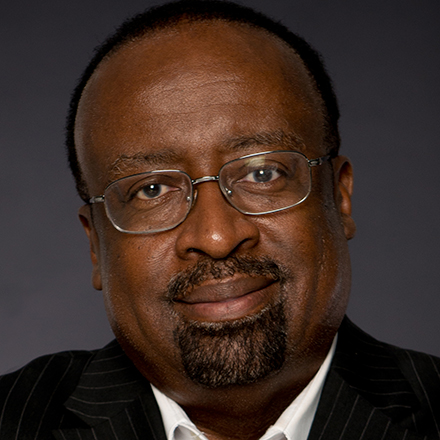 Otis Sanford
Otis Sanford holds the Hardin Chair of Excellence in Journalism and Strategic Media at the University of Memphis and is the political analyst and commentator for WATN Local 24. Contact him at 901-678-3669 or at o.sanford@memphis.edu. Follow him on Twitter @otissanford.
Trenary's legacy lives on and we're all obligated to help carry his work forward
What might he have been thinking? And what was he saying?
Was he reflecting on the success of Move It Memphis, the Memphis Regional Chamber's four-mile walk/run around Downtown that began and ended at Loflin Yard, a hidden gem of a restaurant with a patio full of greenery on West Carolina Street?
Or was he merely making plans for the next day, and what he intended to do to help make Memphis – and particularly Downtown – a better place, a safer place, a more welcoming place.
All those things could easily have been going through Phil Trenary's mind the evening of Sept. 27 as he walked north along Front Street, apparently heading home after the Move It Memphis event ended.
Video gleaned from an apartment building's surveillance camera at 610 S. Front, shows Trenary talking on a cell phone as he slowly walked along the street. One hand is holding the phone to his ear, the other hand is in his pocket.
The 39-second recording also shows, rather ominously, a white dual-cab pickup as it passes by Trenary and parks out of camera view. Trenary then walks out view as well. Seconds later, Trenary is fatally shot. And the pickup speeds away north on Front Street.
The violence, thankfully, is not captured on the recording. But it is still painful to watch because you know that you are witnessing the final seconds of a man's life. A man who for years helped infuse new life into the city in general, and Downtown in particular.
As I watched those 39 seconds tick away, I almost found myself wanting to shout, "Phil, watch out! Phil, stop! Phil, run away! Phil!"
Phil Trenary and I were not close friends. But like thousands of Memphians, I knew him, mostly through his visibility in the community, his civic leadership and his footprint on the economic wellbeing of this city. So like virtually everyone else in the Bluff City, including family members of those now charged in connection with his death, I am deeply saddened and troubled by his murder.
And while the words homicide and Memphis are used quite often in the same sentence, this homicide has touched a particular nerve, mostly because of the brazenness of the crime and the way Trenary, a beloved individual, was unsuspectingly stalked by his assailants.
Which explains the unprecedented comments from General Sessions Court Judge Bill Anderson at the start of an initial court hearing Monday for Quandarius Richardson, 18, and McKinney Wright Jr. 22, two of the three people charged with Trenary's murder.
Anderson acknowledged that he did not personally know Trenary, the former president and CEO of Pinnacle Airlines and, since 2014, president of the Greater Memphis Chamber. But like the rest of us, Anderson knew his reputation as a force for good.
"It seems his sole agenda was to make this city and county a better place," the judge said. "He crossed racial lines, he crossed monetary lines. He probably could have retired when he sold his airline, but instead he chose to stay in Memphis. . . It's just a terrible tragedy."
And then there is this from Wright's mother, Celestine Wright. "I am sad. Very sorry that it happened to him like that, especially to him knowing what kind of man he is helping Memphis, the community, fixing it up and stuff like that. It is a shock and I am sorry."
There remains a lot that we don't know about Trenary's death, including who actually fired the fatal shots and whether, as it appears from police accounts, Trenary was shot from behind execution style.
Not having those details have fed wild speculation, mostly through social media, that others were involved and that Trenary may have been more than just a random target by three lawless young people.
Others simply don't want to believe that teenagers and a 22-year-old that cold and ruthless are living among us and bent on striking fear in the minds of innocent Memphians.
It's obvious to me that the three people charged with Trenary's murder had no idea who he was and how much he meant to this city. All three, including Racanisha Wright, 16, who is now in Juvenile Court custody, have told investigators they were driving around Downtown looking for someone to rob.
That someone ended up being Trenary, whose life and legacy are being celebrated today (Oct. 4) during services at Christ United Methodist Church on Poplar Avenue.
We will never know what Trenary was thinking in his final moments captured on video as he walked along Front Street in his adopted city he came to love.
But strangely, it's almost as if he did speak to us one last time through the words of Judge Anderson, who also said this on Monday. "Let's carry on. Let's do what he tried to do in this community.
"We all have an obligation, every single one of us in this community. We can't sit back on our rear-ends and expect somebody like Mr. Trenary to do it all for us."
Amen.
---