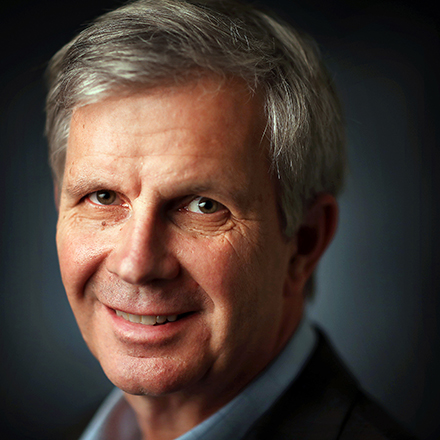 Geoff Calkins
Geoff Calkins has been chronicling Memphis and Memphis sports for more than two decades. He is host of "The Geoff Calkins Show" from 9-11 a.m. M-F on 92.9 FM. Calkins has been named the best sports columnist in the country five times by the Associated Press sports editors, but still figures his best columns are about the people who make Memphis what it is.
Calkins: What brought you to Memphis?
For St. Jude's Penny DeGoosh, it was something she found on her late father's desk
It's hard to go through your parents' belongings after they have died. When Penny DeGoosh's father died in 2015, she and her siblings put it off for a good long time.
"We just didn't really want to deal with his things," she said. "So it all just sat in his house."
DeGoosh was working as a social worker in Qatar. She felt lucky to make it back to Vermont – where she had grown up – to be with her father, Kent DeGoosh, before he died.
But going through the house was another matter. She and her siblings couldn't quite muster the energy to tackle that.
Until, finally, about a year ago, they finally decided it was time.
DeGoosh remembers going through her father's desk, looking at all the papers gathered over 79 years.
And then she stumbled upon something, something that changed the course of her own life.
"It was in a pile of things on his desk," she said. "Somehow, it spoke to me."
Beckoned to Memphis
How did you come to live in Memphis?
I'd love to hear. Send your stories to me at gcalkins@dailymemphian.com and they may find your way into a column someday.
Were you born here and decide to stay? Or did you leave and decide to come back? Maybe it was pure chance you wound up in Memphis. Maybe it was by design.
Scott Morris started Church Health in Memphis because he concluded it was the poorest, most underserved community he could find.
I wound up in Memphis because my beloved predecessor, Al Dunning, passed away at the exact time I was looking for a columnist job.
People come to this city to work for FedEx, AutoZone and International Paper. They come to study at the University of Memphis, LeMoyne-Owen and Rhodes. 
Some come to Memphis with great enthusiasm. Others are skeptical.
And then there is DeGoosh – who is now the head of social work at St. Jude Children's Research Hospital – who came to Memphis because of something she found on her father's desk.
"It was a notepad," she said. "Just one of those little notepads you see. It was from St. Jude."
Kent DeGoosh wasn't a particularly wealthy man. He worked as a contractor in Vermont.
"But he gave a little money whenever he could," his daughter said. "And he obviously gave money to St. Jude. I just remember picking up that notepad and holding it to my heart and thinking what a beautiful thing that was. And then, all through that weekend, I used the notepad, writing notes on this or that, making out to-do lists. I brought the notepad back with me to Qatar when we were done. There was just something about it that touched my heart."
There's an eight-hour time difference between Qatar and Memphis. So DeGoosh had a hard time sleeping when she got back.
"One night, I couldn't sleep, I had jet lag, and at 3 a.m. I decided to do a quick job search," she said. "And what popped up? Director of social work at St. Jude. I took it as a sign."
People at St. Jude will tell you there's nothing unusual about this story, of course. They experience miracles every day. Indeed, the very existence of St. Jude is its own miracle. Danny Thomas founded the hospital out of gratitude for his own answered prayers.
DeGoosh decided to apply for the job. The next thing you know, she was invited to interview by Skype. Then she was flying to Memphis for an in-person interview. Then she was moving to Memphis, a town she had never even visited before she interviewed.
"Honestly, I love it," she said. "I literally walk around every day in awe. Even though people are dealing with tragic illnesses, I see smiles on people's faces, I see families and children experiencing joy in that context.
"And Memphis is a great city. I love that there's so much art and culture. I love that instead of tearing old buildings down, we repurpose them. I love that there's something going on every weekend. It's been a joy."
That is the other key to this story, of course. It's not just about what brought DeGoosh to Memphis, it's how she embraced the place when she arrived. In the end, it's important that we fashion our own miracles. Or at least recognize them when they pop up on our laptops at 3 a.m.
So you can dismiss all this as a happy coincidence if you prefer. DeGoosh respectfully disagrees. 
"My father's pad of paper led me here," she said. "It's the reason I'm in Memphis and at St. Jude."
---