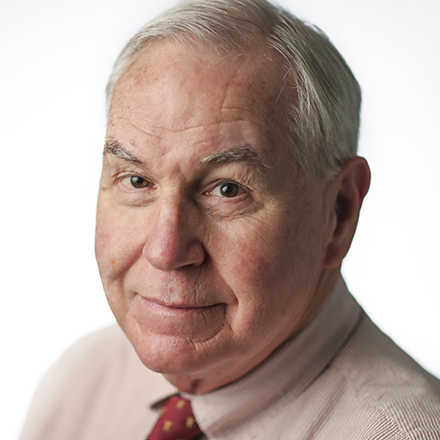 Michael Nelson
Michael Nelson is contributing editor and columnist for The Daily Memphian, the political analyst for WMC-TV, and the Fulmer professor of political science at Rhodes College. His latest books are "Trump: The First Two Years" and "The American Presidency: Origins and Development, 1776-2018."
Nelson: A tale of two Gores
When the Tennessee Performing Arts Center opened in Nashville in 1980, it had three theaters, each one honoring a president from Tennessee. Befitting their historical reputations, the largest was named after Andrew Jackson, the second largest after James K. Polk, and the smallest after Andrew Johnson.
In 2000, many Tennesseans wondered: Where are we going to put Al Gore's performance hall after he's elected president? 
It didn't work out that way.  Gore somehow managed to be dealt a straight flush – a booming economy, a world at peace, and a popular administration in which he served as vice president for eight years – and play it into a losing hand. 
Sure, he was out-maneuvered in Florida after Election Day and lost its 25 electoral votes – and the presidency – to Republican Gov. George W. Bush of Texas by 271-266.
But if Gore had paid enough attention to Tennessee during his years in Washington to earn his own state's 11 votes, he'd have been elected by 277-260 regardless of what happened in Florida.
Gore wasn't the first Gore – or even the first Albert Gore – to miss his chance to have a theater in his state's performing arts center named after him, much less to become president.
As a splendidly written, deeply researched new biography of Albert Gore Sr. points out, Gore the father had his own ambitions for the White House and his own semi-close call at winning a place on his party's national ticket. 
The book is "Albert Gore, Sr.: A Political Life" and the author is Anthony J. Badger, an emeritus professor of American history at Cambridge University currently teaching at Northumbria University.
Gore Sr.'s moment came in 1956. He was in the fourth year of his first term as a U.S. senator, having previously served 14 years in the House of Representatives. 
A champion of Franklin D. Roosevelt's New Deal, Gore was especially enamored of the new Tennessee Valley Authority and its potential to harness enough nuclear energy to power his state and the entire country. He was also the main congressional shaker and mover in creating the interstate highway system.
In 1956 Gore was one of just three Southern Democratic senators not to sign the Southern Manifesto, a blistering attack on the Supreme Court's 1954 Brown vs. Board of Education decision ordering an end to legally segregated public schools.
More to the point, Badger shows, Gore was the only senator who was asked to sign and refused. 
South Carolina Sen. Strom Thurmond, who was honchoing the manifesto, knew better than to approach Senate Majority Leader Lyndon B. Johnson of Texas and Gore's Tennessee colleague, Estes Kefauver. He understood that their national responsibilities and ambitions meant there was no way they would endorse a declaration of regional defiance.
Both Johnson and Kefauver had hopes of being nominated for president at the 1956 Democratic National Convention, Johnson after a quiet campaign among party bosses, and Kefauver after a public campaign in the primaries. In truth, neither had a chance against Gov. Adlai Stevenson of Illinois, whom the party wanted to send into the ring for a rematch with President Dwight D. Eisenhower.
After securing the nomination on the convention's first ballot, Stevenson did something entirely unexpected: He told the delegates that they should choose his vice presidential running mate. 
As the silver medalist for the presidential nomination, Kefauver was a strong contender. So was a young senator from Massachusetts, John F. Kennedy.
And then there was Gore. When Johnson aides Jim Rowe and George Reedy, who had known Gore for more than 20 years, ran into him after Stevenson's announcement, he was so frenzied that they literally did not recognize him. "I have never seen, before or since, such a complete and total example of a man so completely and absolutely wild with ambition; it had literally changed his features," Reedy recalled.
Southern delegations rallied behind Gore, not out of any affection for him but as an attempt to keep the personally erratic, politically liberal Kefauver from being chosen. 
But once it became clear that Kennedy had the better chance of stopping Kefauver, Gore's support evaporated. 
Johnson switched the Texas delegation from Gore to Kennedy, and the rest of the South followed suit. Segregationist Southerners "would prefer a Catholic Northern liberal to the man they nicknamed 'Cowfever,' whom they regarded as a traitor to the region," notes Badger. 
Kefauver won the nomination anyway and went down with the ship when Ike was re-elected in a landslide. But Gore's own fever kept spiking. After Kennedy was nominated for president in 1960, Gore complained to reporter Robert Novak, "Why would the Democratic Party pick Jack Kennedy when they could have had me?"
Gore was re-elected to the Senate in 1964, but only after a near-miss campaign by Memphis Republican Dan Kuykendall.  Never a warm individual – he had "a kind of righteous pomposity that would drive Johnson right up the wall," recalled one LBJ aide – Gore had also stopped tending his state's grass roots. 
With Johnson at the head of the ticket, Gore became Tennessee's first Democratic Senate nominee to be elected while running behind his party's presidential candidate.
Gore's bid for a fourth term in 1970 went even further downhill: He lost to Republican Bill Brock of Chattanooga.  But his campaign marked the political debut of his son, Albert Gore Jr. 
Young Al volunteered to serve in Vietnam, which helped mitigate the political effects of his father's unpopular opposition to the war. The two of them cut one ad riding horses together and another in which Gore told his uniformed son to always love his country.
"Since the voters of Tennessee have chosen to send me out to pasture," Gore said after losing the election, "I intend to graze in the tall grass."  Never much concerned about the environment – his son's passion – he became vice president of Occidental Petroleum.
Gore Sr. was a sometimes welcome adviser to Gore Jr. when he ran for Congress in 1976, senator in 1984, and president in 1988. Although Al had some of his father's stiffness of manner, for as long as he was in Congress he was diligent about staying engaged with his constituents back home. Al Gore was not about to make Albert Gore's mistake.
Until, that is, he was elected vice president in 1992. 
"We raised him for it," crowed his father when Bill Clinton tapped Al for the nomination. But once ensconced in national office, the vice president spent the next eight years ignoring Tennessee as he prepared to run for president in 2000, two years after his father's death. 
Bush and his chief political adviser Karl Rove knew something that Gore didn't: His neglect of his home state made it ripe for the plucking. I admit to being baffled when one of Bush's first post-convention campaign appearances was in Bartlett. "Doesn't he know that this is Gore's home turf?" I remember scoffing. 
Neither Gore nor I had a clue. Bush carried Tennessee by 80,000 votes, which was enough to win him the presidency.
Gore père et fils were impressive public servants devoted to different causes: Albert to highways, nuclear power and TVA, and Al to the environment, which has consumed his post-vice presidential career and won him a Nobel Peace Prize – not to mention a $4.4 million, 10,000-square-foot house in Nashville's elite Belle Meade neighborhood.
A Memphis chapter of Gore's Climate Reality Project, led by Duffy-Marie Arnault and Vance LaVelle, was launched last month.
But both father Albert and son Al had the same aloof personality and made the same fundamental political mistake: taking Tennesseans' support for granted.
---