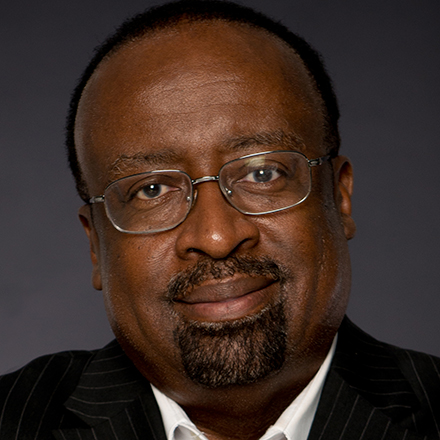 Otis Sanford
Otis Sanford holds the Hardin Chair of Excellence in Journalism and Strategic Media at the University of Memphis and is the political analyst and commentator for WATN Local 24. Contact him at 901-678-3669 or at o.sanford@memphis.edu. Follow him on Twitter @otissanford.
Sanford: Casada should resign
If the sex, drug and texting scandal roiling the Tennessee state capital were an episode of "Sesame Street," you might say that ousted chief of staff Cade Cothren's hiring was brought to you by the number 200,000 – as in dollars.
And his firing was brought to you by the letters F and N – as in a couple of vulgar and racist words that I cannot mention in a column.
But this is not child's play. Cothren and his now-former boss, House Speaker Glen Casada, are smack in the middle of the worst scandal to hit state legislative politics since the unprecedented removal of Rep. Jeremy Durham, a Republican from Franklin, in 2016 for gross sexual misconduct.  
And while Cothren was not an elected official, Casada, the man who put him in such a high-ranking job and paid him the obscenely high salary of $200,000, is arguably the most powerful elected official in the Legislature. Which makes his behavior even more despicable, and he should resign.  
Not only was Casada aware of Cothren's sexually inappropriate text messages to or about women, including interns, the House speaker was a willing participant in some of the foul language – which he now describes as "locker room talk."  
Where have we heard that before? 
Despite calls from Democrats – and now Republicans – for him to step down, Casada is vowing to hang on to the job he has coveted for years. The Franklin Republican – what is it about Franklin? – told Nashville talk radio station WTN Tuesday that he will not resign. And he all but pleaded with his Republican House colleagues Wednesday to support his attempt to keep his job.  
"I'm sorry that I did it, and I'm embarrassed that I did it," Casada said in the radio interview, while also making light of the crude text messages with Cothren. 
"I was wrong. I got caught up in the moment." 
But then, Casada boasted about his strong leadership during his first legislative session as speaker. "Things ran very smoothly for a change in the House," he said. Take that, former GOP speaker Beth Harwell. 
Shortly after the radio interview, Casada tried to put the scandal even further behind him by naming a replacement for Cothren as chief of staff. He picked Scott Gilmer, who previously held the job under Harwell, but who comes with baggage of his own. 
According to the Nashville Tennessean, Gilmer pleaded no contest in 2009 to a misdemeanor charge of creating a fake political website in the name of a former Democratic House member.  
Gilmer at the time was working as a House Republican aide. He paid a mere $50 fine and kept moving up the GOP ranks at the capital. 
Support for Casada among House Republicans is peeling away. But so far, Republican leadership in Nashville has been tepid at best to the scandal, which also involves Cothren's cocaine use at the legislative office building, falsifying evidence against a capital protester and racist comments he allegedly made about African Americans. 
Gov. Bill Lee had to be goaded into commenting about the scandal. And when he did, it was pure milquetoast. 
"When we choose to enter public service, we have an obligation to hold ourselves to a higher standard and cultivate an environment of professionalism and respect," Lee said in a statement Tuesday. 
He added, "We owe it to Tennesseans to ensure they know that all of us in elected office hold ourselves to that high standard. Recent revelations have shaken that faith, and we need to ensure that confidence is fully restored." 
That was it. No mention of Cothren, Casada or their lewd behavior. Lt. Gov. Randy McNally was a tad stronger, saying in a statement he is "greatly disappointed by the inappropriate actions and attitudes revealed in recent news reports. 
"Every person who interacts with the state Legislature should be treated with the utmost respect," McNally said. "It is deeply troubling that some have fallen short of this standard. Tennesseans expect and deserve better from those who serve the public trust." 
Republican Rep. Mark White of Memphis called Casada's behavior "unacceptable, whether you're in a leadership position or not. If that behavior is true, there is no excuse for it." 
White, however, would not say whether Casada should step down as speaker, adding he wanted to speak with Casada before making a decision.
But if Casada thinks that removing Cothren as chief of staff and smoothing things over with contrite words to his GOP caucus and on the radio will put an end to the scandal, he is mistaken. The bipartisan chorus of calls for him to resign will only get louder, and Democrats are intensifying their demands for a TBI investigation. 
As state Democratic Party Chair Mary Mancini said in a statement, "Three times Speaker Casada has been faced with instances of sexual misconduct and sexism, and in each case, he defended the perpetrator.  
"In two cases he promoted them, giving them even more power. And now, it's not just a sexism and sexual misconduct scandal he's embroiled in, but racism and illegal drug use as well." 
Naturally, Mancini and Democratic lawmakers are taking advantage of the opportunity to score political points against top-ranking Republicans – from the governor on down – who are clearly on the defensive and have left themselves vulnerable to criticism.  
But the Democrats are right. A TBI investigation is in order. And Cothren's head isn't the only one that should roll. The text messages between Cothren and Casada go beyond misogynistic.  
Despite words to the contrary, Cothren has shown a fondness for racism. And yet, Casada willingly took part in the crudeness, appointed him to a $200,000 job and looked the other way at his drug use on state property. There are also allegations against Casada of improper eavesdropping.  
Even the "Sesame Street" muppets know that's not what leaders do. Which means Casada should not be one.
---