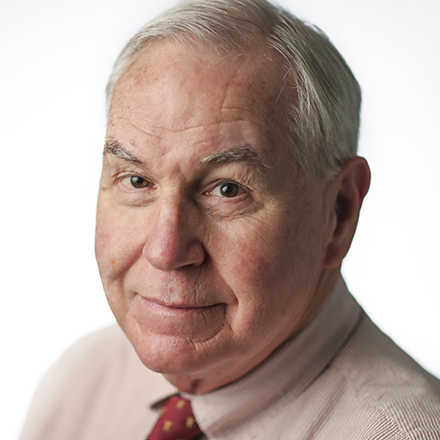 Michael Nelson
Michael Nelson is contributing editor and columnist for The Daily Memphian, the political analyst for WMC-TV, and the Fulmer professor of political science at Rhodes College. His latest books are "Trump: The First Two Years" and "The American Presidency: Origins and Development, 1776-2018."
Nelson: When the 'silent majority' was black
In 2019, Black Lives Matter means efforts to "end broken windows policing," "limit use of force" by officers and institute "community oversight" of law enforcement, among other items on the movement's 10-point "Campaign Zero" agenda. 
Rich in explanation and research, the document was first published in 2015 to respond to critics who wanted to know what the movement was for, not just against.
In 1973, Black Lives Matter meant something different: mainstream political activism in pursuit of "aggressive policing and punitive policies to banish unsavory characters ... and return commerce and communities back to normal." 
Or so it did to working and middle-class African-Americans in neighborhoods like New York City's Harlem, now flourishing but ridden at the time by crime and drugs. 
That is the argument of Michael Javen Fortner, a young black Harvard-trained political scientist at Rutgers University and the author of "Black Silent Majority: The Rockefeller Drug Laws and the Politics of Punishment."
We've all heard about President Richard Nixon's "silent majority," his term for the legions of Americans who did not demonstrate against the Vietnam War or riot in the nation's inner cities. They wanted peace with honor abroad and respect for traditional values at home. 
And they were all white, right?
Well, Fortner argues, not exactly. In the 1960s and 1970s, it was actually progressive policies promoted by white political leaders – notably New York governor Nelson A. Rockefeller's 1962 Metcalf-Volker Act treating drug-related behavior as illness rather than crime – that made life unbearable for the "black silent majority" in Harlem. 
"This black silent majority did not blame their problems on white racism or capitalism," Fortner writes. "When they thought about the black underclass, they did not see brothers.  They saw hoods" and "monsters" who often made it too dangerous for neighborhood churches to hold evening services and stores to stay open after dark.
In a recent Politico article, the renowned political analyst Jeff Greenfield, a former aide to New York's hyper-liberal mayor John Lindsay, recalls, "When I worked in City Hall in New York City at the end of the 1960s, one of the more persistent demands of black civic leaders was for more cops to stem a tide of violence that had mothers putting their small children in bathtubs, the better to protect them from random gunfire."
One of those leaders was Rev. Oberia D. Dempsey. Rebutting accounts that treat African-American political history as an unending chronicle of passive victimhood (Michelle Alexander's 2012 book "The New Jim Crow: Mass Incarceration in the Age of Colorblindness" is a particular target), Fortner describes the "agency" of grassroots leaders like Rev. Dempsey. 
Dempsey and many other pastors and neighborhood activists lobbied the state government in Albany to pass new laws that would lock up drug pushers and, in many cases, throw away the key. 
Overcoming liberal white resistance, Rockefeller responded to these new demands by swinging to the opposite extreme from his earlier pro-leniency stance. He persuaded the state legislature to pass laws (draconian, in Fortner's opinion) that 47 other states soon copied. 
In 1986 President Ronald Reagan and Congress enacted the now infamous Anti-Drug Abuse Act making crack cocaine way more criminal than the powdered cocaine favored by whites. 
Nearly two-thirds of the Congressional Black Caucus joined the new consensus of the day by voting for Reagan's bill. In fact, the black caucus was a reliable supporter of tough-on-crime federal legislation during the 1980s and 1990s.
"Silent majority" wasn't Nixon's only trademarked phrase. A related watchword from his 1968 presidential campaign echoed independent segregationist candidate George C. Wallace's main trope in that election: "law and order." 
As another example of how political issues and language sometimes change in meaning with the passage of time, just five years earlier, on the eve of his first inauguration as governor of Alabama and in the wake of a series of Ku Klux Klan-related bombings targeting African Americans, Wallace said he was "sick and tired of ... too much hollerin' about law and order."
Rev. Martin Luther King Jr., on the other hand, embraced the phrase when calling for federal protection against the KKK.
Fortner reminds us that political alignments which seem unlikely from a contemporary vantage point periodically arise to confound our easy assumption about race and public policy.
In 1973, black voters in Harlem wanted addicts and pushers locked up. Rockefeller wanted an issue that would allow him to exit the GOP's vanishing liberal wing and move rightward in hopes of becoming more palatable to Republican conservatives if he sought the party's presidential nomination in 1976.
New York's new drug laws became that issue. Of course, everything changed when Nixon resigned and Vice President Gerald R. Ford succeeded to the presidency in 1974. 
But Rockefeller's tough-on-crime stance was enough to make him at least minimally acceptable to conservatives as Ford's appointed vice president. It was only when Rockefeller resumed his leftward ways that Ford felt compelled to drop him from the 1976 ticket.
A similar alliance formed between Republicans and black politicians during the post-1990 census redistricting process.  Both wanted African-American voters crammed into as many "majority-minority" House districts as possible. 
Black pols liked the idea because it meant more of them would be elected to Congress. Republicans liked it because the remaining districts would be "bleached" of the black voters that many white Democrats rely on to get elected.
To be sure, alliances like these are unusual. For that reason we all too often miss them when they form. Fortner's "Black Silent Majority" is well worth reading for multiple reasons, including that one.
It's also worth noting that people's views usually are complicated. In today's crime-ridden Baltimore, a city that could be the Ghost of Christmas Future to our own, The New York Times reports that "claims of overaggressive policing" a few years ago have given way to "residents now pleading for police officers to get out of their cars, to earn their pay – to protect them."
Here in Memphis, Shelby County Commission member and mayoral candidate Tami Sawyer has been a leader in the Black Lives Matter campaign. Yet, as much as she may share the movement's police-reform agenda, she also has declared, "Most of our officers do the best they can in what can be a thankless job." 
This is the first of two columns whose purpose is to challenge the all-too-easy assumption that our political divisions always – and therefore inevitably – mirror our racial differences.
---