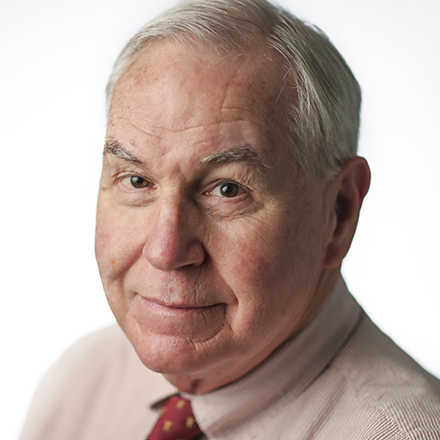 Michael Nelson
Michael Nelson is contributing editor and columnist for The Daily Memphian, the political analyst for WMC-TV, and the Fulmer professor of political science at Rhodes College. His latest books are "Trump: The First Two Years" and "The American Presidency: Origins and Development, 1776-2018."
Nelson: Don't sell Memphians short when it comes to cross-racial voting
The argument for drawing oddly shaped lines on the map in order to create districts in which a racial minority constitutes a majority of voters — so-called "majority-minority" districts — has always been that racial gerrymandering is a necessary evil. 
It's "evil" that voters won't support candidates of a different race.
But it's "necessary" because this is the only way to ensure that candidates of color are elected.
But how necessary is this evil? Ask Sen. Tim Scott and former Gov. Nikki Haley of South Carolina how they got elected in a majority-white state. If, somehow, they don't count because they are Republicans, ask former President Barack Obama, who received a higher share of the white vote than any Democratic presidential candidate in years.
Or better still, look at Memphis, a majority-black city that four years ago elected city council member Jim Strickland its first white mayor in a quarter century.
Memphis' history of racial voting is more interesting than most. In this bicentennial year of the city's founding, it's important to remember that during our first 172 years, only white candidates were elected and served as mayor. Yet for much of that extended era, blacks were voting in Memphis in much greater numbers than elsewhere in the South.
To be sure, Boss E.H. Crump's extension of voting rights to black citizens a century ago was contingent on their supporting his preferred candidates. He used their votes as a club to dominate Tennessee's statewide Democratic primaries, which for years were tantamount to election. But even then, an unusually large number of black Memphians at least had the experience of voting, laying the groundwork for future political activism. 
And, as Otis Sanford points out in his splendid "Boss Crump to King Willie: How Race Changed Memphis Politics," Crump extended some benefits to his African-American constituents at a time when few southern mayors did. Crump was "willing to listen to their concerns and provide public amenities such as parks, schools and playgrounds" in return for their votes.
Former Memphis school superintendent Willie Herenton's election as mayor in 1991 heralded a new era. Herenton defeated incumbent Dick Hackett with almost no white support. On taking office, however, he sought and heeded the advice of Atlanta's first black mayors, Maynard Jackson and Andrew Young, and reached out to the city's white business community. 
The result, for which Memphians owe Herenton our eternal gratitude, was to make smooth what most people thought would be a rocky transition from white to black political rule.
Herenton's elections (he won five of them in the era before term limits) caused local political experts to assume that Memphis had seen its last white mayor. In their classic "Racial Politics at the Crossroads: Memphis Elects Dr. W.W. Herenton," Rhodes College political scientists Marcus Pohlmann and Michael Kirby foretold a continuing era of "racial reflexivity" in which black and white voters would seldom vote for candidates not of their own race.
But Strickland's election in 2015 against incumbent mayor A C Wharton and two other credible black candidates showed that Memphians are no longer willing  —as we were during the era of all-white leadership — to arbitrarily shrink the talent pool from which we choose our leaders along racial lines.
Hold it, one might say: Isn't this how white candidates get elected in majority-minority constituencies — by splitting the black vote among multiple candidates and running to daylight with all-white support?
A few facts complicate this line of reasoning.
First, Strickland secured 42% of the vote to second-place finisher Wharton's 22%. He did so with enough black support that he clearly would have won a head-to-head runoff if Memphis' city charter allowed the practice.
Cross-racial support for Strickland carried over into his tenure as mayor. A poll in December showed him with an overall approval rating of 72% that included 73% support among African Americans, three points higher than his white support.
Second — and even more important — Strickland's election wasn't an exception. White and black Memphian have a history of voting across racial lines. 
Wharton won every previous city- and county-wide election he ran in with strong cross-racial support. These included two elections as county mayor and two as city mayor.
As Wharton's predecessor, Herenton enjoyed substantial white support in his first two bids for reelection during the 1990s. 
From 1996 to 2004 Harold Ford Jr. rode equally broad racial coalitions to victory in the Memphis-centered 9th congressional district.
Black voters showed similar disregard for race by electing white Democrat Steve Cohen to succeed Ford in Congress in 2006, when Ford ran a strong campaign for the U.S. Senate, ultimately losing to the Republican mayor of Chattanooga, Bob Corker. 
Cohen, who is about to win his seventh election to Congress, nearly always has faced primary challenges from black candidates and has always defeated them with a solid majority of black votes. When Herenton resigned as mayor in 2009 to run against Cohen in the 9th district Democratic primary, the white incumbent rode a biracial coalition to victory by a margin of 79%  to 20%.
African Americans also crossed party and racial lines to an unusual degree in supporting Republicans Jim Rout and Mark Luttrell in their elections for county mayor and Amy Weirich in her election as district attorney.
Third, and most important, because Memphis is an economically poor, overwhelmingly black city, every credible candidate for office, black and white, knows that failing to reach across racial lines is the equivalent of playing with matches in an ammunition shed. 
Strickland and, in previous elections, the African-American incumbent he defeated both won by running broad-based campaigns in all parts of town, with diverse staffs and on cross-racial platforms. Wharton governed accordingly, losing in part because of two late-breaking scandals involving close associates that, despite his own noninvolvement, tainted his administration. 
Maybe that's why Memphis, the site in 1968 of the nightmarish Martin Luther King assassination, is poised to continue overcoming the odds by not becoming another Ferguson or Baltimore — whether its next mayor is black or white.
Beyond that, our history of cross-racial voting calls into question whether Memphis might not be ripe for a redistricting of city council and county commission districts that intentionally makes them racially diverse instead of solidly black or solidly white.
As it is, all seven local districts and both superdistricts were designed to consist of at least 80% one race or 80% another, thereby reinforcing the worst assumption anyone could make about the people of Memphis — namely, that we cannot see past the color of the candidates' skins.
This in the face of a quarter-century's worth of strong evidence to the contrary.
Maybe the evil of race-based districting is no longer necessary. Even worse, maybe it's designed to make us think that it isn't even evil.
In light of this history, a fair question for both delegates to the People's Convention, scheduled for June 8, and for Strickland, who says he isn't going to attend, is: Will you help to bridge our city's racial divide or will you widen it?         
Due to an editing error, a previous version of this story showed an incorrect figure for results of a December poll on support for Mayor Jim Strickland.
---