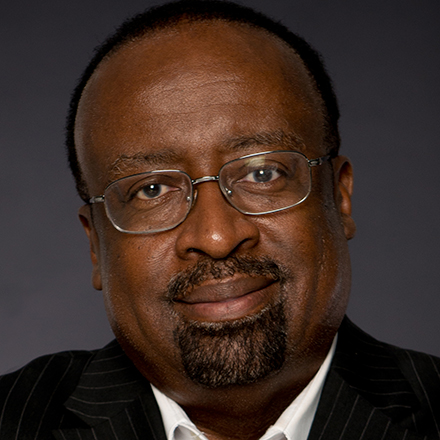 Otis Sanford
Otis Sanford holds the Hardin Chair of Excellence in Journalism and Strategic Media at the University of Memphis and is the political analyst and commentator for WATN Local 24. Contact him at 901-678-3669 or at o.sanford@memphis.edu. Follow him on Twitter @otissanford.
This is America, where thoughts and prayers replace gun laws
For 21 days in May, I taught and traveled in Germany. I got around with ease in the city of Mainz – and traversed other parts of the country using a very efficient public transit system.
I also visited two of Germany's major broadcasting centers – the regional DWR, which includes both radio and television, and the much larger ZDF, Germany's national public TV broadcaster.
As I stood in the DWR television control room watching one of its daily 15-minute newscasts and as I traveled around Mainz and other cities, I did not hear a single word about gun violence, homicides or mass killings.
But within minutes after setting foot back on U.S. soil last Friday, my cellphone exploded with notifications of yet another deadly mass shooting; this one in scenic Virginia Beach, Virginia, took 12 innocent lives.
As writer-musician Donald Glover, aka Childish Gambino, says, this is America.
The experts tell us that the overall homicide rate in the U.S. dropped significantly in 2018. But mass killings, defined by the FBI as the slaying of four or more people in a single incident at one place, have been steadily rising since the Columbine school massacre in 1999.
And while the Virginia Beach shooting produced the largest number of fatalities so far this year, it joins a long list of senseless mass killings in recent years at workplaces, night clubs, concerts, malls, movie theaters, houses of worship and, of course, schools.
All of this is completely foreign to most of the people I encountered in Germany, particularly students at Johannes Gutenberg University in Mainz. And the reason is simple. Gun ownership there is considered a privilege, not a right.
After a deadly shooting at a high school in eastern Germany in 2002, in which a 19-year-old expelled student took the lives of 16 people, the German government instituted more stringent gun laws. They included raising the legal age for having a weapon for sport from 18 to 21, and requiring gun buyers under 25 to certify that they are fit, medically and psychologically, to own a weapon.
The laws were further tightened after a 2009 mass killing at a southwest Germany school that claimed 15 lives. Those restrictions included random checks of gun owners.
According to the website German Culture, the country's gun control laws are "among the most stringent in Europe. It restricts the acquisition, possession and carrying of firearms to those with a credible need for a weapon."
German law bans fully automatic weapons and "severely restricts the acquisition of other types of weapons. Compulsory liability insurance is required for anyone who is licensed to carry firearms."
The Gutenberg University students also told me that there is never a fear of a deadly encounter with police, because – unlike in the U.S. – police officers don't automatically assume that the person they stop is carrying a gun.
"Nobody carries one," several journalism graduate students said, almost in unison. "Why would we?" 
All of that is totally foreign to Americans. Most of us believe the Second Amendment gives us the unfettered right to own practically any type of weapon – high powered or otherwise – along with unlimited ammunition and accessories to go with it.
Which brings us back to Friday's killings in Virginia Beach.  
The shooter used a .45-caliber handgun, but had several extended magazines that allowed him to continuously fire at his victims and responding police officers.
An extended magazine "allows someone to shoot more rounds before they're forced to reload the gun," former ATF special agent David Chipman told National Public Radio.
NPR also reported that extended magazines were used during some of the worst mass shootings in American history, including the 2012 killings of 20 elementary school children and six adults at Sandy Hook.
A 2013 investigation by Mother Jones reported that of 62 mass shootings it examined, high-capacity magazines were used in at least half of them.
And yet, any effort to restrict or outright ban some of these tools for mass murder continues to face strong resistance from the NRA and other pro-gun organizations. And that means most Republican lawmakers – state and federal – who are beholden to the gun lobby will continue to do nothing except spout the same meaningless rhetoric after every massacre.
By now, you know the drill. They will offer thoughts and prayers for the victims, praise the brave first responders, implore the media not to even utter the killer's name, then move on and hope the public does the same.
Until the next inevitable act of carnage.
Indeed, this is America, the land that I love. The land that I was ready to come back to after visiting a country that 80 years ago made mass killing an official government policy. A country that owns up to its shameful past, and no longer has the stomach for mass violence.
This is America, home of the brave. And, thanks to our unwillingness to pass sensible gun control laws, a haven for deadly homegrown terrorism.  
---