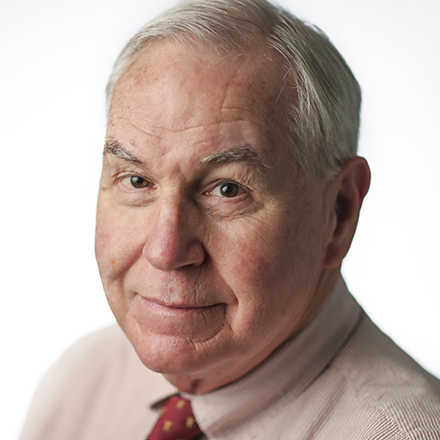 Michael Nelson
Michael Nelson is contributing editor and columnist for The Daily Memphian, the political analyst for WMC-TV, and the Fulmer professor of political science at Rhodes College. His latest books are "Trump: The First Two Years" and "The American Presidency: Origins and Development, 1776-2018."
Nelson: What's right at MEM (with a modest proposal for FedEx)
When Delta de-hubbed Memphis in 2013, rapidly reducing the airline's daily passenger flights at Memphis International Airport from about 250 to a fraction of that, people looked at the massive parking garage that was under construction and – despite its bright blue night-time coloration – thought, "What a white elephant this turned out to be."
Six years after it opened in 2013, the garage is pretty much full all the time. 
Not because we're back up to the roughly 300 total flights per day (Delta's plus other airlines). Depending on the time of year, 80 to 90 is more like it. June is the busiest time for travelers, February the least busy.
The garage is full because instead of about 70% of passengers simply passing through MEM to connect from one flight to another – maybe spending a few bucks at an airport concession, maybe not – pretty much 100% are either travelers to the Mid-South or Mid-Southerners traveling someplace else.
In other words, even in the heyday of the hub era, about 7 million passengers were just changing planes. The 4.4 million who begin and end their trips in Memphis today are actually up 10% from 4 million back then.
They – we – are paying $6 a day to park in a garage that's an easy walk to the terminal instead of a tedious bus ride, as is the case in many airports. If they rent or return a car, they can do that in that same building instead of riding out to Democrat Road the way travelers had to before the garage opened.
They're getting free Wi-Fi while they're in the airport and free baggage carts to haul their luggage in and out.
Memphis passengers are paying an average of $386 per round trip – not much above the national average – rather than nearly $550, over $160 more than in the rest of the country, which was the case during our final hub year with Delta. We've gone from being the nation's most-expensive airport for travelers to its 28th most expensive. At that, flights cost less than $10 more from Memphis than at the 20 next-cheapest airports, according to the Bureau of Transportation Statistics.
Even the two-thirds reduction in the number of flights isn't quite as bad as it seems. The planes that fly in and out of Memphis today seat an average 104 passengers, not an average 59, as in the days of Delta.
It's not all good at the airport, obviously. There are fewer direct flights to fewer destinations: the airport authority claims 34 cities compared to what once was 91. The old cliché about people en route to heaven having to connect through Atlanta is all too accurate in many cases, although nowadays it's almost as likely to be Charlotte if you're flying American, Chicago if you're flying United, Dallas if you're flying Southwest, or Denver if you're flying Frontier.
And if Atlanta is your actual destination – as it is for about 210 Memphians per day – you still pay Delta through the nose.
That one is on us. So wedded are we to our old SkyMiles accounts that when Frontier offered a discount flight to Atlanta, it failed to make for lack of passengers. (Poor scheduling by Frontier didn't help its case either.) But the new direct flights to Orlando, Las Vegas and Philadelphia that Frontier added last year attest to the carrier's overall commitment to Memphis.
A word about hubs, which didn't even exist until the 1980s, shortly after Congress started allowing airlines to make their own decisions about where to fly instead of having to get permission from the federal government's Civil Aeronautics Board.
Republic, the biggest Memphis carrier back then, made Memphis a hub in 1985. Northwest maintained our hub status when it absorbed Republic in 1986, and there we stayed until Delta acquired Northwest and announced that it was de-hubbing us six years ago this month, on June 4, 2013.
The cruel irony is that the term "Aerotropolis" had just gone viral with the publication of University of North Carolina sociologist John D. Kasarda's book of that title in September 2012, entering the national vocabulary to describe an airport-centered local and regional economy. 
Memphis' hopes were raised by the concept, making Delta's decision seem especially cruel. FedEx alone gets us close to aerotropolis status. FedEx plus the old passenger hub could have made us what you see on the sign driving into the airport: America's Aerotropolis, which airport president and CEO Scott Brockman tells the Daily Memphian is "a sexier name for America's Distribution Center, which is what we called ourselves before."
Just to rub our noses in it, de-hubbed Memphians have become the passengers who all too often have to get up practically before we go to bed to make those 6 a.m. feeder flights to other cities' hubs. That used to be what folks from Meridian, Mississippi, or Fort Smith, Arkansas, had to do to make their 8:30 a.m. connections out of Memphis. 
When TSA's Kevin McCarthy warns passengers to "give yourself some more time, especially at the 5 o'clock hour in the morning," he might as well be saying, "Wake up to reality: your hub days are over."
That's the downside of what it means to no longer be dominated by an airline with a near monopoly on the market – about 80% of flights during Delta's heyday.
The upside is all that other stuff, notably lower fares and an airport that's closer to right-sized for serving travelers whose "O and D" – origin and destination – is in and out of Memphis. 
Closer to right-sized but not yet as big as we soon may be. 
For example, right now enough people want to fly from Memphis to Boston to justify a flight, just not in a big plane. A 76-seater would do us fine for now. With Indigo Ag and FedEx major presences in both Memphis and Boston, we may be getting closer. Listen up, JetBlue!
We're also close to filling a plane that size for direct flights to and from San Francisco, opening up multiple connections to Asia. The challenge there is to find aircraft with a big enough fuel tank to make the 2,100-mile trip. Increasing efficiencies in fuel economy may work in our favor.
The synergy between Memphis and North Carolina's Research Triangle in biomed as well as FedEx's presence in both cities adds Raleigh-Durham to the list of logical destinations as well.
And, according to Brockman, Shelby County is putting as many people on British Airways' Nashville-London flight as Davidson County is. 
Looking ahead, what will MEM's rebuilt Concourse B do for us when it opens in mid-2021 besides improve the experience of being in an airport with more open space, natural light and amenities?
For one thing, it won't be paid for with local tax dollars. The $245 million cost of the renovation – like the $121 million garage – is being funded by state and federal grants, airport facility charges, airport capital funds and revenue bond debt.  Not a dollar of the airport's $125 million annual operation and maintenance budget for FY 2020 comes out of city and county taxes either.
How about the continuing economies in airport operations that MEM has been achieving? Every dollar saved in landing fees and gate rentals brings new routes that much closer to financial viability. It matters to airlines that their average "Cost per Enplaned Passenger" in Memphis is down from $11.37 in 2016 to $8.68 last year.
That's one of the ways in which being the biggest cargo airport in the Western hemisphere enhances the traveler's experience. Even as passenger flights are down from the peak years, FedEx continues to fly more than 250 per day, handling nearly 10 billion pounds of cargo over the course of the year – a number that continues to rise.
Because of FedEx, MEM has four runways, not the two our passenger flights alone would warrant. That's another plus when passenger airlines consider where to fly.
Here's a blue-sky (sorry) idea: Hey, FedEx, how about getting into the travel business and making Memphis your main hub? You were agile enough to adapt from a business model based on moving paper in the pre-fax, pre-email era to one centered on moving packages. It's not a new idea. According to Brockman, "We said, 'You ought to set up a whole separate entity.' " Could moving people be just over the horizon?
---