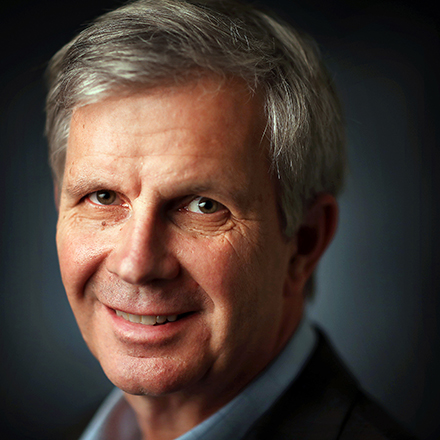 Geoff Calkins
Geoff Calkins has been chronicling Memphis and Memphis sports for more than two decades. He is host of "The Geoff Calkins Show" from 9-11 a.m. M-F on 92.9 FM. Calkins has been named the best sports columnist in the country five times by the Associated Press sports editors, but still figures his best columns are about the people who make Memphis what it is.
Chapter One: The second Penny Hardaway era begins at Memphis
When Penny Hardaway debuted at Memphis the first time, people wore tuxes.
Editor's note: As Penny Hardaway begins his first year as coach of the University of Memphis Tigers, Geoff Calkins is going to write the book.

That's right, a book. Written in chapters, with a new chapter arriving every Monday, Calkins will capture all the anticipation, the excitement and the challenges of the season.

He'll explore what Hardaway and Memphis basketball mean to the city and the people who call it home.

It'll be the definitive chronicle of the return of an NBA icon, as he tries to restore the basketball program he loves.
It was Nov. 29, 1991. The first regular-season game at the city's shiny new arena, The Pyramid.
Cybill Shepherd threw out the ceremonial first basketball. Jimi Jamison performed. ESPN televised the proceedings. Fans showed up in tuxes, to celebrate the arrival of the player who would revitalize Memphis basketball.
"There was a lot on my back," said Hardaway, recently, remembering the moment.
A lot on his back then, a lot on his back now.
Then, Hardaway was a slim, 20-year-old point forward who had been required to sit out a year to qualify academically, who had been shot in the foot just seven months earlier, who was expected to fill a massive new building and carry the program back to a Final Four.
Now he is a still-slim 47-year-old coach who wasn't seriously considered for the job the previous two times it was open, who spent the intervening years preparing for this moment, and who has said his goal is to bring fans back to a big building and to win a national championship.
So the dress code won't be the same when the second Hardaway era formally tips off against Tennessee Tech at FedExForum Tuesday night, but the anticipation will be, the sense of possibility and renewal.
"It's the right guy at the right time," said Leonard Draper, the longtime friend of Memphis icon Larry Finch. "It has come full circle. It feels like Memphis basketball is back to what it is supposed to be."
Those who don't live in Memphis may have a hard time understanding this sentiment. Indeed, when Hardaway was hired to replace Tubby Smith as coach last March, national commentators ripped the move.
"Memphis should be embarrassed," tweeted ESPN's Jay Bilas. 
"Penny wise and pound foolish," wrote Pat Forde of Yahoo!
But Memphis basketball has never been like other programs. It is connected to the city in a way that wouldn't be sustainable anywhere else.
Its greatest players – Finch, Hardaway, Keith Lee, Elliot Perry – have all been from the Memphis area.  That is not mere coincidence.
Now, for the second time in its history, it has beckoned one of those players back to lead the program from the bench.
"We got the right coach," said University of Memphis president David Rudd. "Penny has done everything we hoped and expected he would do. If there's any surprise, it's the speed with which he has done it." 
Rudd, of course, is the person who spearheaded the decision to replace Smith with Hardaway. On its face, that was not an easy decision to make. Not just because it cost the university $10 million to have Smith go away, but because it amounted to a public admission that it was a serious mistake to hire Smith in the first place.
But for Rudd, the math became impossible to ignore. The season-ticket base had dropped to 4,115 under Smith. Actual attendance averaged just 4,583 fans a game. Rudd said Memphis had lost $4.7 million in basketball revenue for the year and the trends were all headed the wrong way. So as astonishing as this may sound, it was cheaper to pay Smith $10 million to not coach the team than to keep him around for another year.
Of course, the decision only made sense because Hardaway was available to take the job. Memphis knew that Hardaway was ready to move on from coaching East High School and, indeed, already had a face-to-face interview with Ole Miss athletic director Ross Bjork, during which Bjork had essentially promised Hardaway a job as an assistant coach. Rudd quickly made the decision that he could not let Hardaway get away. 
Hardaway would fix Memphis' attendance problems instantly. He would recruit Memphis high school players in a way Smith never could. He would inject momentum and energy into a program that had become moribund. And he would do all that for a three-year contract for an average of just $1.5 million a year – or roughly half what Smith had been making to drive the program into the ground.  
So at precisely 11:01 a.m. on March 20, Hardaway stepped to the lectern in the lobby of the Laurie-Walton Family Basketball Center and formally accepted the job as Memphis coach.
"It's a family reunion," he said. "We're back to being family."
The throng of fans and former players – many of whom had drifted away from the program during recent years – cheered and snapped photos and reveled in an aura of good feeling that conjured the best days of Memphis basketball.
Even then, however, questions remained about Hardaway's ability to actually do the job. Would he be willing to give up golf and do the hard work required of a college coach? How would he handle the media and the public demands of the position? Could he put together a first-class staff? Would he be able to recruit players as well as some believed?
Seven months later, Hardaway has emphatically answered each of these questions in the affirmative. He works at the job relentlessly. He's a natural in public and with the media. He hired a staff that includes a former NBA star (Mike Miller) and a former NBA Coach of the Year (Sam Mitchell). And he recruited a top 30 class on the fly – including both Alex Lomax and Tyler Harris, two point guards everyone assumed would not want to play together – and seems well on his way to signing an even better class in 2019, a class that already includes DJ Jeffries and Malcolm Dandridge, and may soon include James Wiseman, the No. 1 high school player in the country.
All this has created an excitement – indeed, a giddiness – about Memphis basketball that hasn't been seen since the final years of the John Calipari era. The university sold every ticket to Memphis Madness, a glorified practice that had been canceled in recent years for lack of interest. Rudd said Sunday that the university "will easily double season tickets year over year."
But the enthusiasm is about more than tickets sales. It's about the restoration of a beloved institution that many feared had been diminished for good. Tiger basketball seemed in danger of going the way of the Mid-South Fair, the Zippin Pippin and Saturday morning wrestling. Something that had once bound Memphians to each other, but had been lost to the passage of time. 
Drew Butler manages the Tiger Bookstore's booth at FedExForum. He said last year there were games when the store didn't sell even $100 of merchandise.
"It was pathetic," he said. "Now it's insane. People can't get enough of basketball. By the end of Tuesday's game, if things go the way we project, we will have sold more than we sold all last year."
FedExForum is crackling again. Even at the two exhibition games, the mood was a blend of expectation and joy. 
"The return of Penny Hardaway is the return of the heart and soul," said Bob Byrd, a long-time booster and season-ticket holder. "He embodies everything good about the city and the university."
April Futhey was one of dozens of fans who showed up at the exhibition game against Christian Brothers wearing a Hardaway jersey, which Futhey received as a 66th birthday gift shortly after Hardaway was hired. 
"My husband and I have had season tickets for 30 years, but we weren't going to get them this year," she said. "As soon as they hired Penny, we changed our minds. Because he's Penny. He's just so Memphis and I love him for that."
Twenty-seven years have passed since Hardaway made his first debut as a Memphis Tiger. Much has changed since then. The arena. The conference. Even the name of the university.
But the sense of possibility is the same, the conviction that good times lie ahead. Then, the good times would last just two seasons before Hardaway turned pro. This time, the hope is that the good times could extend for years.
Hardaway himself embraces those expectations, in much the same way he embraced them back in 1991. Then he had the confidence of a 20-year-old who knew exactly what he could do with a basketball. Now he has the confidence of a 47-year-old who knows exactly what he wants to do with his team.
Memphis lost that opener in 1991, by the way, 92-89 to DePaul in overtime. But Hardaway had 18 points, 15 rebounds, 6 assists, 4 blocks and 4 steals to begin a season that ended with a run to the Elite Eight.
"I had to go out there and show the nation what I was made of," Hardaway said.
Tuesday, he starts doing that again.
---