Grizzlies Postgame: Grizz hand Nuggets second loss
Conley, Gasol make big plays late, while rookie Jaren Jackson Jr. shines
Winning big is fun, but winning close is better. The building back-and-forth tension is a richer, deeper experience, creating the kind of basketball games that keep you up, sifting through the string of moments lingering in your mind. These games seem longer, in a good way, because all 48 minutes matter.
It had been more than a year --  October 26, 2017 -- since the Grizzlies had played one of these in FedExForum, in a game that felt like it still mattered.
The Denver Nuggets came into FedExForum Wednesday night owners of the Western Conference's second-best record at 9-1, led by a big man in Nikola Jokic whose array of offensive skills in a plodding package had knocked Marc Gasol off his corner as a throwback big-man cult figure.
With just south of 12 minutes to play, the game was tied 72-72. Six lead changes later, neither team ever had more than a two-possession cushion, with the Nuggets erasing the Grizzlies' final apparent two possession lead in one possession: A driving dunk and drawn foul by forward Trey Lyles and a 22-foot step-back jumper by guard Jamal Murray over Grizzlies rookie Jaren Jackson Jr. after the Nuggets rebounded Lyles' free-throw miss.
With the game tied again and the shot-clock off, the Grizzlies went to their bread and butter pick-and-roll, a two-man game with Marc Gasol setting a pick for … Shelvin Mack.
Head coach J.B. Bickerstaff moved Mike Conley off the ball for the final offensive possession. Conley had been struggling and Mack had the weaker defender, but those weren't the reasons he gave.
"We've had success with those three guys (Gasol, Mack, Conley) in actions together," said Bickerstaff. "What it does is put a lot of pressure on the guy who is guarding Mike. You've got Marc, who is so skilled in the pocket as a roller. The guy who is guarding Mike has to be the help guy, but you're a little intimidated to leave Mike to help in the paint when Mike's popping out for a wide-open three."
Gasol slipped the pick, caught Mack's feed, and drew a foul, hitting both for the go-ahead points, two of his eight in the fourth quarter, for an 89-87 win.
Conley was 2-9 at that point, but had his moment of redemption a few seconds earlier. Through 36 hard minutes, Conley had stepped in for back-to-back charges, getting flattened for no-calls. He had hit the floor, fighting Jokic to keep a loose ball alive. He had just darted past Jokic along the baseline and missed at the rim. All night -- all season, really -- Conley's timing in the paint had been off. After that last miss, he came right back in the next possession, nailing a floater to build the four-point lead the Nuggets would soon erase.
These closing plays were a nice bounce-back for Gasol and Conley, who had failed to close out a nip-and-tuck roadie in Phoenix a few nights before. But team defense is what laid the foundation.
Before the game, Bickerstaff said he wanted his teams to "strangle" the opposition, and his team held the Nuggets to 87 points (112 on the season) on 39 percent shooting (47 on the season).
Man of the Matches
Nikola Jokic is having an incredible season, scoring, rebounding, and defending better than ever before, and putting up the kind of assist numbers not seen from a true center since Wilt Chamberlain.
But Marc Gasol pretty much dismantled him on this night. Gasol's physical, attentive defense knocked Jokic out of rhythm, and he finished with as many combined turnovers and fouls (11) as combined assists, rebounds, and made field goals. 
Jokic had actually not registered a field goal attempt until the final three seconds, when his three-point attempt could have been a game-winner but came up well short. 
Gasol finished with 20 points (6-13 shooting), 12 rebounds, four assists, two steals, and three blocks, his go-ahead free-throws preceded in the fourth quarter by two driving dunks.
But not all highlights came late ... 
Clip of the Night
It risks getting lost in the late-game back-and-fourth, but let's savor this old-school-to-the-new Gasol feed:
Throw it up and the rook will go get it

7 early points for @jarenjacksonjr pic.twitter.com/0f7LG7QsoR

— Memphis Grizzlies (@memgrizz) November 8, 2018
Nightly Number
With Jokic rendered a non-scorer and not much of a set-up man either, the Nuggets needed points from their backcourt. Starters Jamal Murray and Gary Harris are more than capable. 
The Nuggets top two scorers on the season, Murray and Harris average a combined 37 points per game on the season on 47 percent shooting. Harris is one of league's more underrated two-way players. Murray is more combustible. He went for 48 against the Celtics, the NBA's top-ranked defense, in his previous game.
They mostly got their points in this one, combining for 35, but it took 37 shots to get them, on a combined 32 percent shooting. Credit the Grizzlies' scrappy team defense for this, and a deep cast of game and able perimeter options. But pay particular attention to Garrett Temple.
Temple had a rough night offensively, with only five points on 1-4 shooting. His scoring has been up-and-down this season, with more ups than I, for one, expected. But his defense? You can count on that. At +10, Temple had the second-best plus-minus on the team and he's the main, if not only, reason the Grizzlies are making a habit of holding opposing scoring guards to underperforming nights. 
The Match-Up
If Gasol/Jokic was the marquee attraction coming in, the frontcourt undercard was pretty good (for the Grizzlies) too: Jaren Jackson Jr. and Paul Millsap might be power forwards passing in the night.
A 33-year-old undersized frontcourt player coming off an injury-limited season, Millsap seems to have fallen pretty hard now from his All-Star prime.
The 19-year-old Jackson, in his tenth pro game, is just getting started. But Millsap couldn't really handle Jackson's length and athleticism in this game.
Jackson picked up an offensive foul trying to post Millsap on the Grizzlies' second possession, but he and the team came right back to it the next trip down the floor. Jackson got deep position, spun, and drew the foul. From there, Jackson got going, and the most impressive and encouraging thing about his night was probably the stretches where he strung together impact plays on both ends of the floor.
In an 18-second stretch in the first quarter, Jackson finished that previously shown alley-oop from Gasol, blocked Gary Harris' dunk attempt, and got a steal from Jokic.
In a one-minute stretch near the end of the first half, Jackson took over the game in a burst: A steal he took coast-to-coast for a layup, a defensive rebound, a putback dunk of a Gasol miss, and a block of Millsap.
Jackson struggled in the mid-range, as both a passer (a nice-try high-post feed to Gasol that was picked off) and finisher. (Was that a jumper or a floater? A joater? A flumper?) But that's way down his skill-development to-do list.
On the season, Jackson had been plagued by fouls. With the Grizzlies frontcourt racking up whistles in the first half, Jackson was the last to be impacted, and finished with only two in 33 minutes, a new playing time career high for the second straight game. He had struggled from long-range. He made 2-5 in this one, the second number nearly as welcome as the first.
And while Jackson was in and out in the fourth quarter as Bickerstaff juggled lineups, he was part of winning time, playing more than eight minutes in the fourth quarter, while Millsap sat the whole fourth.
It wasn't Jackson's best scoring night -- he had 24 in the home opener -- but it was probably his best game, finishing with 20 points, seven rebounds, three steals, and three blocks. Millsap scored two on 1-7 shooting, with three rebounds.
Elements of Style
So that's why there are six different wrestling nights this year.
Before the game, the Grizzlies introduced this season's "City" uniforms -- which had leaked on Twitter a couple of days earlier. The "steel gray" with gold and blue accents look is intended the evoke the city's professional wrestling history. The gray is for steel cages and ringside chairs that turn into weapons (or did more frequently in less safety-conscious days). The gold is meant to evoke championship belts, including in an emblematic "GNG" logo down the side.
"Uniform is lit, it has a lot of Memphis in it." - @jarenjacksonjr

The City Edition 'Main Event' Nike uniform makes its appearance during our 6 wrestling nights this season. Want more info on the design and inspiration?

Visit: https://t.co/hHdVaabUaRhttps://t.co/FzbxgyjYoh

— Memphis Grizzlies (@memgrizz) November 7, 2018
You can learn more about the concept here.
These second "City" uniforms (the Lorraine-balcony-themed MLK uniforms two years ago were a Grizzlies one-off, not part of a league-wide series) will debut Saturday against the Philadelphia 76ers and will repeat at five different wrestling nights throughout the season. After the understated class of last season's "I Am a Man"-inspired uniforms, it was probably right to swing the other way.
I'm no fashion critic, but as a pioneer in the field of Grizzlies/wrestling linkage, I feel on firm footing weighing in here.
While I think the team may be hard-selling the wrestling theme a bit much this season, I think I like the uniforms. I've always been a fan of the yellow/gold component of the current regular color scheme and am glad to see that get a more prominent place. The metallic texture of the gray looks good, at least in photographic form. There's a (turn)buckle on the front (I'm sad that the Grizzlies beat me to this joke; they leave no conceptual stone unturned) that I can only assume has an opening to conceal a chain or some other foreign object.
Could they have gotten even more creative here? Would the NBA have gone for uniforms flexible enough to allow Marc Gasol to pull down a strap to set off a Grizzlies comeback? Could the team have all played in black-and-yellow Assassins masks? Probably not. This will do.
The Tweets Were Watching
Just remember how good this win is when the Grizzlies inexplicably lose to the Nets later this season

— Scaren Jackson Jr (@BallFromGrace) November 8, 2018
The Jacob Riis Report
Though he didn't quite play like it, he did look like it: Nikola Jokic has to be the captain of the Dad-Bod All-Stars. 
There was one play where Jokic got a defensive rebound and began a dead run ... for two steps. Then he stopped completely as if to realize, "wait, I don't do this." 
Jokic had a rough night, but maybe not his roughest of the week. Better the fatherly physique than the arrested-development (to be charitable) jokes:
Nikola Jokic has been fined $25,000 for using "derogatory and offensive language" -- he said "No homo" before referring to Wendell Carter's length after a recent win over the Bulls.

— Sean Highkin (@highkin) November 7, 2018
Arena Action
When the front office makes life hard on the game ops staff:
Someone needs to edit the Grizzlies introductory video. #Harrisonhegone

— Greg Gaston (@Greg_Gaston) November 8, 2018
A new in-arena bit: Yuta Watanabe Japanese Word of the Day:
#2WayPlayer Yuta Watanabe (@wacchi1013) helps teach the @memgrizz his first language, Japanese! ????

???? ?? @GW_MBB ?? @MemphisHustle ↔? @memgrizz pic.twitter.com/wEMI3mHpTs

— NBA G League (@nbagleague) November 8, 2018
I have no video evidence, but something new I noticed tonight were the mid-fourth-quarter get-hyped-up signs with which the "Claw Crew" paraded around the arena. In addition to the expected ("GET HYPE"), there was one that caught my eye, and my approval, as a strong advocate of the South's linguistic gift to the world: "ALL Y'ALL."
Where They Stand
The Grizzlies improve to 6-4 and in a four-way tie for fourth place in the Western Conference.
Looking Ahead
The Grizzlies host the Philadelphia 76ers on Saturday night at FedExForum, the Sixers' only Memphis visit of the season. 
Announced Attendance
15, 832
Deflections
Mike Conley had a traveling call in the second quarter that was a top-five career angry-on-the-court moment for him. Instead of getting a tech, he got back-to-back make-up calls.
The Grizzlies still have an open roster spot after cutting Andew Harrison last week. They've been playing smaller more lately, and effectively. But the rash of frontcourt foul trouble tonight illustrated that the team could maybe use another backup big. They ended up playing Kyle Anderson at center. "It was interesting," Bickerstaff said.
Former Tiger hoops star D.J. Stephens, on one of the Grizzlies' two-way contracts, made his active roster debut. He was joined by Jevon Carter, the second-rounder who was called up from the Hustle for the game. The Hustle home-opener is Friday at the Landers Center in Southaven against the Rio Grande Valley Vipers. Neither played, but Stephens did turn some heads in the pre-game layup line:
Watch the @DdotJAY30 dunk and stay for @jarenjacksonjr's reaction ?? pic.twitter.com/PVAEhjbHc3

— Memphis Grizzlies (@memgrizz) November 8, 2018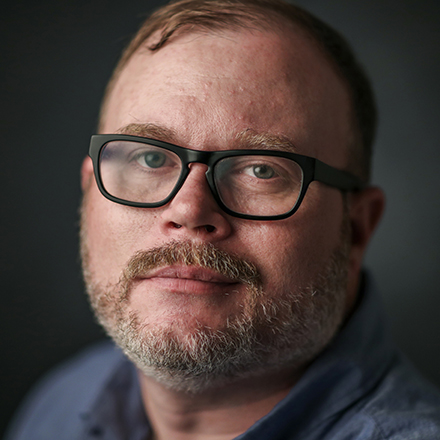 Chris Herrington
Chris Herrington covers the Memphis Grizzlies and writes about Memphis culture, food, and civic life. He lives in the Vollentine-Evergreen neighborhood of Midtown with his wife, two kids, and two dogs.
---