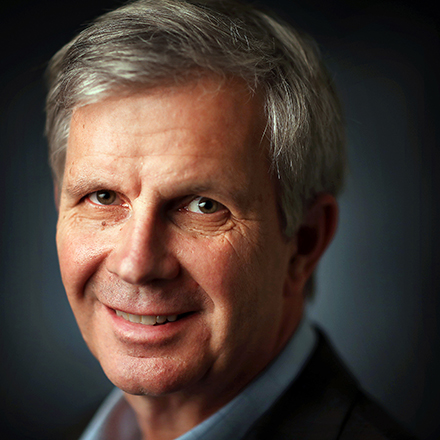 Geoff Calkins
Geoff Calkins has been chronicling Memphis and Memphis sports for more than two decades. He is host of "The Geoff Calkins Show" from 9-11 a.m. M-F on 92.9 FM. Calkins has been named the best sports columnist in the country five times by the Associated Press sports editors, but still figures his best columns are about the people who make Memphis what it is.
Calkins: James Wiseman picks Memphis over Kentucky and it could be a magical ride
Just before noon, James Wiseman looked into the ESPN cameras, and said "After long, thoughtful consideration, I will be attending the University of . . ."
Then he paused and reached into a bag on the floor beside him and pulled out a large, stuffed, silvery white unicorn. The unicorn was wearing a blue Memphis Tiger blanket that Wiseman — alone in his room, without telling anyone — had placed on it the night before.
Wiseman held the Memphis unicorn up for all the universe to see. The crowd in the East High auditorium erupted with joy.
The No. 1 high school player in the country will be attending Memphis. Penny Hardaway had vanquished John Calipari once again.
"I followed my heart," said Wiseman, explaining his decision. Which led him right back to the place he has come to call home.
So maybe it was appropriate that Kevin Kane, the president of Memphis Tourism, was among the throngs at East High.
"This is a tourism story, this is a Memphis story, this is a community story,"  Kane said. "When Memphis basketball is hot, the economy is better, the psychology of the city is better. And right now, Memphis basketball is hot."
---
Jonah Jordan: James Wiseman picks Hardaway and Memphis Tigers
---
Wiseman isn't just the best high school player in the country. He's the latest piece of evidence that Hardaway is building Memphis into a national power once again.
First, Hardaway added a top 30 recruiting class that included Alex Lomax and Tyler Harris. Now, he's diverted Wiseman and DJ Jeffries away from Kentucky. Next, he'll leverage Wiseman and Jeffries to try and add even more elite recruits.
Indeed, Wiseman said he's already pitching in on recruiting. He even named names.
"Trendon Watford, Precious Achiuwa and Matthew Hurt," he said.
Think Memphis has a shot?
"Yes."
At all three?
"Yes."
So Wiseman's decision isn't just about the one year he expects to play at Memphis before jumping to the NBA. It's about years stretching long after that.
None of it would have been possible had the Memphis administration not had the courage to make a coaching change after last season, and never mind the national criticism that came along with that.
Wiseman chose Memphis because Memphis chose Hardaway. Otherwise, Wiseman was Kentucky bound.
"He loves Penny," said Donzaleigh Artis, Wiseman's mother. "He was his screen saver when he was a kid."
Wiseman played for Hardaway on Team Penny, Hardaway's AAU team. He left Nashville's Ensworth School to win a state championship under Hardaway at East.
But there was still the question of whether Hardaway could keep Wiseman away from Calipari, one of the greatest recruiters college basketball has ever known.
---
Jonah Jordan: Calipari downplays his recruiting talents after Wiseman commitment to Tigers
---
At least, there was a question until Tuesday, when Calipari was left telling reporters he wants to "be able to sleep at night, make sure I'm telling the truth." 
You might even say he sounded like a miserable. 
Of course, Calipari is also the guy who once compared Memphis to eating at the "kids' table." 
It's an increasingly talented collection of kids.
And while Wiseman wouldn't have picked the Tigers but for Hardaway, the city certainly did its part, too.  
---
Geoff Calkins chronicles Season One with Penny Hardaway
---
Wiseman grew comfortable in Memphis. He reveled in the relaxed vibe of the place. Monday, Lomax stopped over just to take a nap. 
"It's been nice, it's really been nice how people treat us around here," Artis said. "It makes us feel like we're family, we're home."
So at around 11 p.m. Monday, Wiseman retreated to his room, taking the stuffed unicorn his mother had found a week earlier at a local Walgreens. The unicorn has become a sort of mascot for Wiseman. A family friend had made five unicorn blankets representing the five schools on Wiseman's final list.
"He went into his room, dressed it, put him in the bag, tied him up, and told me, 'Don't look,'" Artis said. "He didn't want anybody to know."
So when Wiseman pulled the unicorn out of the bag Tuesday, it was, at the very least, magical.
"The biggest day in Memphis history," said Tigers fan Mark Goodfellow, an exaggeration that captured the over-the-top spirit of the event.
"It's a great day for Memphis," said Darla Todd, a 66-year-old fan who once attended classes with Larry Finch. "It doesn't hurt that it was Calipari on the other side." 
As for Wiseman himself, he couldn't stop smiling, with evident joy and relief. 
Someone asked him what he was going to do with the unicorn. Wiseman said he might keep it on a shelf or next to his bed.
But if everything goes right? And as long as we're talking about magic?
Maybe he can take it to the Final Four.
---