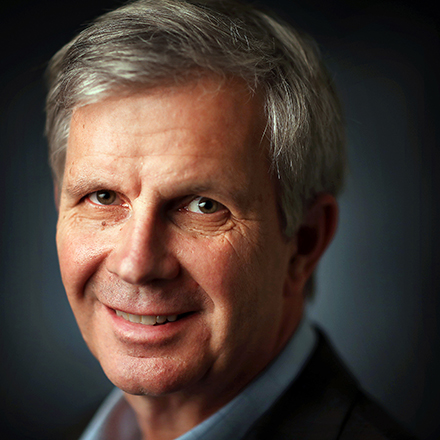 Geoff Calkins
Geoff Calkins has been chronicling Memphis and Memphis sports for more than two decades. He is host of "The Geoff Calkins Show" from 9-11 a.m. M-F on 92.9 FM. Calkins has been named the best sports columnist in the country five times by the Associated Press sports editors, but still figures his best columns are about the people who make Memphis what it is.
Calkins: Is it possible to be a fan of both Memphis and Tennessee? NO!
As the big game bears down upon us, as Memphis prepares to play Tennessee in basketball, let us all come together to agree on one essential truth: you have to pick a side.
Volunteer or Tiger.
Orange or Blue.
Rick Barnes or Penny Hardaway.
Evil or good.
OK, I'm kidding about that last one. But you get the idea, right?
You cannot be a fan of Memphis and Tennessee.
If you are, you are not really a fan.
This seems obvious to most right-thinking people. I know because I asked readers if it's possible to be a fan of both teams.
Eliza Ray: "Heck no. My brother went to UT and I still hate them."
Jessica Hunter: "NO!"
Carol Hurst Larocca: "NO!"
Kimberly Harper: "Not possible."
Tommy Sexton: "I believe the Bible verse `No man can serve two masters' applies to this question."
So that's settled, right?
You can't be a fan of Alabama and Auburn. You can't be a fan of Duke and North Carolina. You can't be a fan of Donald Trump and Nancy Pelosi. The Bible tells us so.
And yet, right here in this city in which we live, there are heretics who claim to be fans of both schools.
They argue that this is both normal and acceptable. Their arguments are dumb. But in the interest of fairness, let's address them one-by-one.
Byron Fisher: "Yes. I hold degrees from both Tennessee and Memphis."
This is a common argument in this town. There are 61,154 Memphis alumni in Shelby County. There are 9,289 alumni of Tennessee's Knoxville campus in Shelby County and another 6,504 alumni of the Tennessee Health Science Center. So, clearly, in those numbers, there is some overlap.
But who cares? I know people who have lived in Boston and New York. That doesn't entitle them to pull for the Red Sox and Yankees, too. Fandom is not a paper document. It is a matter of the heart.
Michael Russell: "Yes, I have degrees from both schools. You can support any school that cashed your tuition checks."
This is a variation of the first argument. It is even more soulless. As if fandom has anything to do with money.  How perfectly crass. Beyond that, yes, of course you can support more than one school in the sense that you can wish more than one school well. But that is not fandom. Fandom does not derive from a decision to support. Fandom is not the result of a decision, period. It is  involuntary, like the beating of a heart.
Mehdi Sadeghi: "I received my dentistry degree at UT, I teach at UT dental school and was a big Manning fan, but at the same time my wife, my brother and my oldest daughter are U of M alumni and it's home team. So Saturday I'll be happy either way."
Here's a tip: If you will be happy either way, you are not a fan. Real fans are deliriously happy if their team wins. Real fans are inconsolably miserable if their teams lose. And I say this with the utmost regard for Dr. Sadeghi, who happens to be my dentist, and of whom I am a real fan. But this has nothing to do with one's children, either. My kids like certain types of music. So I am supposed to like that music, too? Their music is their music. Their teams are their teams. There is no reason they have to be yours.
Richard Smith: "The chip on the shoulder of a `True Blue Tigers' fan won't allow for multiple allegiances. The rest of the free-thinking world, not a problem."
Richard could not be more wrong, of course. But note the way he is wrong. He has the supercilious attitude that some Tennessee fans like to adopt toward Memphis. Richard is a true Big Orange fan.
Justin Breen: "We have a handful of friends from Memphis that went to UT who claim to be Memphis basketball fans yet UT football fans. So what color do they wear on Saturday?
Yellow. Because they are cowards. And there are more than a few out there. A good number of people claim to be fans of Memphis basketball and Tennessee football. These are bandwagon fans. They pick and choose the winners. They are doubtless fans of whatever team LeBron James happens to be playing for, as well. They did not have the spine to pull for Memphis football or Tennessee basketball back when those programs weren't winning. Now that they are, these fans may well be trying to clamber aboard. I do not question their sincerity. I question their character.
Randy Jowers: "Of course you can because we are all grown ups."
Speak for yourself. When it comes to fandom, we are not all grown ups. We are all roughly 12 years old. That is when fandom typically becomes a part of one's being. Then it is impossible to dislodge.
Fandom is emotional and irrational. Fandom is prone to tantrums. 
And, no, fandom does not allow for dual allegiances. You are either Orange or you are Blue.
So pick a side, Memphians. This is one fence you cannot ride.
"It's simple math," said Candy Brasfield, a Memphis fan. "You can't be 100% on both sides at the same time."
---