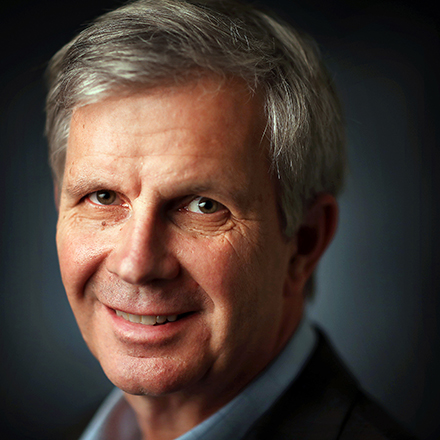 Geoff Calkins
Geoff Calkins has been chronicling Memphis and Memphis sports for more than two decades. He is host of "The Geoff Calkins Show" from 9-11 a.m. M-F on 92.9 FM. Calkins has been named the best sports columnist in the country five times by the Associated Press sports editors, but still figures his best columns are about the people who make Memphis what it is.
Calkins: Elliot Perry has an urgent request
Elliot Perry brought out the old knee pad and put it on a table. He explained why he still has it after all these years.
"I had been wearing the knee pad since I sprained my knee in high school," he said. "Sometimes you get used to something even though your knee gets better, so you keep on wearing it.
"My junior year in college, I was kind of struggling a little bit. I had a good freshman year and a very good sophomore year but in my junior year I was struggling. Then I read this article in Sports Illustrated — I don't even remember who it was about — but it said that you can take the best player in the world and you can take one thing from him and he would become an average player. And you could take an above-average player and you could give him one thing and he would become great. And that one thing was confidence.
"So I had our trainer, a guy named Steve Miller, write 'Confidence is the key' on this knee pad. Right after that, we were playing a game at South Carolina. I had gone to Coach Finch's room and asked him just bring me off the bench, just to change things up. He said, 'No, we're going to go with you, just stick with it.' And that night, against South Carolina, wearing the knee pad, I hit a shot with no time left to win the game. It reinforced how much confidence plays a role in everything you do. I've kind of carried that through my life."
Perry recently fetched the knee pad from his aunt's house, with the intention of donating it to the University of Memphis Hall of Fame. He showed it to me the other day, not because it connects to his former life as a basketball player but because it connects to a favor he'd like to ask of you, of me, of all of us who say we care about the future of this town.
"Become a mentor," he said. "We need more people to become mentors. When I work with young men, the one thing that I've seen across the board is that they don't have the confidence that they can accomplish the things they say they want to accomplish. People who come from where I come from, we don't grow up with a network. We don't grow up with the support system. Our parents love us just the same but we grow up in neighborhoods that harden us and we feel like we've got to be a certain type of person to survive. I know if I didn't have a mentor, I wouldn't be where I am today."
And here Perry told the story of Michael Toney, a story that he has told a thousand times but will happily tell a thousand more times if that's what it takes.
"I was in sixth grade," he said. "He lived right up the street from me. I was kind of messing around with his dad because his dad fixed cars in his driveway. I was sitting down on the steps and Michael — he was at Memphis State — started talking to me about college. Where was I going to college? Nobody in my family had ever gone to college. I hadn't developed as a basketball player at that point, either. But he had this makeshift goal on the side of, well, it wasn't even a garage, it was an outhouse, basically. And we'd shoot. While we were shooting, we were talking. That's how it all began."
Toney took Perry with him to a college class that summer. He took him to the Rec Center to play pickup games against other college students.
"These were men," Perry said. "I wasn't ready, but Michael would pick me on his team every time. He would make me guard this guy called Larry Simpson. And Larry Simpson would murder me all the time. When we would leave, Michael would always say, 'What are you going to do? Are you going to come back?' And I'd say, 'Yeah, I'm coming back!' Eventually, I got to the point where I'd ask to guard Larry Simpson. Not only was I developing as a basketball player, but I learned to not quit, I learned to go through the process of getting my ass kicked every Saturday and still coming back."
Perry understands all the reasons people don't choose to mentor. They don't think they have anything to offer. Or they don't have enough time.
"Time is the most valuable thing you have to give because it's the one thing you can't get back," Perry said. "That's why it means so much. But when you talk about trying to have a better community, there is no better way than to connect people with people, to say to a young person, 'Let me tell you about my story, let me tell you about where I come from.'"
This is why mentoring is a primary focus of The Grizzlies Foundation, the Memphis Grizzlies philanthropic arm. Amidst the team's current struggles — and they are very real struggles — it is easy to forget why a collection of Memphians decided to bring the franchise here in the first place. It wasn't really about basketball. It was about leveraging the power of the NBA to help transform the community.
No other major-league franchise in the country has that as its central motivation. It's why the Grizzlies Foundation continues to be recognized as one of the most effective philanthropic organizations in the world of sports.
But to have more of an impact, the Grizzlies need more mentors, both for their mentorship program and for the 65 mentorship programs they work with across the city. If you're interested, you can check out the possibilities by visiting GrizzliesFoundation.org.
You don't have time?
Perry respectfully requests you make the time.
"I just go back and keep thinking, 'What if Michael Toney had said, 'I don't really have the time to mentor?' What would have happened to me?"
---