Herrington: Grizzlies in purgatory, trade-deadline notes, and a new face on the way
On the day after the most demoralizing loss of the Grizzlies season, let's sift through the issues du jour:
Gasol, Bickerstaff, and the Prevailing Mood
"No one's coming to save us."
"We have to participate in our own rescue."
"We've talked enough."
Is that last one ever the truth. Tuesday's Grizzlies practice was mercifully free of these oft-repeated phrases, the same responses to the same questions because what more is there to say? The practice sounded spirited from outside the gym doors. The few media who were there poked around for some news (see "Roster Updates" below). And Kevin Garnett was hanging out, so that was cool.
Whether anything changes for a team that's now lost 17 of 20 is something we'll find out on Wednesday night on the FedExForum floor, not in pre- or -post-game or practice orations.
Otherwise, we're just waiting. Grizzlies basketball feels like purgatory right now. Monday felt like a breaking point, except that it wasn't.
In a typical season for a typical franchise, this is when a coach is let go, an assistant is elevated into the interim seat, and impending free agents are put on the block. There's a sense that the Grizzlies' prescription should be more dramatic than even that, but is likely, at least until the summer, to be less so.
A Grizzlies Mailbag question last week asked me which would come first: Chris Wallace fired? Chandler Parsons (remember him?) bought out? J.B. Bickerstaff fired? Marc Gasol traded?
The first two are likely non-starters in-season, but the last two? Still unlikely, but I'd bet the odds increased on Monday.
Bickerstaff says the right things but feels like one of the walking dead. He's a thoroughly decent person who handles himself with character and class through good times and bad. There are roster and management problems above his pay grade and performance problems beyond the reach of any coach. But it's really difficult to see a significant coaching imprint on this season's team.
And Gasol? I noted in my game story Monday night the seemingly wistful, ruminative way Gasol surveyed the building on his way off the floor after the loss to the Pelicans. Gasol was late into the locker room after the game due to back treatment, and I had to write my game story before he appeared, but Peter Edmiston hung around for an audience, and this answer from his compelling chat seems to allude to that moment:
OK, remove me from the equation, now what? Think you're going to win more games? Maybe. Maybe! But you've got to start somewhere, right? So I'm saying, if you take me out, OK, maybe you take the pressure off of winning, but you're still going to have to fix it. Or you're going to continue to lose. It took us a lot of years and a lot of hard work to put butts in those seats out there, to create that feeling and that pride, for us to just give it up.
Saturday night in Toronto pretty well showed that removing Gasol doesn't solve anything for the Grizzlies, at least in the short term. The team has struggled since late November in large part because of the absence of a healthy Gasol. No Gasol at all is even worse.
Gasol's right that taking him out – from a game or from the roster – probably takes some pressure off winning, but that could be rephrased as replacing short-term goals with long-term goals. And maybe it's time for that. You can say that would be painful, but it already is. Maybe at this point it would just be relief. "You're still going to have to fix it."  Are they ever, with no guarantee of success. But this transition is now here. The question for the Grizzlies and Gasol is whether it goes forward with or without him. There's a road to take for both options, but Monday felt like the sadness and frustration that comes with the process of making peace with the latter. We'll see.
Lottery Odds and Trade Deadline Housekeeping
As expected in the preseason, eighth seed in the Western conference isn't running away from the Grizzlies. As of today, 45 wins would get you in and I think there's a chance that number drops a bit.
Instead, it's the Grizzlies who are running away from the playoff race. Losing 17 of 20 will do that. Even now, the Grizzlies are six games back in the loss column. That's a lot to make up with 35 games to play. When you have five teams to leap over, it's pretty much impossible. Teams are effectively eliminated from the playoff race before they're mathematically eliminated. I'd say on Monday – if not before – the Grizzlies were effectively eliminated from the playoff race.
There's a secondary race, however, that's still alive. Is it worth running?
We've written enough about the pick the Grizzlies owe to Boston that I won't dwell on the details here, but I believe that in the absence of a playoff berth, the team's first preference would be lottery luck (jumping into the Top 4 picks). Their second preference would be to fall out of the Top 8, and thus fulfill their trade obligation to Boston, clearing their debts for the rebuild to come. Their final preference would be to land a pick 5-8, taking a shot in less certain territory of a riskier than normal draft, and still owing Boston a first-round pick in 2019 or 2020.
Obviously the lower you finish, they better your odds of jumping into the Top 4. But those odds are flatter this season than they used to be, and there's only so far – right? – the Grizzlies can fall.
The Grizzlies (19-28) are sixth from the bottom today but are 4.5 games behind fifth-from-the-bottom Atlanta Hawks and eight games behind fourth-from-the-bottom Chicago Bulls. The Grizzlies could lose out and might not catch those bottom four. Their odds of catching the Hawks, even if they actively try, are very low.
Sixth place, where the Grizzlies currently are, yields a 37 percent chance of jumping into the Top 4 (the first preference), but it also yields the highest possible odds (59 percent) of staying in the 5-8 range, the lowest preference.
If the Grizzlies can't really do anything now to improve their chances of reaching the preferred scenario, they still have a chance of lowering the odds of their least-wanted scenario. Move down from 6th to 8th and you've still got a 26 percent chance at a Top 4 pick but your odds of falling into the 5-8 range drops to 35 percent. Get to 9th from the bottom and you've got a 20 percent shot of jumping into the Top 4, but you're guaranteed not to get stuck in the middle.
The Grizzlies are 1.5 games out of that 9th slot. Is this something worth playing for? It's easy (maybe?) to understand the logic, but hard to get excited about.
Maybe, at this point, the Grizzlies should set draft-pick strategy aside and just get busy being reborn. Do whatever makes sense as part of a real rebuild without concern for how it impacts jockeying for position this season.
Along those lines, a few notes as the trade deadline creeps up:
No double draft: A mea culpa here. In last week's Grizzlies Mailbag, I mentioned the potential for a "double draft" in 2020. I'd missed that the NBA offices quietly notified teams that this wouldn't happen until 2021 at the earliest. This doesn't fundamentally change the notion that the 2019 and 2020 drafts are likely to be better than the 2018 draft, but it does remove an element of risk and layer of complication.
Gasol's trade kicker: I mentioned in my "Marc Gasol Decision Tree" opus that the Grizzlies' proximity to the tax line would be a complicating factor in any Gasol trade this season (or any other trade, really). Another complication I failed to mention: Gasol has a 15 percent "trade kicker" in his contract, a kind of bonus that he'd be due if traded.
This is a complicating factor, but not a big one. The trade kicker would only apply to this season, not Gasol's opt-in for next season, and would be prorated for the amount of time left in the season. Gasol could choose to waive it, but there are also mechanisms that might lower it even if he didn't. This is a factor that would have to be accounted for in any Gasol trade this season, but would be unlikely to prevent a deal.
Five vets on expiring contracts: I've been skeptical about the prospects of an in-season Gasol trade, and remain so. But I feel like the odds of it went up at least five percent after that MLK Day performance. For all the talk about Gasol, the most likely Grizzlies trade-deadline scenario remains something (or somethings) more minor, although no activity at all would surprise me the most.
What would something more minor mean? The Grizzlies have five veteran players on expiring contracts who are eligible to be traded: JaMychal Green, Garrett Temple, Shelvin Mack, Omri Casspi, and Justin Holiday. (Holiday can't be traded with other players.) It could be something as significant as pairing two or more of those contracts to create a big deal or as minor as last season's trade-deadline deal of James Ennis for a future second-rounder. But I'd be surprised to see all five of those players still in Beale Street Blue on Feb. 8.
Meet Bruno Caboclo
Not at Grizzlies practice Tuesday was Bruno Caboclo, who ESPN's Adrian Wojnarowski reported on Monday the Grizzlies would be signing to a 10-day contract. Expect that to still happen, but probably not until Thursday, ahead of this weekend's home back-to-back.
The 6-foot-9 Brazilian forward is infamous as the former Toronto Raptors surprise first-round draft pick whom analyst Fran Fraschilla described as being "two years away from being two years away." Sure enough, Caboclo was pretty bad, performing poorly in 35 NBA games over this first four seasons, with the Raptors and Kings. But if Fraschilla was right, this should be his year. After being cut by the Houston Rockets in the preseason, Caboclo has spent the entire season with Houston's G League affiliate, the Rio Grande Valley Vipers, and seems to have made a little leap.
The G League-oriented site Ridiculous Upside profiled Caboclo last week, proclaiming him one of the G League's best defensive players (a 7-foot-7 wingspan helps) and someone who looks ready for another NBA shot.
This season, Caboclo, who is still just 23, has been a 43-percent 3-point shooter who has averaged three blocks and 1.5 steals and has emerged as an intriguing 3-and-D forward.
Will anything come of this signing? Most 10-day contracts don't amount to much, but some do. JaMychal Green did. With his youth and physical upside, Caboclo is exactly the kind of speculation the Grizzlies should be pursuing with their open roster spot.
The potential complication, if it pans out: The Grizzlies are so close to the tax line that they couldn't sign him for the rest of the season without edging into the tax, which they are not going to do. But a second 10-day would take Caboclo through the trade deadline, and the team's space relative to the tax line could well change by then.
Why not sign Caboclo to a two-way contract rather than Julian Washburn? With four years of NBA tenure under his belt, Caboclo is no longer eligible for a two-way.
Roster Updates
Kyle Anderson looked pretty good in workouts before Monday's game and was active in practice on Tuesday as he recovers from his sprained ankle. Bickerstaff said Anderson was making progress and would continue to be re-evaluated. My guess is he might be back by the end of this five-game homestand.
Omri Casspi was also a practice participant, but wasn't quite 100 percent after being a late scratch Monday due to illness.
Joakim Noah was still absent for personal reasons. There's no word on his return, but there's no sense that it's a long-term thing.
The Rest of the Homestand
A win, any win, would be relief, but can anything short of the miraculous really change anything?
These games are winnable, or should be, but every team left should be more formidable than the Pelicans team without Anthony Davis:
Wednesday - Charlotte: Kemba Walker has been one of the NBA's best guards this season and has carried the Hornets into the playoff race. I'm intrigued to see young players Malik Monk (an area native) and Miles Bridges (Jaren Jackson Jr.'s college teammate).
Friday -- Sacramento: Dave Joerger loves winning in Memphis and has a team still very much in a playoff race. Marvin Bagley III is back in the rotation for the Kings, so we should get a Bagley-Jackson rookie big-man matchup.
Saturday -- Indiana: The team that destroyed the Grizzlies in the opener. Tyreke Evans makes his return. Jackson matches up with one of his more reasonable comps, Myles Turner, who has emerged as a Defensive Player of the Year contender this season.
Monday -- Denver: More than halfway through the season, the Nuggets are still only a game off the Golden State Warriors for the West's top seed. Nikola Jokic-Marc Gasol tends to be an entertaining matchup.
The Tony (and KG!) Show
Chris Vernon has had Tony Allen on his daily show for the past three Tuesdays. "Tuesdays with Tony" is going to be a regular thing when TA is in town. Needless to say, it's glorious. Today was a bonus with Garnett joining Allen in studio. It's a must listen/watch. Stick around for the origins of TA-isms such as "Turn the water off" and "He wit us."
Garnett's quick scouting report how Jaren Jackson Jr. compares to Garnett at the same age: "He's a little bit shorter, but he's got a better left hand than I did, and a three-point shot."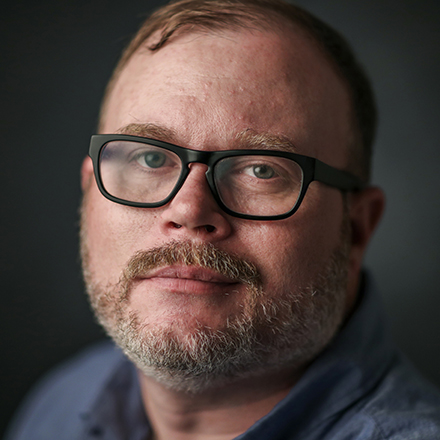 Chris Herrington
Chris Herrington covers the Memphis Grizzlies and writes about Memphis culture, food, and civic life. He lives in the Vollentine-Evergreen neighborhood of Midtown with his wife, two kids, and two dogs.
---