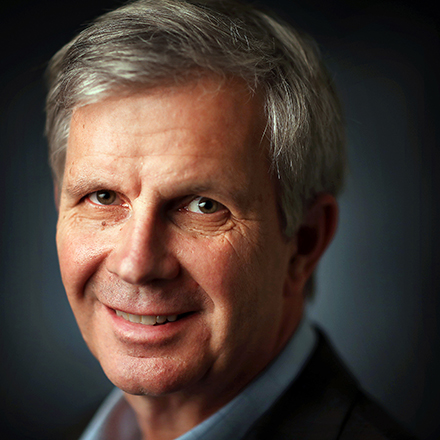 Geoff Calkins
Geoff Calkins has been chronicling Memphis and Memphis sports for more than two decades. He is host of "The Geoff Calkins Show" from 9-11 a.m. M-F on 92.9 FM. Calkins has been named the best sports columnist in the country five times by the Associated Press sports editors, but still figures his best columns are about the people who make Memphis what it is.
Calkins: On what could have been the last night for Gasol and Conley, 'You just felt the love'
With 7:12 left in the first quarter, Marc Gasol walked out of the tunnel and sat on the Memphis Grizzlies bench.
A few fans noticed and started to cheer, and then more fans noticed and the cheers got louder, and then the cheers became a standing ovation for Gasol, and for an era, and for this one last night.
Gasol thumped his heart with his fist.
No words needed to be said.
"We felt it, it just gave you chills," said Mike Conley. "It felt foggy, everything felt weird and off, but you just felt the love, man, and that's all you can ask for."
Some might have asked for more, of course. Some might have asked for a few more years of Gasol and Conley, or even a championship along the way.
But Memphians understood what this era was all about. Gasol and Conley understood it, too. It wasn't about chasing rings or assembling a cast of traveling all-stars.  
It was about building something where there had been nothing before. It was about four overlooked or under-appreciated players – Conley, Gasol, Tony Allen and Zach Randolph – forging a raucous, unruly basketball tradition in this overlooked and under-appreciated town.
It was about connecting a franchise and a city in a way that surprised even the most determined cynics.
It was about brothers from another mother and it was about (once more, before we lay it to rest forever) grit and grind.
It was about Gasol, joining his teammates on the bench one last time because that's what a good teammate does.
It was about Gasol thumping his heart with his fist.
It was about the love, man. It was always about the love.
"I love each and every one of you," said Conley, in what may have been his final message to the fans.
Are y'all tearing up yet?
If not, you were certainly not at FedExForum Tuesday, where the Grizzlies defeated the Minnesota Timberwolves 108-106 on a night that was as emotional as it was surreal.
Gasol – who initially dressed for the game – was pulled from the lineup as the Grizzlies drew closer to dealing him to the Charlotte Hornets. Conley played despite reports that the Grizzlies were mulling over multiple offers for him.
"I'm still hoping it doesn't happen," said Christopher Crowther, one of the dozens of Memphis fans who showed up at the game wearing Gasol's No. 33. 
"We are devastated," said Susan Matthews, another fan, who took the time to write a thank you letter to Gasol and Conley last week, when news first broke that the two players might be traded. "I just told them `Thank you.' I got someone to put it in Marc's locker. I wanted them to know what they've meant."
And this is what people outside the Memphis market could never understand. That people in this city didn't particularly care that these Grizzlies were never a serious threat to win a title. Oh, sure, a title would have been nice. But this is not a place that requires titles. It requires effort, and it requires a certain feistiness, and it requires – and I'll credit John Calipari for putting this truth into words – that you embrace it back.
Randolph and Allen did that. Conley and Gasol did that, too. Even though Conley was so little thought of by management at one point that the Grizzlies nearly dealt him to Milwaukee for Ramon Sessions and Joe Alexander. Even though Gasol was so little thought of by management at one point that the Grizzlies spent the second pick in the draft on another center, Hasheem Thabeet.
Gasol and Conley never asked to leave Memphis. They would have stayed here forever if a series of front office mistakes – here's looking at you, Chandler Parsons – hadn't rendered the team uncompetitive.
So if Tuesday felt inevitable and even necessary, it also felt heartbreaking. At least, until Gasol and Conley gave Memphis two final gifts.
Gasol's gift was walking out to join his teammates on the bench. He certainly didn't have to. He did it anyway. He walked out of the tunnel, and he sat on the bench, and he supported a bunch of players – Julian Washburn, Bruno Caboclo, Justin Holiday – who were complete strangers until a few weeks ago. But now they were Grizzlies. So Gasol showed up to help.
"He wanted to be there, he wanted to support those guys," said head coach J. B. Bickerstaff. "I know there's a deeper connection that he has with this organization, this city and this fan base that goes way beyond words."
As for Conley, he did what he has always done. He played despite everything. It didn't matter that his teammates were Washburn, Caboclo and Holiday instead of Randolph, Allen and Gasol. It didn't matter that Twitter was spilling over with trade reports involving him and Gasol that – even now, even after the emotional goodbyes – may or may not come true. 
"Game day focus!" Conley tweeted before the tip, like he always does. And game day focus is what he got.
It was astonishing, to watch it unfold. This band of G League players rising up and beating the Timberwolves. Conley missed his last shot — a shot he desperately wanted to hit — but Holiday grabbed the rebound and sank two free throws with a second left to seal the win.
"It meant everything," said Conley, who then explained why. It wasn't because he wanted the personal satisfaction of winning what could be his last game as a Grizzly. It was because he wanted the young players to understand.
"A lot of the guys that are on this team now had no idea what we went through for 12 seasons," Conley said. "We started at the bottom and got almost all the way up to the top. We built something from nothing. To see that, to where we're at today, to just fast forward to now, they understood it, and they felt it tonight, what we meant and what we've done. That's what made it so special at the end of the day, the fact that they understood what we meant to Grizzlies basketball."
He wanted the young players to see it so they could build on it. So they could understand what Grizzlies basketball can mean to this town. Even as he was the being shopped by the only franchise he has ever known, Conley wanted the franchise to find a way to thrive. He even told Jaren Jackson Jr. a small story about the day that Pau Gasol was traded away from the team. 
"I told him, 12 years, ago, I was in your position and they were getting ready to trade Pau, and they were getting ready to trade all these people away, and Hakim Warrick told me `You're going to be here forever.' I said, `Awww, we'll see,' " Conley said. "But (tonight) I looked at (Jaren) and said, `You're going to be here forever, so be ready for it, so 12 years from now, when you can look back, you can say it to the next guy.'"
Conley was entrusting Jackson with something valuable. He was entrusting him with the franchise that he, Gasol, Randolph and Allen built into something worthy of deep respect.
Which brings us to the final moment, which wasn't actually the final moment, but the final moment of the first half. Conley hit a 3-pointer. Then he stole the inbounds pass and hit another 3-pointer. Gasol — who had been sitting on the bench for much of the half — rose up in joyous triumph. Conley waved his arms to the crowd, asking for more noise. Then Gasol and Conley embraced on the court for what is expected to be the final time as teammates.
"That was like a game-winning shot to me," Conley said. "It felt like it was a movie playing out, just everybody smiling and having a good time."
Gasol didn't return to the bench for the second half. He left the arena and headed home. He evidently felt too overwhelmed with emotion to stay for the conclusion. Which meant that Conley — who was the first of the Core Four to arrive — would also be the last of the Core Four to remain.
But if you want to understand the legacy, that final celebration was a perfect summary. Don Poier — the original voice of the Grizzlies — would have approved.
What an era it was. Like a movie playing out. Just everybody smiling and having a good time.
---