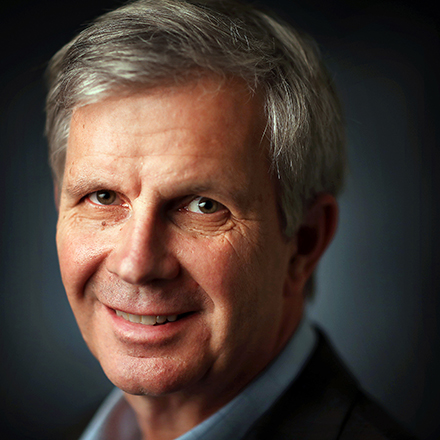 Geoff Calkins
Geoff Calkins has been chronicling Memphis and Memphis sports for more than two decades. He is host of "The Geoff Calkins Show" from 9-11 a.m. M-F on 92.9 FM. Calkins has been named the best sports columnist in the country five times by the Associated Press sports editors, but still figures his best columns are about the people who make Memphis what it is.
Calkins: Gasol is gone? Now Grizzlies should hire Shane Battier
You made it through the trade deadline, Grizzlies.
You traded Marc Gasol to Toronto.
Now go hire Shane Battier as president of basketball operations. 
Seriously. He'd be great. One Memphis icon out, a previous Memphis icon in. Battier would give the organization instant credibility both in the league and in the community.
But if you can't get Battier away from the Miami Heat, go hire someone else. Someone else who is both accountable and responsible.
Hire your own Danny Ainge (Boston) or Masai Ujiri (Toronto). Your own Sam Presti (Oklahoma City) or Daryl Morey (Houston).
Because at some point Friday the Grizzlies are going to shove Chris Wallace in front of the cameras to explain the deal that sent Gasol to the Raptors. And the reaction is going to be a mix of fury and eye-rolling.  
There isn't anything Wallace can say that will sound remotely persuasive. Nor is there anything Wallace can say that will dissuade fans from wondering why a franchise that keeps Wallace around sent Gasol packing.
This particular column isn't about Wallace, either. At this point, he's more of a fall guy than anything.  But the Grizzlies need a leader who can not only make smart basketball moves but explain them to an increasingly disenchanted fan base. And Thursday's trades are just the most recent evidence of that.
Marc Gasol to Toronto for Jonas Valanciunas, Delon Wright, CJ Miles and a second-round pick?
It's defensible. Gasol is a free agent at the end of the year. He would likely have walked out the door for nothing. So the Grizzlies got a younger center (Valanciunas) and an upgrade at backup point guard (Wright) without taking on any big bad contracts. That's not inspiring, but it's not nothing.
---
CHRIS HERRINGTON: Marc Gasol traded to the Toronto Raptors, Mike Conley to remain in Memphis
---
JaMychal Green and Garrett Temple to the Clippers for Avery Bradley?
It's defensible. Bradley has a non-guaranteed contract for next year, so the Grizzlies won't be on the hook for significant money.  The deal also gave the Grizzlies (try not to be overwhelmed by this) luxury tax relief and a trade exception. No, neither Green nor Temple brought back a high second-round pick. But that's because such a pick wasn't available.
The Grizzlies didn't turn down better deals to make either of these deals. If better deals had been offered, the Grizzlies would have accepted them. Indeed, when they weren't offered a compelling deal for Mike Conley, the Grizzlies decided not to trade him.
That decision, too, is defensible. The Grizzlies might be able to get more for Conley this summer. In the meantime, Conley will be around to further the development of Jaren Jackson Jr. and to help the Grizzlies win enough games so they might be able to convey the first-round pick they owe Boston this summer.
See? It's all theoretically defensible. But not by anyone in the current organization. Not by the same people who got the Grizzlies into the mess that they are currently trying to get themselves out of.
Again, I'm not putting all of this on Wallace. He's just representative of larger dysfunction.
But there's no way the Grizzlies can expect their fans to buy what Wallace will be selling. Not when he's the same guy who explained the decision to trade for Jeff Green and then the decision to trade away Green. Not when he's the same guy who explained the decision to hire David Fizdale and then the decision to fire Fizdale. Not when he's the same guy who explained the decision to sign Chandler Parsons and then the decision to send Parsons back to California.
It's not just a basketball problem at this point, it's a credibility problem. This is an organization that said it planned to make the playoffs by putting quality veterans around Gasol and Conley. This is an organization that has since discarded the three veterans (Green, Temple and Parsons) who started the opening game alongside Gasol and Conley. 
This is an organization that couldn't get second-round picks for Temple or Green but that just gave up two high second-round picks for Justin Holiday. This is an organization that let Tyreke Evans walk for nothing, that tried to trade MarShon Brooks instead of Dillon Brooks and that swapped a first-round pick for two second-round picks that became (whoops) Deyonta Davis and Rade Zagorac.
Oh, and this is an organization that turned the last two weeks into an extended, awkward and premature goodbye party for Conley.
That's not all just bad luck. That's evidence of a continuing problem. It's possible to sell Memphis fans on a rebuild – but only if they believe in the rebuilder.
So now it's time. Time to put someone to with real authority in charge of the franchise. 
My search would begin with Battier.
---