Herrington: Grizzlies trade analysis
The Grizzlies' trade deadline felt like my college career: Fiddle around until the pressure mounts and then get your work done in a rush.
After days of waiting, the team completed three trades and decided against a fourth in the last hour before the buzzer sounded. We reported on them in the immediate aftermath here. In this space, we'll go a little deeper on what did and didn't happen and what it means:
The Deals
Trade 1: Marc Gasol to the Toronto Raptors for Jonas Valanciunas, C.J. Miles, Delon Wright, and a 2024 second-round pick (Net cap 2018-2019 salary cap impact: +$3,290,529)
Trade 2: JaMychal Green and Garrett Temple to the Los Angeles Clippers for Avery Bradley (Net cap 2018-2019 salary cap impact: -$3,666,667)
Trade 3: Shelvin Mack to the Atlanta Hawks for Tyler Dorsey (Net cap 2018-2019 salary cap impact: -$134,359)
TL;DR – What's It All Mean?
This was a rational-upon-inspection but very underwhelming set of moves that acts as the first step in a kind of two-step process of pivoting toward a new era of Grizzlies basketball. How dramatic that pivot will be is something we won't know until this summer, as the Grizzlies consciously decided to extend their timeline on a couple of potential transactions into the offseason. But the Grizzlies coming out of the deadline without any first-round picks or any interesting players under age 25 can't make the outcome anything other than a disappointment.
The Gasol Deal
Jonas Valanciunas (a burly 7'0" true center) and Delon Wright (a 6'5" point guard) were both quality rotation players on one of the NBA's best teams. They're good. But they'll both be 27 this spring and neither is locked into a good contract this summer. Valanciunas has a player option at an above-market $17.6 million next season. Wright, when the Grizzlies extend him a $3.6 million qualifying offer this summer, will be a restricted free agent.
The next two months will be a kind of mutual audition between both players and the Grizzlies.
Valanciunas is an old-school center for an era in which players of his type have diminished utility. As a result, he's found himself sliding from starter to reserve in Toronto this season. He isn't on the same planet as Gasol as a passer, team defender, or outside shooter. But he's seven years younger, is a highly productive rebounder and interior scorer, and is a defensive presence in the paint. Valanciunas has missed the past two months after December thumb surgery, but is supposed to be ready to return.
The Grizzlies liked having a big center option to play with Jackson as their prize rookie develops physically. Valanciunas can fill that role while allowing Jackson to move up in the pecking order. But given his size, age, and skill-set limitations, Valanciunas seems unlikely to be the long-term answer as Jackson's primary frontcourt sidekick.
Wright is a good shooter but limited scorer. A good defender, but not a dynamic playmaker. Or so it seems. The Grizzlies seem likely to give him heavy minutes over the next two months, backing up both Mike Conley and Justin Holiday, to get a better sense of what they think he can be.
Valanciunas and Wright could both find themselves becoming transitional starters for the Grizzlies, much as JaMychal Green was, bridging Zach Randolph and Jaren Jackson Jr. Valanciunas is likely to inhabit that role soon. Wright could get a shot next season, if Conley gets traded and a better option at point guard doesn't immediately materialize.
But with Wright as a restricted free agent and Valanciunas having the option to opt out and negotiate a longer deal, the Grizzlies need to be careful about overpaying to keep what are likely only mid-rotation players and likely only over the mid-term.
As for CJ Miles, he had to be in the deal for salary purposes. A 31-year-old wing who was once a great role player but who has had a bad season, he has an $8.7 million player option next season. Miles is only a year removed from averaging double-digit scoring and shooting better than 36 percent from three. Maybe he bounces back. But it's more likely that he's a trade chip and/or buyout candidate who provides wing depth and a well-regarded locker-room presence for as long as he's in Memphis.
Could the Grizzlies have done better? There apparently wasn't much of a market for Gasol. The other serious option appears to have been with Charlotte, whose final offer was apparently their 2019 first round pick (likely in the late teens) and a future second-round pick, along with Bismack Biyombo and Marvin Williams, who would have been owed a combined $32 million next season.
Even though a pick in that range, especially in what's considered to be a poor draft, is unlikely to yield a better player than Valanciunas or Wright, I would rather have had it than either of them. It offers a chance at something better and a player who better fits Jackson's timeline, and at a better price. But $32 million for players who wouldn't have been part of the plan is a steep price to pay for that pick. The Grizzlies decided the totality of the Raptors package was better, and I can't really blame them, though I actually think it's a close call.
It's disappointing the Grizzlies couldn't extract any better or more draft assets from the deal, though the Raptors already owe their 2019 first-round pick to San Antonio. And deep into the luxury tax themselves, Toronto was apparently unwilling to take back Shelvin Mack and/or Omri Casspi in a deal where the Grizzlies were already taking back more salary.
If this was better than the other best real offer, was it better than no deal at all? In giving the Grizzlies a C- for this deal, ESPN's Kevin Pelton writes, "All told, this (is) perhaps a slight upgrade on just keeping Gasol. I'm not sure that's enough to justify moving on from a franchise icon."
I have no quarrel with the grade or the first sentence, but I think the pressures implied in the second sentence ultimately swung the other way, unfortunately. By the end, it seemed like Gasol was ready to go and the Grizzlies were ready to start their basketball lives without him. It's impossible to say what would have happened if the Grizzlies had simply stood pat on Gasol, both in the rest of this potentially unhappy season or into the summer.
The Temple/Green and Mack Deals
The Temple/Green deal was deeply unsatisfying on the surface, and not dramatically better on closer inspection.
Acquiring Avery Bradley brings some theoretical future value, but the main reason this trade happened, it seems, was to help facilitate the Gasol/Raptors trade. In the Raptors deal, the Grizzlies took back two more players than they sent out and took in about $3 million more in cap money than they could afford under the luxury tax. This trade opened one of the needed roster spots and took care of all of the cap hit.
I included the cap hit numbers on each of those trades for a reason. The phantom thread of this Grizzlies trade deadline activity -- and for much of the NBA -- was the luxury tax. The Grizzlies went into the week dangerously close to it for a small-market team that's not going to be in the playoffs. The Bradley deal financially enabled the Valanciunas/Wright deal, and in concert with the smaller Dorsey deal opened up enough extra room to sign 10-day guy Bruno Caboclo for the season and have just a little wiggle room left. Welcome to the way the NBA, off the court, really works. 
You'd like to think the Grizzlies could have flipped two useful role players on expiring contracts for tangible, meaningful draft assets. The Grizzlies' narrow breathing room under the luxury tax necessitated this as a companion to the Raptors deal, but likely scuttled some unrelated potential Green and/or Temple trades. An apparently rich free agent market for players bought out after the deadline also may have lowered Green's and Temple's value.  
After coming into the NBA after only one season at Texas, Bradley is still only 28, but injuries and the wear-and-tear have made him an old 28. Bradley's 3-and-D rep isn't much of a reality anymore. He's shot 34 percent from three this season (only 38 percent overall). And while he's stayed in the lineup this season for the Clippers -- and played unusually heavy minutes for his old coach, Doc Rivers -- Bradley hasn't been very good. The guess here is he serves as a back-of-the-rotation two-guard for the Grizzlies the rest of this season. Bradley is unlikely to be back with the team next season.
The Grizzlies created a roughly $8 million trade exception here and Bradley's $12 million dollar contract is only guaranteed for $2 million next season.
If the Grizzlies weren't able to find future value for Temple and Green, they did flip their expiring contracts into different forms of trade currency that could still spend later. Will the Grizzlies actually use that trade exception? Will they find a good deal to do with Bradley this summer or find themselves paying the $2 million guarantee themselves? Time will tell, but I'm not assuming either is used.
The Mack deal: Not much to see here, really. With Conley staying, Wright coming in, and Jevon Carter in need of minutes, Mack needed to be phased out. Rather than eating his contract, the Grizzlies were able to flip him for a slightly lower paid player. Tyler Dorsey is a second-year scoring guard who was a college teammate of Dillon Brooks. His role diminished in Atlanta this season, on a rebuilding team. That's not a good sign, but the Grizzlies can take a look at him.
The Trades That Didn't Happen
The trade the Grizzlies didn't make was perhaps a bigger deal than the ones they did. The Grizzlies weren't bluffing about being willing to hang onto Mike Conley through the trade deadline.
If the Grizzlies ended up dealing Gasol without getting back any first-round picks or under-25 prospects, they apparently refused to deal Conley without getting back multiple of those things.
Based on other reporting, it seems as if the Grizzlies could have done a deal with Utah for expiring contracts, a (late) first-round pick, and a second-round pick. In choosing to decline that deal or others like it, the Grizzlies are betting on a few things: That better offers for Conley may be available in the summer. That he can help lead a competitive basketball team for the rest of this season and assist with the development of Jaren Jackson Jr. and other young players. And that Conley will avoid the kind of injury that makes keeping him amid some kind of rebuild a risk.
I'm happy to watch Conley set loose with a younger, faster team, but I don't know if I would have taken the risk.
The biggest regret for the Grizzlies this week may be less that they didn't do better deals, but that there weren't better deals to do. If Charlotte replaces Biyombo/Williams with a more palatable Cody Zeller/Michael Kidd-Gilchrist combo ($5 million less next season and a trade that was apparently close to happening), then the Grizzlies probably do that deal and have a first-round pick this summer. If the Hornets are willing to throw in Malik Monk (interesting young player, but likely a bench guy), they almost certainly have a deal.
If Utah is willing to add Dante Exum (young, talented, often injured, maybe always a bench guy), the Grizzlies probably make that deal too.
I suspect Charlotte and Utah, in win-now mode, may regret not making those trades.
The Murky Road Ahead
If those deals had inched across the finish line, the Grizzlies might have come out of the deadline with 3-4 first-rounder/young player additions and a clear path toward a full rebuild.
Instead, the Grizzlies have traded away more draft picks (one second for Temple, two for Justin Holiday) than they've acquired (one from Toronto) since last summer, and the most significant new acquisitions on the roster since the start of the season (Holiday, Wright, Valanciunas) are all in their mid-to-late twenties and all at least potentially gone next season.
The next two months are likely to be more fun and more purposeful than any non-playoff-race Grizzlies basketball since the season before the dawn of the grit-and-grind era.
The team will be trying to win (organizationally, they'd still like to try to be good enough to convey the draft pick they owe to Boston this summer rather than kick that obligation into a future draft). Most of the players will have potential team roles beyond this season. The style of play will be quicker and more open than that to which Memphis fans have been accustomed. And Jaren Jackson Jr. will be unleashed. The kid's scored 50 points on 18-32 shooting in the two games since Gasol stepped aside. He, alone, will be worth the watch.
But where is it headed? Jackson's 19 and the Grizzlies will be without one of their next three first-round picks. There's a second step coming this summer. Is it a tentative one or a big ole leap?
The Grizzlies' modest trade deadline dealings did not set up a leap. Valanciunas and Wright are "get a little younger but try to stay competitive now" additions, not "try to be great in two or three years" additions. But that big leap is still an option that can be taken this summer.
This week was a tiptoe into the future. The Mike Conley decision to come will determine what road the Grizzlies ultimately take.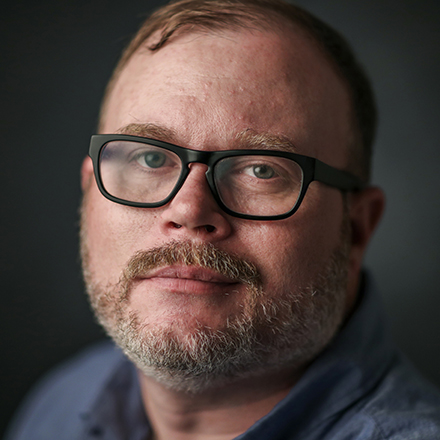 Chris Herrington
Chris Herrington covers the Memphis Grizzlies and writes about Memphis culture, food, and civic life. He lives in the Vollentine-Evergreen neighborhood of Midtown with his wife, two kids, and two dogs.
---