Grizzlies Postgame: Chandler Parsons returns, Jaren Jackson Jr. exits, as the Grizzlies fall to the Clippers
Chandler Parsons played his first game since Oct. 22 and the Grizzlies lost a hard-fought 112-106 battle to the Los Angeles Clippers, but neither of those were as important on Friday night as the player who wasn't there.
Grizzlies rookie Jaren Jackson Jr., who had been a late addition to the team's injured list the day before with "right quad soreness," missed the game, and later in the night we found out he will be missing a lot more time as the Grizzlies are being cautious with an injury that head coach J.B. Bickerstaff described as a "deep bruise." More on that here.
As for the on-court action at FedExForum, a Grizzlies team that looked offensively over-matched in the first half fought back from a 22-point deficit behind the tough play of veterans Mike Conley (25 points, 10 assists), Avery Bradley (17 points), and Joakim Noah (22 points and 11 rebounds off the bench), but came up a little short.
---
---
Former Grizzlies JaMychal Green and Garrett Temple returned to FedExForum as members of the Clippers, but it was former Clipper Bradley who nearly had a "revenge game."
Bradley jumpers tied the game twice in the third quarter and his free-throws late in that quarter gave the Grizzlies their first lead since midway through the first. But Clippers super subs Montrezl Harrell and Lou Williams -- both Sixth Man of the Year candidates -- proved too much, scoring 14 of their combined 48 points in the fourth quarter.
The Grizzlies fell to 23-37 on the season, while the Clippers, in a fight for the West's final playoff spot, improved to 33-27.
About Chandler Parsons
Your official Chandler Parsons Returns Climate Report: Mostly cheers with scattered boos when he made his first appearance off the bench with 5:33 to play in the first quarter.
Given the Grizzlies' abundance of injuries (Jackson, Kyle Anderson), absences (excused for Jonas Valanciunas, who hasn't made it back from Lithuania after returning home during the All-Star break), and foul trouble (Bruno Caboclo stepping into Jaren Jackson Jr.'s starting role and paying homage with 5 fouls in 11 minutes), there was ample opportunity for Parsons, who played nearly 20 minutes.
He finished with 3 points on 1-7 shooting. 2 rebounds, 1 assist, and 2 fouls.
Parsons had a couple of moments: He made a catch-and-shoot three from the wing. He fed Noah for a layup. But he labored to move, struggled to create enough space and time to get off his shot, and was a non-factor (at best) defensively. He looked like a skilled basketball whose body wouldn't let him succeed. There doesn't seem to be much mystery here.
After the game, Bickerstaff sounded a more optimistic note on Parsons' return:
"I thought he was good. As to be expected, there's some rust. It's taking him a little bit of time. But he's threat on the offensive end of the floor, being able to make plays, and he still has the reputation of being able to make shots. There were some that I thought he turned down, but I think as he gets more comfortable, he'll be more willing to take those and make those for us."
Clip of the Night
We'll go with Bradley here, who continues to play well since joining the Grizzlies:
Boomshakalaka ??

13 third quarter points for Avery Bradley pic.twitter.com/DOhLPhSRJm

— Memphis Grizzlies (@memgrizz) February 23, 2019
Arena Action
Or maybe it should be inaction?
As previously noted, the much-anticipated Jaren Jackson Jr. "shoot dance" promotional figurine was scuttled in the wake of "Shoot" rapper BlocBoy JB becoming a wanted man. With the Shelby County Sheriff's Office looking for BlocBoy (on gun and drug charges), the giveaway was pulled (though this reason wasn't explicitly acknowledged). The double-bummer was to have no JJJ figure and also no JJJ, who was out with the aforementioned quad soreness. "Shoot" was still part of the pregame playlist though. Apparently the "ixnay BlocBoy" memo didn't make it all the way around.
Speaking of absences, Jonas Valanciunas wasn't with the team after going home to Lithuania over the All-Star break for "personal reasons." (I put this in quotes only because that's all we know. Nothing else meant by that.) But the big guy still made his pre-game video debut, as the Grizzlies unveiled a new introduction clip to match their post-trade-deadline roster, helpfully including -- for the first time ever? -- player names applied to faces, in case you haven't been able to keep up.
New bit alert: A player vs. fan "Family Feud." One of the questions: "Name a Tennessee sports team?" Kyle Anderson, competing for the players, said "Vols" and got hearty boos. C'mon people: Credit him for being literal. The Vols are one of the two major "teams" with "Tennessee" at the front of their name.  
Otherwise, it was Historically Black College & Universities Night, and the arena was blessed with a great national anthem from Memphis' own LeMoyne-Owen College choir, a propulsive drumline, also from LeMoyne-Owen, and a brassy halftime show from the marching band at Lane College, in Jackson, Tennessee.
The Tweets Were Watching
This feels like an appropriate final word:
If you turn on the Memphis game and haven't watched them in a long time, you will be really confused.

— Russillo (@ryenarussillo) February 23, 2019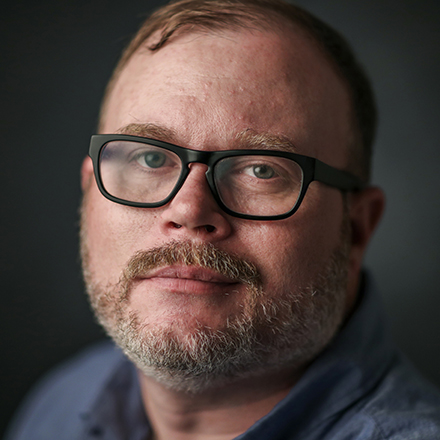 Chris Herrington
Chris Herrington covers the Memphis Grizzlies and writes about Memphis culture, food, and civic life. He lives in the Vollentine-Evergreen neighborhood of Midtown with his wife, two kids, and two dogs.
---