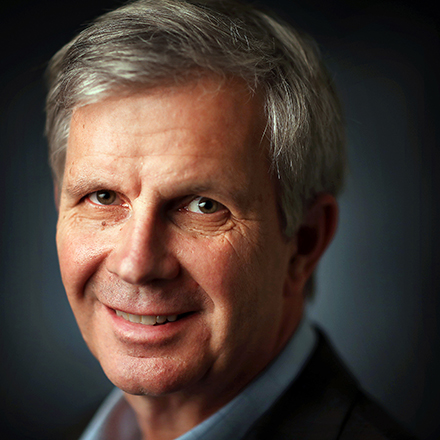 Geoff Calkins
Geoff Calkins has been chronicling Memphis and Memphis sports for more than two decades. He is host of "The Geoff Calkins Show" from 9-11 a.m. M-F on 92.9 FM. Calkins has been named the best sports columnist in the country five times by the Associated Press sports editors, but still figures his best columns are about the people who make Memphis what it is.
Calkins: Jeremiah Martin's brilliant career started in grief but is ending in glory
When Jeremiah Martin is introduced as the Memphis Tigers' starting point guard on Senior Night Saturday, he will cross himself and point his finger skyward.
It is a small gesture he has made since he arrived on campus. It is the part of his life that Martin doesn't often talk about.
"When he does his cross, and puts his finger up in the air, he's thinking of his father," said Iris Martin, Jeremiah's mother. "His name was Donald Martin. He was 41 when he died. Jeremiah was in the eighth grade at the time. He was real bitter; he was really, really hurt. It was like he had a wall up that couldn't too many people break."
By now, every Memphis fan knows Martin's Memphis basketball story. It is practically a fable at this point, illustrating the virtues of perseverance and hard work.
Memphians know that Martin was ranked 397th in the country as a high school senior, that he didn't get an offer from Memphis coach Josh Pastner until April of his senior year, after he decommitted from Louisiana Tech. They know he scored a total of 79 points as a freshman. They know he remained at Memphis when Pastner was replaced by Tubby Smith and when Smith was replaced by Penny Hardaway.
They know that Martin will go down as one of the truly memorable players at Memphis, not just because of what he has accomplished – averaging more than 30 points a game in the month of February, scoring 41 points against South Florida and then 43 points against Tulane – but because of the ethic those accomplishments represent.
"His is a story that everyone can learn from," said his high school coach, Faragi Phillips.
But that story didn't begin at the University of Memphis. And the revolving door of college coaches – as unsettling as that may have been – wasn't how Martin's relentlessly undaunted approach to life and basketball was forged.
"Jeremiah was a spoiled, bratty kid," Phillips said. "The first time I set eyes on him was at World Overcomers Church. What stuck out to me was he was long and lanky and skilled and as tough as you-know-what. But if he didn't get his way, he would cry. And I had a reputation for being a tough coach. I was coaching at Ridgeway Middle. So he went to play at Southwind Middle. We had an opportunity to play him and every year we beat him and put him out of playoffs. I would never let him forget it. And he wasn't going to play for me in high school, either, until his mother got involved."
And here I should probably tell you about Iris Martin, Jeremiah's mother, who is responsible for her son's considerable basketball gifts. Iris was quite the point guard herself, first at Whitehaven High School, then at Paine College in Georgia and then at Shelby State.
"But I had some family issues so I couldn't finish," she said. "I went to work. Factory work. I've always done factory work. Johnson & Johnson, Smith & Nephew. I'm not afraid of hard work, now."
One day, Iris met Donald Martin in a warehouse.
"I gave him a ride home," she said.
The next thing you know, young Jeremiah arrived, 7 pounds even, and practically bouncing a basketball.
"I gave him a rubber Wilson ball," Iris said. "He carried it everywhere. He slept with it on his pillow. Whenever we went to a community center, people would say, 'Would someone come get this little boy shooting baskets, he's in our way!'"
That little boy grew into the the long, talented and (yes) bratty kid that Phillips first saw at World Overcomers Church. But in eighth grade, as Martin finished up at Southwind Middle, his father, Donald Martin, died.
Jeremiah declines to talk about what happened. His mother – who had separated from Donald Martin at the time, although the two remained friendly – is vague about the circumstances as well.
"He just got down on himself, he wasn't feeling himself," she said. "It hit Jeremiah hard. He didn't want to listen to nobody. He really gave me the blues. He was just that hurt. He was just trying to block out the hurt. So I said that we were going to see Coach Phillips. He said, 'Mom, you know how hard Coach Phillips is.' And I said, 'He's the only one that knows how to control you and how to get you to do the things you need to do to.'"
So it was that Martin transferred to Mitchell High School, where Phillips was coaching at the time.
"He taught me everything," Martin said. "He showed me the way."
Many of the lessons had to do with basketball. Just as many had to do with life. About being a good friend and a good teammate. About caring about things larger than oneself. Phillips can talk all day about Martin leading the team to two state championships, but his favorite story is about a much less important game.
"I don't remember who we were playing," he said. "But we brought a player up from JV for the game. It was his first varsity game and the only uniform we had available was extra large. It looked ridiculous on him. So Jeremiah said, 'Here, you can wear my jersey, and I'll wear the big one.' He didn't want the kid to look bad in his first varsity game."
So it didn't surprise Phillips in the slightest that Martin stayed loyal to Memphis through all the turmoil and the coaching changes. He says the Florida staff called about Martin after Smith was fired, but Martin never thought about going anywhere else.
"He loves Memphis," said Iris Martin. "He loves representing his city."
Indeed, Martin still says the favorite moment of his Memphis career came well before the two 40-point games. It was his very first game, against LeMoyne-Owen.
"I liked putting on the jersey," he said. "That's when it was real."
A lot has changed since that moment, of course. Martin is a father now. He's a candidate for conference player of the year. He's determined to have a pro career after college is done.
"He doesn't eat any more fried chicken or french fries like my little boy used to eat," Iris said. "He eats broccoli. When he was little, he used to hate broccoli. He called them 'trees.' He'd say, 'I'm not eating these trees!' Now it's his favorite vegetable. I guess he really has grown up."
From a bratty kid to a quintessential teammate. From a grieving son to a doting father. From an unfinished middle school player who intentionally avoided a demanding coach to an accomplished college player who is relentlessly demanding of himself.
It is a journey worthy of celebration. Martin's father would surely be proud.
"I think of him all the time, every day," Jeremiah said. "I know I've given this everything I had."
---