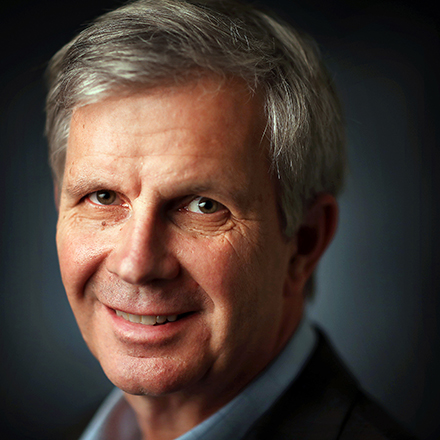 Geoff Calkins
Geoff Calkins has been chronicling Memphis and Memphis sports for more than two decades. He is host of "The Geoff Calkins Show" from 9-11 a.m. M-F on 92.9 FM. Calkins has been named the best sports columnist in the country five times by the Associated Press sports editors, but still figures his best columns are about the people who make Memphis what it is.
Calkins: Memphis Tigers lose the game, win the year
As the Memphis Tigers walked off the court and into the tunnel for the final time this tournament, the crowd rose and cheered.
They cheered the effort and they cheered the season. They cheered the return of a feeling they had not felt in a very long time.
No, that feeling wasn't ultimate triumph. That will have to wait.
But it was pride mixed with fury mixed with elation mixed with disappointment mixed with hope. It was the freedom to care — deeply and unreservedly — about the beloved institution that is Memphis basketball.
"I see a championship coming up," said Memphis guard Jeremiah Martin, and isn't it thrilling to be able to see — to imagine — such audacious things once again?
In the meantime, I see a team that wrung everything it possibly could out of this year and this game.
That's why the fans were cheering. Never mind that Houston defeated Memphis Saturday, 61-58. Never mind that Memphis won't be playing in the NCAA Tournament for the fifth straight year. 
The Tigers came within two missed 3-pointers of sending the game into overtime. In the process, they proved something to their fans and to themselves.
---
JONAH JORDAN: Memphis Tigers ditch game plan and almost overtake No. 11 Houston
---
"We're just a totally different team than we were at the beginning of the year," said Memphis forward Raynere Thornton. "We played Tennessee early in the season. If we play Tennessee again we win by 10."
It doesn't matter if you agree with Thornton or not, by the way. What matters is that the optimism —  the sense of possibility — is back.
This is a Houston team that is going to inflict serious pain in the NCAA Tournament. It's relentlessly physical. It humiliated Connecticut by 39 points the other day.
And, for the longest time Saturday, it appeared Houston would punk Memphis once again.
"I thought we bullied Memphis," said Houston coach Kelvin Sampson, and he was exactly right.
Memphis shot 23.5 percent for the game. Memphis shot 17.4 percent from deep.
Tyler Harris was held scoreless. Kyvon Davenport, Isaiah Maurice and Mike Parks combined for 9 points and 7 rebounds.
Martin wound up with 23 points but shot just 5 of 24 from the field.
Small wonder Houston led by 12 (60-48) with 7:40 to go.
"We didn't match their intensity," said Memphis guard Alex Lomax.
Until they did.
Match their intensity.
It was something to behold. Hardaway sent out four guards (Martin, Harris, Lomax and Antwann Jones) and a single big (Thornton). Houston scored exactly one point the rest of the way.
"We got a lot of pride, we got a lot of heart," Jones said. "Our heart took over. We were doing whatever it takes to win."
Suddenly, a crowd that had little to cheer for much of the day was on its feet, raising enough of a ruckus that Sampson grumped about it after the game.
"Usually, when you get to a conference tournament, you don't play a road game," he said.
To which Memphis fans might respond: Usually, when a guy gets hit on the elbow as he releases a shot, the opponent is called for a foul.
Memphis actually had two last-gasp chances to tie the game with 3-pointers. First it was Martin, who missed an open shot with 20 seconds to go. Memphis fans immediately started circulating video which showed that Martin had been touched/hit on the elbow by Corey Davis Jr. as he released the ball.
---
DON WADE: Tigers' loss in AAC Tournament means Jeremiah Martin will end his career without playing in NCAAs
---
Was it a foul?
"I don't know, Martin said. "It's over now so if I did get fouled it really wouldn't matter. It was a good look and I missed."
Harris then missed an open 3-pointer with six seconds left.
"I just didn't knock it down," said Harris, who could barely speak after the game.
So that's how it ended. And it would be silly to say that Memphis got a raw deal. Houston is 31-2 on the season. The Cougars are the better team. 
But Memphis will almost certainly get an NIT bid — and likely a home game Tuesday night.  The most promising Memphis season since the early years of the Josh Pastner era isn't over yet.
"I'm grateful," said Martin. "If we get an NIT bid, I'm going to play hard, rally my team together. Everybody's a little down right now so I'm going to talk to everybody, get everybody going again."
That's exactly what you'd expect the guy to say, isn't it? Exactly what you'd expect of this first Hardaway team.
Meanwhile, Jones was musing over the sound of the Houston team celebrating in the locker room. He took it as an unintended compliment. 
"They talked trash before they walked into the gym," he said. "We didn't win the game, but we won their respect.'
---