Grizzlies: Mike Conley's scoring, CJ Miles' season-ending injury and more
Mike Conley enters this week with 11,620 career points, all, of course, in a Grizzlies uniform. Departed teammate Marc Gasol currently sits atop the franchise scoring list with 11,684 points.
Averaging 23 points a game since the trade-deadline roster reshuffle, Conley seems likely to pass Gasol on Saturday night, in FedExForum.
"I thought I already was (the franchise leading scorer)," Conley said after practice on Tuesday, when made aware of the looming milestone.
The confusion is understandable. This will be the second time Conley has reached this perch, and the second time he's knocked off a Gasol.
Conley passed Pau Gasol in December, 2016 to become the Grizzlies' all-time leading scorer, but allowed Gasol the Younger to slip by him last season, when Conley played only 12 games.
This time, Conley's place at the top of the list will last a good long time. The next highest active Grizzlies scorer: Dillon Brooks, with 1,033.
Of course, the way Conley has been piling up points lately, it could come ahead of schedule. Conley's scored more than 25 points in five of his past eight games, including a career-high 40 against Portland on March 5. 
This scoring boost -- 23 points per game after the deadline, 20 before it -- has not been the result of more minutes (down more than two a game) or even more field-goal attempts (down slightly). Conley hasn't even gotten hot from three-point range, his long-range efficiency also down slightly.
Rather, despite occasional periods of sideline hand-wringing on the subject, Conley's biggest boost has come from the free-throw line, where he's finding himself 8 times a game since the roster reshuffle.
As a team, the Grizzlies are playing a little faster since the deadline, taking more threes, and putting more backcourt ball handlers and "stretch" forwards on the floor. And this seems to have opened things up for Conley. (Defense? Well, that's a different story.)
"The way we've played, with more four-out, one-in spacing, has allowed our guards to get more penetration and allowed me to get to the free-throw line more," said Conley.
"A guy like that, who has the ability to get into the paint, the more room you give him, with the way the rules are set up, (the more dangerous he is)," said coach J.B. Bickerstaff.
Projecting Conley to pass (another) Gasol on Saturday is based on the idea that he plays the two games before it -- Wednesday against Houston and Friday at Orlando. The last time the Grizzlies had a back-to-back, in the first week of March, Conley rested the second half of it (in Oklahoma City).
But Bickerstaff and Conley both say there are no current plans to repeat that this weekend.
It's easy to forget now that Conley came into this season off of heel surgery. In his age 31 season, there was no way to know quite what to expect, either in regard to durability or effectiveness. But if this Grizzlies' season hasn't gone quite as hoped, Conley's return has been a success: Conley's already at 66 games and seems likely to top 70 appearances for the first time since 2013-2014. His 20.7 scoring average would be a career high. His 6.4 assists would be his most since 2011-2012.
"My goal this year, I was excited to get back, but I was more excited to see myself play close to 80 games, and I'm on track to doing just below that," said Conley. "A couple of those games were just rest and normal recovery stuff. I haven't had reason to be out multiple games. I'm blessed to have had the offseason I had last year and get healthy and really fix an issue that had been nagging me for those few years.I think it's added some years to my career and allowed me to be young again, allowed me to be more explosive, faster, quicker."
As Conley sees it, he's come through the other side of his injury and corrective surgery better than ever. Whether Conley returns to the Grizzlies next season or is moved this summer, it may portend well for whichever franchise he suits up for next season.
Miles to go (to the injured list)
CJ Miles left Saturday's game with a foot injury and the Grizzlies confirmed today that he will be out the rest of the season. Miles has a stress reaction in his left foot that will require 3-6 weeks of rest, which will carry him well through the end of this season.
Chances are Grizzlies fans haven't seen the last of Miles in Beale Street Blue. Miles has a player option on his contract for $8.6 million next season. At this stage of his career, that's likely too much to pass up. And while the expiring contract could make Miles a trade option, it seems likely he'll open next season with the Grizzlies.
Miles had been having a pretty bad season in Toronto, but bounced back some in 13 games with the Grizzlies, where his 36 percent three-point shooting was in line with career norms, and where his positional versatility and veteran composure made him someone coaches and teammates were comfortable having on the floor.
Miles' 33 points off the bench last week in Atlanta was a thrilling outlier, but he still looks like someone who can knock down shots at a good rate when he's able to catch and shoot.
Miles actually has the best net rating (team performance per possession) on the team since joining the Grizzlies. That probably overstates the case -- Miles, Delon Wright, and Chandler Parsons (!) have the three best defensive ratings among rotation players, probably a commentary on how undersized the Grizzlies' perimeter starters are -- but Miles has certainly looked like a useful player. Miles will still only be 32 in the fall, and has a good chance to carry this bounce-back forward.
Where do Miles' 23 minutes a game shift? Bickerstaff suggested the team would look for power forwards Ivan Rabb and Bruno Caboclo (18 minutes each since the deadline) to do more and that it could also open up more time for Tyler Dorsey (9 minutes a game), who has been shooting well.
The Memphis Hustle's regular season ends Friday, though their season could be extended with playoffs. Whenever the Hustle season is over, two-way players Yuta Watanabe and Julian Washburn are likely to factor into the team's forward rotation.
Injury-wise, Miles (in a boot on Tuesday) joins Dillon Brooks, Jaren Jackson Jr., and Kyle Anderson, who were all active on the court, post-practice. Brooks has already been ruled out for the season and that's all but happened with Jackson. Anderson is due an update soon, but his playing again at this stage seems a longshot.
Tourney time
We are mercifully a few weeks away from no longer needing to puzzle over whether the Grizzlies will have a draft pick this summer or whether fans should want the Grizzlies to have a draft pick this summer.
Having a pick seems more likely than not, so I say watch the NCAA tournament under that assumption. If the Grizzlies pick, it will be in the 1-4 range or, more likely, in the 6-8 range.
There may be 64 (or, fine, more) teams in the tourney, but there only a few that matter for Grizzlies draft scouting:
Duke (Zion Williamson, R.J. Barrett, Cam Reddish)
Murray State (Ja Morant)
Virgina (De'Andre Hunter)
Texas Tech (Jarrett Culver)
Those are the only definites. Is it possible the Grizzlies would pull a surprise in the mid-lottery? Sure. The draft seems fairly uncertain out of the top three, really. The most likely candidates are clustered among three high seeds:
Gonzaga (Rui Hachimura, Brandon Clarke)
North Carolina (Coby White, Nassir Little)
Kentucky (Keldon Johnson, Tyler Herro, P.J. Washington)
As for current Grizzlies, less than half the roster has an obvious rooting interest:
#2 seed Michigan State (Jaren Jackson Jr.)
#9 Washington (Justin Holiday)
#10 Florida (Joakim Noah, Chandler Parsons)
#11 Ohio State (Mike Conley)
#12 Oregon (Dillon Brooks, Tyler Dorsey)
"In my main bracket, they go all the way," Conley said about his Ohio State Buckeyes.
If everyone is making homer picks, that might bode well for Jackson in the locker-room pool.
Potential second-round matchup: Bickerstaff's Minnesota against Jackson's Michigan State.
Pro tip? Grizzlies VP John Hollinger posted his picks. Additional homer alert: He's a UVA grad:
How it will all go down.... pic.twitter.com/rIFMigzLED

— John Hollinger (@johnhollinger) March 19, 2019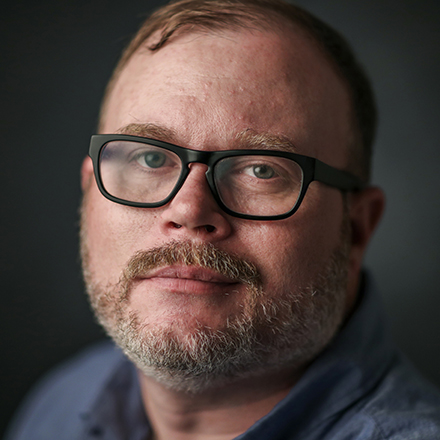 Chris Herrington
Chris Herrington covers the Memphis Grizzlies and writes about Memphis culture, food, and civic life. He lives in the Vollentine-Evergreen neighborhood of Midtown with his wife, two kids, and two dogs.
---