Grizzlies end-of-season questions: Will Mike Conley be traded this summer?
With Mike Conley sitting out the final six games of the Grizzlies season due to "ankle soreness," is it possible he's played his final game as a Grizzly?
If so, Conley's last game with the franchise will have been a 33-point outing in Phoenix on March 30, and his last home game a 24-point, 8-assist showing against the Golden State Warriors on March 27. 
Have we seen the last of Mike Conley in Beale Street Blue? 
Before we look at that, let's pay respects to what Conley did this season.
How good was Mike Conley this season?
Being a small guard on the wrong side of 30, coming off major foot surgery, was not the recipe for a career season. But if Conley hasn't had one this season, he's come pretty close.
He played 70 games for the first time in five years. 
His final season scoring average of 21.1 is not only a career high but the highest ever for a Memphis Grizzlies player. (Previous high: Zach Randolph's 20.8 in 2009-2010;  Shareef Abdur-Rahim scored more twice in Vancouver.)
Percentage-wise, Conley's shooting is right around his career averages:
This season: 44-36-85
Career: 44-38-82
With the highest usage rate of his career and a healthy 33.5 minutes per game, he's taken the most shots per game of his career, from both the floor and the free-throw line, and has his highest assist average since 2011-2012.
All kinds of advanced stats (PER, Offensive Win Shares, Offensive Real Plus-Minus) rate Conley a Top 5 point guard in the NBA this season.
---
GRIZZLIES END-OF-SEASON QUESTIONS: What did we learn about Jaren Jackson Jr. and Kyle Anderson?
GRIZZLIES END-OF-SEASON QUESTIONS: Is Jonas Valanciunas for real?
THE FULL 28: Remembering (and ranking) every Grizzlies player this season
---
A lot of this boost is about the way the game itself has changed. The Grizzlies' 97.1 pace on the season is last in the league. It would have been sixth in Conley's rookie season. Perhaps a league that's grown smaller and faster makes it easier for a smaller guard to have more longevity. It's certainly made it easier for Conley to be a go-to scorer.
But it also speaks to how Conley has adapted and grown, how he's taken on more responsibility in the context of a changing game, and how well he's recovered from his foot problems. I'm surprised at how few guards of Conley's size (6'1") and age (31) have shot, scored, and passed at the level Conley did this season. 
Defensively, Conley isn't what he was in his prime, and is more likely now to be shifted onto less dangerous offensive players. The Grizzlies were still slightly better defensively this season with Conley on the floor, though it's probably worth noting that this has not been true since the trade deadline. Two potential explanations: The end of his startling lineup partnership with defensive anchor Gasol and the presence now of a defensively superior backup in Delon Wright.
ESPN's Defensive Real Plus-Minus rates Conley as essentially average at the position this season, which seems reasonable. Given how enormously valuable Conley is offensively, neutral defense is more than good enough.
With two seasons left on his current contract at mighty big numbers -- $32.5 million and then $34.5 million, the latter subject to an early termination option he would seem unlikely to exercise -- can Conley maintain some semblance of this level of play for at least a couple more seasons?
Next season will be Conley's age 32 season. Can he do this again, or something close to it? How many small guards (6'3" or shorter) have averaged even 18 points and 6 assists a game at age 32 or older? Seven: Jerry West (four times), Lenny Wilkens (twice), Sam Cassell (twice), Bob Cousy, Allen Iverson, Steve Nash, and Chris Paul. That's pretty heady company.
Chauncey Billups, a player whose career arc I've compared to Conley's in the past, came very close in both his age 32 and 33 seasons. Tony Parker, the other player I've compared Conley to most frequently, declined fairly sharply at 31 and 32.
Nothing's guaranteed, but Conley's big season in the aftermath of the previous year's foot surgery has to boost confidence that he can hold his value through the rest of his current contract.
Will that be for the Grizzlies or some other team? Will this week mark the last time we see Mike Conley in a Grizzlies' uniform?
The question of trading Conley this summer might be governed by at least three variables.
Trade variable #1: What happens in the draft?
While news may emerge unexpectedly before then, the first firm date on the Grizzlies' offseason calendar is Tuesday, May 14th, the night of the NBA Draft lottery.
Any lottery outcome is likely to shift the team's thinking, in regard to Conley and lots more. But it may not alone be determinative. And the direction of the shift may not be obvious.
As most readers here know, the Grizzlies could end up picking most anywhere (probably not #5) 1-8 or have no pick at all. To simplify, we'll break this into three general outcomes:
Get the #1 pick/Draft Zion Williamson: Would this outcome make the Grizzlies more likely to want to keep Conley next season? You'd still owe a pick to Boston and thus have incentive to try to be competitive, and Williamson is expected to be so good so immediately that you just might. And Conley's presence might aid the development of a team that would suddenly be built around two young, marquee frontcourt players in Zion (getting used to the first-name only thing, though "Elvis" has given us plenty of practice)  and Jaren Jackson Jr.
Land #9 (or later) and send the pick to Boston: Maybe this outcome makes a Conley trade more likely? The franchise would know it would have all of its first-round picks going forward and could fully embrace a rebuild, unencumbered. Trading Conley could replace the young asset(s) you'd otherwise miss out on in this draft.
Pick #2-#8: Maybe this would depend on where exactly the pick lands. The Grizzlies could choose a point guard (Ja Morant, Darius Garland, Coby White) or could choose a wing or forward (R.J. Barrett, Jarrett Culver, Cam Reddish, Deandre Hunter, Brandon Clarke, perhaps someone else).
The chicken-or-the-egg scenario that looms: Would Conley's presence influence this pick (leading the team toward a wing or forward) or would the pick (if a guard is deemed the best player on the board) influence whether the team decided to deal Conley?
Trade variable #2: How good are the offers?
The Grizzlies may not trade Conley this summer, but you can assume they'll gauge his market value.
The Grizzlies could have traded Conley at February's deadline, and apparently considered it, but didn't think the offers were persuasive enough. We pretty well know what the Grizzlies turned down for Marc Gasol (bad money and a middling pick from Charlotte), but with Conley this is somewhat less certain.
Based on outside reporting and my own information that the draft picks the Grizzlies were offered for Conley were likely to be late ones, it seems like the combination of expiring contracts and a 2019 pick (in the 20s) from Utah and Indiana were the most likely offers that were declined. (And perhaps Detroit, likely offering a slightly better pick with worse contracts.)
Given Conley's great season, how much better are the offers going to get?
The same picks the Grizzlies turned down in February may still be on the table, though Detroit and Indiana's picks will have gotten slightly better. But will those teams now increase their offers beyond those picks?
Is it possible the Grizzlies could get the lottery pick this summer not offered this winter? Doubtful, but possible.
The best bets are probably Phoenix, Chicago, or Minnesota, provided the lottery doesn't land them in the Top 3. Would any of those teams be hungry enough to win now that they'd consider moving their pick in a Conley deal?
Another scenario is to wait until the free agency period begins and see which franchises are left standing in the game of marquee-free-agent musical chairs. Trading for Conley, with two years on his current contract, might prove more attractive than bidding against someone else to give a second-tier free agent a four-year deal.
I'd keep an eye on the Lakers. The have a lottery pick too. The player taken with it might be in play, but I doubt that would happen until well after the draft.
Trade variable #3: What does Conley want?
I've asked Conley about this, and while he wouldn't hint at what he wanted, he did say that while the decision is ultimately the Grizzlies' to make, he thinks his own desire -- to stay or go -- should and would matter.
"I think I've earned that," he said.
And he's right.
My own read: If Conley signaled that he preferred to stay, the Grizzlies might move him anyway if the right deal in the right team circumstance were there.
But if Conley said that he wanted to move on? I can't imagine the Grizzlies not accommodating him.
What does Conley want? He's seemed pretty happy and has played very well since the deadline. But it's also a period without drama. The pressures of the deadline have passed and you know future resolution won't come until the summer. It's an easy period to play free and not worry about it, even if it's bittersweet to be doing so outside of a playoff race.
Because Conley sat down early last season, this spring is the first spring Conley's played outside of a playoff race since his second season, in 2009.
Maybe, like fans, he can talk himself into this Grizzlies team competing next season: You bring it all back, add in Jaren Jackson Jr., Kyle Anderson, and Dillon Brooks. Maybe add a lottery pick.
It's not that steep of an ask, really, as players, like most fans, tend toward optimism.
But competing for this Grizzlies team next season would still mean competing for a playoff spot. Not really thinking about competing for a finals or even conference finals berth.
Is that what Conley wants? If he watches Gasol make a deep run in Toronto this summer, would that make him want to move on even more?
Sure, he's enjoyed the freedom of play since the deadline, but Memphis isn't the only place where he can find that. Any team employing Conley next season is going to want to give him space to operate and a green light.
Is this the end?
If this is it, Conley has gone out with a bang, even if the team is going out with a sputter.
Mike Conley will end this season as the Grizzlies' all-time leader in (deep breath) games played, scoring, three-pointers, assists, and steals. He'll have sprinted through that finish line (well, ok, minus some late-season rest games), with as good an individual season as any in this career. With a new single season scoring record since the franchise moved to Memphis.
Unlike with the similar is-this-it? games leading up to the deadline, it will be awhile before we know if we've seen Conley in Beale Street Blue for the last time. They say you should hug your loved ones each day as if it'll be the last time you see them. (I did my version of this when the deadline left Conley the last man standing.) Even with Conley inactive, he'll be on the floor Wednesday night for "fan appreciation night." It could well be the FedExForum faithful's last chance to do just that.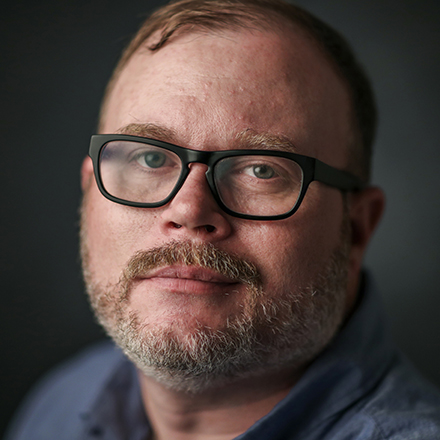 Chris Herrington
Chris Herrington covers the Memphis Grizzlies and writes about Memphis culture, food, and civic life. He lives in the Vollentine-Evergreen neighborhood of Midtown with his wife, two kids, and two dogs.
---