Bickerstaff out as Grizzlies coach; Wallace reassigned
Hours after lead Grizzlies executive Chris Wallace asserted, at the team's final media session, that head coach J.B. Bickerstaff would return for next season, Bickerstaff was dismissed and Wallace was reassigned in a major shakeup of the team's basketball hierarchy.
As initially reported by ESPN's Adrian Wojnarowski and subsequently confirmed by The Daily Memphian, the Grizzlies have dismissed Bickerstaff, reassigned Wallace to a scouting role, and reassigned vice-president John Hollinger to a senior advisory role.
Head of business operations Jason Wexler is being promoted to team president, where he will oversee both business and basketball sides of the organization. Assistant general manager Zachary Kleiman is being promoted to executive vice-president of basketball operations, where he will function as the team's lead day-to-day basketball exec in a restructured front office. 
The organization is expected to conduct a search for one or more veteran executives to round out the new front office.
Special adviser Tayshaun Prince, player personnel director Chris Makris, and VP of team operations and player programs Chantal Hassard are expected to remain in the same capacities.
In a statement, controlling owner Robert Pera said, "In order to put our team on the path to sustainable success, it was necessary to change our approach to basketball operations. I look forward to a re-energized front office and fresh approach to Memphis Grizzlies basketball under new leadership, while retaining the identity and values that have distinguished our team."
Pera also said, in a statement, "I want to thank Chris and John for their long-term service and dedication to the Memphis Grizzlies and for their considerable contributions to our past successes, and look forward to their contributions to our future ones. I also want to thank J.B. for his leadership and commitment to our organization in his time as our coach."
Beyond the team's official statement, organizational representatives declined comment today. That will change in the days ahead. 
An active search has commenced for a head coach, though at least one new front office hire is likely to come first.  
This coaching dismissal and restructuring came only hours after the team's postseason exit interviews, where Wallace expressed that Bickerstaff would return as coach. During the interviews with team leaders and players, no indication was made that front office changes were imminent.
Multiple players, including Jonas Valanciunas, Mike Conley, and Chandler Parsons, had volunteered praise of Bickerstaff.
A source with knowledge of the situation says that Wallace's endorsement of Bickerstaff at Thursday morning's media session came before organizational evaluation meetings on the matter had been held. 
No words

— Mike Conley (@mconley11) April 11, 2019
The team's statement does not clarify the timing of the moves. Other organizations, such as the Washington Wizards and New Orleans Pelicans, had made similar front office changes and begun new searches in season, following the February trade deadline. Although neither made simultaneous front office and coaching changes, likely a reason the Grizzlies didn't act in-season. 
But not acting sooner created a now-awkward scene at FedExForum on Thursday morning.
Bickerstaff had spoken about the franchise's future and in-progress plans, while Wallace had praised Bickerstaff and his assistants' player-development record.
"(The season) was not what we would have expected going in," Bickerstaff said in the exit interviews, clearly unaware of the decision to come. "But I think there were a ton of positives that came out of it. When you look at it, that's where we need to focus and spend our time."
In addition to his public role on Thursday morning, Bickerstaff conducted exit interviews with the players.
As for Wallace, he had declared himself "comfortable" in his position with the franchise.
"We'll ratchet up ... our planning starting next week, and then we'll go over that with Robert (Pera)," Wallace said. But instead Pera came into town made these decisions later that day.  
Wexler just completed his fifth season with the organization -- his fourth as president of business operations. He joined the Grizzlies as chief operating officer in April 2013 after serving as president of the Henry Turley Company, where he worked on center city development initiatives and managing day-to-day operations for the real estate firm.
Kleiman, who has a law degree from Duke University, joined the Grizzlies in 2015 as a team counsel and moved fully into the basketball operations department as assistant general manager last summer, where he apparently took on more duties related to both internal processes and external communication over the course of the season, particularly around the trade deadline. 
Kleiman first came into the Grizzlies' orbit as an attorney for a New York firm that did business with the NBA, and was hired by the Grizzlies after first working with the team in an NBA capacity. For the Grizzlies, his role has expanded over four years, becoming more involved in salary cap/Collective Bargaining Agreement strategy, contract and trade negotiations, and player evaluation. As an undergraduate and law student, Kleiman had performed internships with the Los Angeles Lakers, New York Knicks, and then-Charlotte Bobcats.
---
Geoff Calkins: Calkins: Time for Grizzlies to make big changes
---
When the Grizzlies make a new coaching hire, it will be the fifth head coach since Robert Pera took control of the team in the fall of 2012. The team declined to bring then head coach Lionel Hollins back after his contract expired at the end of Pera's first season as owner. The Grizzlies subsequently parted ways with Dave Joerger and David Fizdale before elevating Bickerstaff, formerly Fizdale's lead assistant, into an interim position in November, 2017 and then signing him to a new contract, as head coach, last summer. 
The 2018-2019 season was Bickerstaff's first full season at the team's helm. 
Bickerstaff finished this season with a 33-49 record. His overall record during the season and a half was 48-97.
He previously served as interim coach for the Houston Rockets in the 2015-16 season, finishing 37-34 and taking Houston to the postseason.
Wallace has served two separate stints as lead basketball executive over the course of 12 years with the franchise. He built the most successful team in franchise history in part by drafting Mike Conley, signing Tony Allen in free agency, trading for Marc Gasol and Zach Randolph, and re-signing all four to additional contracts. 
At the same time, Wallace presided over what many consider the worst draft pick (Hasheen Thabeet), free agent signing (Chandler Parsons), and trade (a future first-round pick for Jeff Green) in franchise history.
The cost of that loomed over the 2018-2019 season, with the Grizzlies owing a pick to Boston that still may or may not be paid this summer.
Hollinger just completed his seventh season as executive vice president of basketball operations. Before joining the Grizzlies, Hollinger was an NBA columnist for eight years with ESPN.
Sports columnist Geoff Calkins and sports editor Clay Bailey contributed to this story.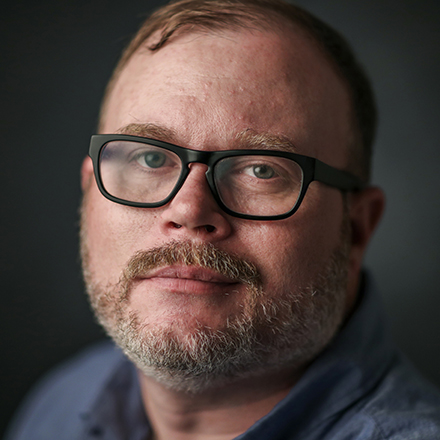 Chris Herrington
Chris Herrington covers the Memphis Grizzlies and writes about Memphis culture, food, and civic life. He lives in the Vollentine-Evergreen neighborhood of Midtown with his wife, two kids, and two dogs.
---