Herrington: Fast thoughts on the Grizzlies' front-office/coaching changes
Presumably you've read the news today (oh boy). Yesterday was for reporting. Now, for some next-day opining.
Some fast (if not always brief) thoughts on the seismic shift in Grizzlies basketball yesterday:
A better way to do it?: In fairness to the spectacle of yesterday, if you game out alternate scenarios you just find awkwardness and discomfort cut different ways. If the Grizzlies had reassigned executives Chris Wallace and John Hollinger late in the regular season and announced their front office restructuring, then head coach J.B. Bickerstaff would have faced regular end-of-season questions about this own future. Dismissing Bickerstaff at the same time would have made the players' closing weeks of the season miserable. Making these changes Wednesday night after the season finale or early Thursday morning would have forced players to uncomfortably react through their final media sessions, and would have generated a lot of critical quotes about Bickerstaff's departure.
There was no clean way to do it. So be it.
Better to force people to struggle publicly with a reality than be unwitting parties to a fiction. The Grizzlies should have announced these changes sometime before the team's final media session and internal exit interviews and made that day about what was actually happening, however strained that would have been. (Speaking of which: How useful are player exit interviews if they were done with a coach the franchise knew wouldn't be staying?)
Did Wallace's proclamation that Bickerstaff would be back make this worse? Yes. He made this public assertion before ownership-level meetings had happened on that subject, catching others in the organization by surprise. On the other hand, he had apparently been given no indication to the contrary.
Out with the old: I wrote about the cases of Wallace and Bickerstaff on Wednesday night. That column may have gotten a little lost in the storm this week, but I think it's still worth a read if you missed it.
With Wallace, it was past time for a change. It was less about his track record of individual decisions -- it's mixed in the manner of any executive with a long paper trail. It was about the consistent sense that internal management and communication wasn't as tidy or productive as it needed to be, and that these limitations had a way of coming out in the wash. It was also about a major weakness in what used to be one of Wallace's greatest strengths: Public diplomacy.
Bickerstaff was a more borderline case. The next coach will be the fifth in Pera's eight seasons. Bickerstaff's game coaching seemed to improve as the roster changed, but also as the pressure subsided. There was ample reason to question his strategic decision-making, both in terms of game management and player deployment. But he never lost his team's ear, or its belief.
In dismissing Bickerstaff, the Grizzlies may well have cleared the way for an upgrade. But they'll have to deal with even more damage to their reputation as a volatile place to coach and with what are sure to be some sore feelings among their incumbent players.
In with the new, part one: Or newish. The truly new are still to come.
During a break in action at Thursday's closing media session, some of us were musing over the language ESPN's Adrian Wojnarowski was using to describe breaking news out of Sacramento: That lead executive Vlade Divac, in firing coach Dave Joerger, was "consolidating his power in the organization."
Little did we know then that there was some apparent consolidation coming to the Grizzlies.
Jason Wexler won't be the first person to have an overarching role over both halves of an NBA basketball operation. He won't even be the first person to have that kind of oversight in Memphis. Jason Levien was in a somewhat similar position in the immediate aftermath of Pera's purchase. Levien actually hired Wexler to run business operations and then focused most of his attention on the basketball side.
It seems likely Wexler will work the other direction, filling out the basketball front office and keeping and eye on its processes while being more business-centric in his own day-to-day work. Time will tell.
A Memphian -- and Grizzlies fan -- before he ever worked for the team, Wexler has a deeper knowledge of and concern for the city upon joining the franchise than probably any other executive in Grizzlies history. I've also found him to be an exceedingly thoughtful person on all things related to the NBA, on and off the court. Will he handle these dual responsibilities well? Time will tell.
To continue the Games-of-Throne-y line of thinking. It seems Robert Pera has named Wexler "Hand of the King." 
In with the new, part two: It's been a swift but steady rise for Kleiman, a thirtysomething attorney-by-training who cuts the very figure of a modern NBA front office exec.
Kleiman is pretty young to be put in such a lofty position, but is older than Sam Presti was when he first became GM of the then Seattle Supersonics and older than former Orlando Magic GM Rob Hennigan was when he took over that team. Kleiman is probably of a similar age to what Milwaukee Bucks GM Jon Horst was when he rose to that position a couple of seasons ago.
Twenty years ago, Kleiman's age and resume would have seemed odd for his job. That is no longer really the case.
Kleiman first came into the Grizzlies' orbit as an attorney for one of the NBA's law firms, where he did business with the Grizzlies on the NBA's behalf. Kleiman worked directly with Wexler and Pera's right-hand man Joe Abadi, and Abadi and Wexler were impressed enough to recruit Kleiman for the franchise's open team counsel position. After two years in that role, Kleiman added a basketball operations title in his third year with the franchise and was fully elevated into the assistant GM role last summer, on the eve of his fourth season.
An improved process was needed: Kleiman's profile rose over the course of last season, apparently growing more involved in office management, internal process, and external negotiation, especially around the trade deadline.
Running an NBA team is an interdisciplinary affair, and not a one-person job. Obviously, traditional basketball backgrounds (playing, coaching, scouting) are highly relevant. But so are all kinds of other backgrounds: Business, communications, research/analysis, and most definitely legal. This is a billion-dollar business where core duties include negotiating contracts and trades, manipulating complicated financial rules, and managing information.
Wexler and Kleiman's legal training prepares them well for that last set of duties. Their first order of business will be creating a better process for the Grizzlies. The messiness of Thursday's transition was not a great start in that regard, but the real tests are still ahead.
Know what you don't know: As they work to fill out the rest of a basketball operations staff, it's going to be important for Wexler and Kleiman to have a clear sense of their own strengths and limitations and for that to be reflected in the additions and how the process is managed.
They need more expertise closer to the court. Tayshaun Prince's retention was reassuring, but it would be more encouraging to see his profile continue to rise. Prince's internal reputation is for being quiet, very smart about players and coaches, and grounded when it comes to acknowledging his own strengths and limitations. Retained junior executives Chris Makris, Chantal Hassard, and Daniel Marcus are also well-regarded.
But this group still feels like it needs the injection of more experience in the realm of talent evaluation and player/coach relations.
Too much too soon?: Along those lines, it will be interesting to see where exactly the most prominent new front office addition (or additions) will slot into the pecking order.
Sources with different proximity to the situation seemed to have a different sense of this. If the Grizzlies hire a new executive with previous high-level NBA front office experience, will they slot in above Kleiman or below him? In his initial reporting, Wojnarowski labeled Kleiman the top basketball executive "for now."
Kleiman has seemed like someone with the smarts, drive, and growing resume to lead an NBA team someday. Is someday now? It seems he's likely to be getting that chance, though Kleiman also seems like someone more willing to be a process manager rather than the kind of top-down decision-maker figure many associate with the position.
The hiring landscape, and the timing of hires: I haven't yet heard about any specific names the Grizzlies might be targeting either in the front office or for head coach, so I'm not going to throw out names just for sport.
But, in terms of the landscape, it's not terribly crowded at the moment. On the front office side, Washington and New Orleans are in the middle of hiring processes, while Minnesota and Phoenix seem to be finishing their's up. The Los Angeles Lakers are living in uncertainty.
In terms of coaches, there are currently three open jobs: Cleveland, Sacramento, and Memphis. Past history suggests others will open up between now and the conclusion of the playoffs, including some surprising ones.
Will draft lottery timing impact when the Grizzlies hire -- or when prospective hires might be willing to make commitments? Maybe. But the bet here is that a front office hire of some significance is made both before a head coaching hire and before the lottery.
No direction known: Chris Wallace drew some familiar derision when he said on Thursday he couldn't quite say what the direction of the franchise is. Not all decisions can be reactive, and the Grizzlies under Wallace's tenure too often were. But some decisions have to be reactive. Whether a franchise in this year's lottery gets Zion Williamson or doesn't get Zion Williamson will dictate direction.
But the question is open now about broad philosophy during this reset: How important is it to start adding young talent now around Jaren Jackson Jr.? Is the best way to rebuild to bottom out and go hard at the draft (Oklahoma City, Philadelphia) or to try to stay competitive and churn your way to better (Utah, Indiana)? Should a franchise commit to a style and pursue talent that fits or collect talent and let that dictate style? Are the Grizzlies in team-construction mode or asset-collection mode?
A full path won't -- can't -- materialize until the unknown of the draft is revealed. But these are some of the broader questions Wexler and Kleiman have presumably already been thinking about.
A stray thought: Given how much he loved J.B. Bickerstaff but detested "the guys upstairs," did anyone have more mixed emotions yesterday afternoon than Chandler Parsons?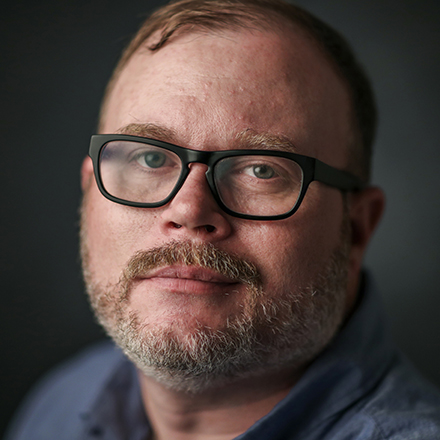 Chris Herrington
Chris Herrington covers the Memphis Grizzlies and writes about Memphis culture, food, and civic life. He lives in the Vollentine-Evergreen neighborhood of Midtown with his wife, two kids, and two dogs.
---