Grizzlies Notebook: A front-office candidate emerges, Wexler/Kleiman reaction, playoff thoughts
The Grizzlies blessedly made no real news over the weekend – they probably needed the breather as much as we did.
Jason Wexler and Zach Kleiman met the media on Friday, the first full day in their new jobs as Grizzlies president and executive vice president of basketball operations, respectively. Here are some post-mortem notes on that and some other issues:
A rumored front office candidate: The Grizzlies have been pretty quiet so far about the early stages of their front-office and coaching searches, but one name did emerge over the weekend, and it wasn't a particularly surprising one:
One name that has surfaced for a potential major post in the Grizzlies' new front office is Rich Cho, formerly with Charlotte and Portland.

— Mitch Lawrence (@Mitch_Lawrence) April 11, 2019
While I can't confirm this report from Sporting News columnist Mitch Lawrence, I have reason to suspect there are at least some sparks behind that smoke.
The Grizzlies have suggested they would be talking to some former NBA GMs about positions in the team's new management structure and Cho would fit the bill. He's got about 20 years of high-level front-office experience for three different franchises, serving as a junior executive and assistant GM for the Seattle Supersonics/Oklahoma City Thunder (2000-2010), GM of the Portland Trail Blazers (2010-2011), and the GM of the Charlotte Hornets (2011-2018, sometimes in a secondary capacity, sometimes as the lead).
Highly relevant: Cho was GM in Charlotte for the 2012-2013 season, when Kleiman was a basketball operations intern there.
Maybe or maybe not relevant: Is Cho the only high-level NBA executive with an engineering degree? Cho worked as an engineer at Boeing before going to law school and then working his way into the NBA (in a manner, originally, not dissimilar from Kleiman). An engineer who became a lawyer who then got into basketball? Sounds like Central Casting for Grizzlies owner Robert Pera. (The list of law degree-holders empowered by Pera, to one degree or another, since he bought the Grizzlies: Jason Levien, David Mincberg, Joe Abadi, Jason Wexler, Zach Kleiman.)
I won't go into much resume-spelunking with Cho until he's actually hired by the Grizzlies or his candidacy is more fully confirmed, but one NBA person who knows him described him to me as a kind of more experienced John Hollinger, his strengths rooted in analytics and cap strategy.
Kleiman in the spotlight: Our group interview with Wexler and Kleiman on Friday afternoon was the 30-year-old Kleiman's public debut in his new role, followed swiftly by a few more.
In the wake of this opening-day performance, some of my colleagues used labels such as "prodigy" and "whiz kid" to describe Kleiman. These are hard to avoid, but I'll confess that I'm not a fan of that framing.
And I suspect that Kleiman's success may be in part dependent on his not thinking that way, and certainly not carrying himself that way.
Kleiman was more assertive about his own talent evaluation abilities in that interview than he had been in some more casual conversations I'd had with him before. I think that was a byproduct of being put in a position to justify himself.
Kleiman's player-evaluation skills are important, but the Grizzlies don't need him to be super scout. A few minutes earlier, in a solo interview on "The Chris Vernon Show," Wexler firmly put Kleiman at the top of the team's basketball operations, but also described a process in which Kleiman would lead a collaboration, formulating recommendations that, with Wexler's assent, would go to ownership for approval.
As much as the process talk – systems and structures and methods and tools and blah blah blah – seems vague and jargon-y, what will really matter is how constructively specific Wexler and Kleiman can make it behind the scenes.
Perhaps no current lead NBA executive has been more feted with whiz-not-such-a-kid individual genius talk as the Houston Rockets' Daryl Morey. In an interview with The Athletic last week, he was asked to describe how he works. The beginning of his answer:
"We do it a bit differently than most teams, that's part of our edge. We're very collaborative. We try to hire really smart people. None of us really know what the hell we're doing, but collectively, hopefully we know a little bit. I see my job often as just harnessing all these smart people to make good decisions and communicate that well to ownership."
Read through that interview, and there's a lot of "we" there. If Kleiman is successful as the Grizzlies' lead basketball executive, it will probably be because he and Wexler were able to build a better "we."
Pera's do-over?: When Pera first purchased controlling ownership of the Grizzlies, the young tech tyro cut a striking contrast to prior owner Michael Heisley, an aging titan of industry from an earlier era. Pera talked up "best practices" and a more cutting-edge approach. He installed Levien as his franchise czar, with power over both basketball and business, and Levien tapped quasi-nontraditional types for the most prominent roles. On the basketball side, this was former agent Stu Lash, who had also worked in the Denver Nuggets organization under George Karl, as the people person, managing relationships and negotiations with players, coaches, and agents, and plucking hoops analytics pioneer Hollinger from ESPN for research/analysis/strategy. On the business side, he hired Wexler, an attorney turned real estate developer with deep Memphis ties and creative ideas about sports business.
It seemed to fit Pera's world view, and while there were some controversial decisions on the basketball side (trading Rudy Gay, declining to make a new offer to head coach Lionel Hollins), the decision-making generally seemed sound.
Levien did something still murky behind the scenes to get himself bounced (with Lash as collateral damage), and when Chris Wallace returned from exile to take over, it always seemed a little counter to Pera's initial vision. Feeling burned by Levien, he went for trustworthy.
In this context, the moves of last week feel something like Pera reconstituting his original vision, with forward-thinking Wexler as new two-way franchise czar and Kleiman as the kind of "go young, go smart" nontraditional hire that Lash and Hollinger once were. Hopefully the do-over sticks.
Coaching volatility has followed management volatility: In the wake of J.B. Bickerstaff's dismissal, the lack of coaching stability during Pera's ownership tenure has been widely noted:
4 head coaches in 10 years . 3 in 6 years. I'm with you big guy. https://t.co/jEMRcEK5UB

— Richard Jefferson (@Rjeff24) April 12, 2019
But I'd like to highlight this quote from Wexler from our Friday interview session, about the decision to let Bickerstaff go:
"If we were pulling back like we are and restructuring our front office and thinking about how we best go forward, then starting with a clean slate on the coaching front was the best strategic, long-term solution for our situation."
Short version: New management wanted their own coach.
They usually do.
The widely noticed coaching changes have mostly been a by-product of less widely noted management changes. For all of the coaching volatility, David Fizdale is the only Grizzlies coach of the Pera era to be let go by the same management team that hired him.
The Levien regime inherited Hollins and let his contract run out, hiring their own coach in an elevated Dave Joerger. Joerger nearly left of his own accord after Levien was fired, a departure only delayed, a kind of aftershock of Levien's firing. Bickerstaff was collateral damage of another change in hoops leadership.
Things have gotten off to a quiet start on the coaching front. Over the weekend, a new job opened up (the Lakers firing Luke Walton), and another was filled (the Kings immediately hiring Walton). That still leaves three currently open: The Cavs, Grizzlies, and now Lakers.
Named candidates for the Cleveland job include assistants Juwan Howard (Heat), Jamahl Mosley (Mavericks), Alex Jensen (Jazz), David Vanterpool (Blazers), and Nate Tibbetts (Blazers).
Named candidates for the Lakers include Howard, former Cavs' coach Tyronn Lue, and current Sixers' assistant Monty Williams.
Named candidates for the Grizzlies job include ... no one yet.  
Waiting for the lottery/CJ Miles opt-in: The organizational changes at the end of the week buried what might have been the lead: We inched a little bit closer to draft-pick clarity.
In coming out of a three-way tiebreaker with the No. 8 pre-lottery draft slot, the Grizzlies' range of possible picks has narrowed – the No. 5 pick was already off the table, now the No. 6 and No. 7 picks are as well – and the odds have hardened.
We won't know the actual outcome until the night of May 14, but the Grizzlies will either pick No. 1 (6% chance), No. 2 (6.3%), No. 3 (6.7%), No. 4 (7.2%), No. 8 (31.2%), or will be sending their pick to Boston (42.6%).
Because the odds of the Grizzlies acquiring some other pick beyond that – maybe in a Mike Conley trade, maybe in something smaller – are probably pretty high, we'll dive into more draft stuff in this space over the next couple of months.
In other Friday news, the least-surprising Grizzlies decision of the off-season came quickly, with Miles opting in to his $8.7 million contract for next season.
Playoffs, Day 3: The Grizzlies tumult also kept me from making any playoff predictions. Here are the first-round predictions I would have made before a single game tipped, with some quick notes:
Bucks over Pistons in 4: This Pistons team, with Blake Griffin in street clothes, is probably the worst NBA playoff team since the 2016 Grizzlies, when Conley and Marc Gasol were both injured.
Raptors over Magic in 5: A rough finish for Marc Gasol over the weekend. He had a potential game-winning 3 from the corner that rimmed out and then he and Kawhi Leonard both dropped in what seemed to be some pick-and-roll miscommunication, allowing Magic guard D.J. Augustin to step into a relatively open 3 that was actually the game-winner. I might bump that "in 5" up to 6 now, but I still feel pretty good about Toronto. Kyle Lowry won't put up an oh-fer again, right?
Sixers over Nets in 6: This opening-weekend upset was less surprising, and I think the Sixers are in a lot more trouble than the Raptors are. This team seems fragile (and Joel Embiid heavy). Game 2 is tonight in Philly and should be fascinating.
Celtics over Pacers in 5: The Pacers hung on pretty well late in the regular season, but did begin to fade. Without Victor Oladipo, there's just not enough offensive talent to make any playoff noise.
Warriors over Clippers in 5: The Clippers are scrappy enough and the Warriors prone to letting up enough, that I figured the Clips would pull one out on their home court. But I won't be surprised if they don't.
Nuggets over the Spurs in 7: I do not believe in the Nuggets as a playoff team, but don't believe in the Spurs quite enough to pick an upset. Game 1 did not surprise me, and no outcome in this series really would.
Thunder over Blazers in 6: The one first-round upset I pulled the trigger on, and it doesn't look good today. I still think this series goes 6 or 7 games, whoever wins.
Rockets over Jazz in 7: I hated this match-up because I thought these might be the second- and third-best teams in the West. "In 7" doesn't look great today.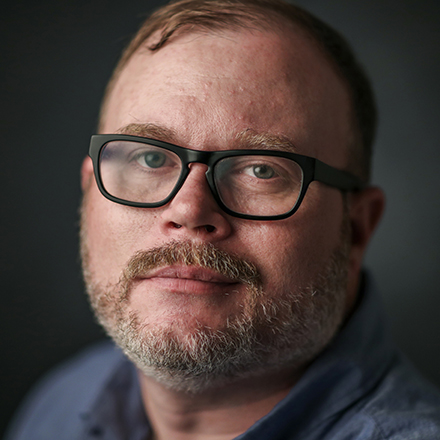 Chris Herrington
Chris Herrington covers the Memphis Grizzlies and writes about Memphis culture, food, and civic life. He lives in the Vollentine-Evergreen neighborhood of Midtown with his wife, two kids, and two dogs.
---