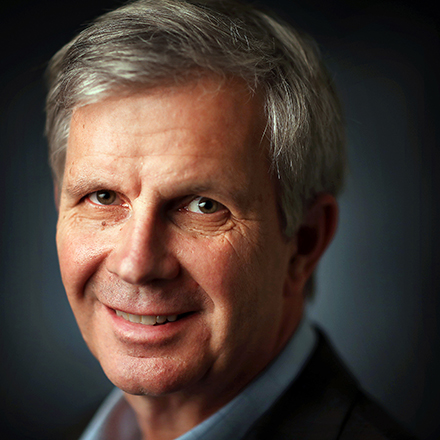 Geoff Calkins
Geoff Calkins has been chronicling Memphis and Memphis sports for more than two decades. He is host of "The Geoff Calkins Show" from 9-11 a.m. M-F on 92.9 FM. Calkins has been named the best sports columnist in the country five times by the Associated Press sports editors, but still figures his best columns are about the people who make Memphis what it is.
Calkins: The remarkable woman who made Penny Hardaway what he is
Penny Hardaway is sitting in the gleaming practice complex and he is on the verge of signing one of the best recruiting classes in the history of the University of Memphis and he is laughing out loud at the memory of his grandmother, Louise.
"She would test me," he says. "She might have told me not to leave my front yard. Then she would pretend to be asleep. And I'd peek in the door and see that she was asleep — or pretending to be asleep — and I'd leave to go play basketball and all of a sudden I'd turn around and THERE SHE WAS!"
There she was, all full of righteous fury. 
There she was, to fetch her grandson and teach him another lesson he would need to make his way.
"She knew the world could be a harsh place," Hardaway says. "I'm really grateful to her."
So happy Mother's Day weekend, everyone. No matter who helped mother you when you needed it the most.
For Hardaway, that was his grandmother, Louise, who would have loved to have seen how it all turned out. 
Louise saw all she really needed to see, of course. She saw her grandson play at Memphis State and in the NBA. She saw him go back and get his college degree.
"She was able to see that I made it in life," Hardaway says. "That I had it better than she had, that I didn't have anything in layaway."
This last part really meant something to Louise, who spent a good part of her life in a tenant house on the Moore brothers' farm outside Blytheville, Arkansas.
She and her husband, Sylvester, worked as sharecroppers. Until 1949 when — as chronicled in a Sports Illustrated piece by another Memphian, Ralph Wiley — Louise and Sylvester sold their crop of cotton, moved to Memphis and paid $365 as a down payment on a house at 2977 Forrest Avenue.
"A shotgun house," says Penny Hardway. "Bedroom, kitchen, bathroom. I don't know how many square feet. It was extremely small. That was all there was."
Penny hadn't yet arrived on the scene, of course. That wouldn't happen until July 18, 1971, when Louise's daughter, Fae — who was still in high school at the time — gave birth to a baby she named Anfernee. Louise started calling the baby "pretty," instead, which sounded a lot like "Penny," and that's how the name was coined.
But this is where we get to the critical moment. The moment when Fae decided to start a new life in California and when Louise decided — like so many others in this city have decided — to be a grandmother and a mother all wrapped up in one.
"She wanted to leave Penny with her sister, Gloria," is how Louise put it to Wiley. "But I told Fae to leave my baby here with me."
All these years later, Hardaway says he feels "blessed" to have been raised by his grandmother, to have been given the stability that only his grandmother could give.
"I was 5 years old so it was like, not having your dad there, not having your mom there, it's a weird feeling," Hardaway says. "But a young mother, getting pregnant right out of high school, is less stable than an older woman who is already established. My mom, with her outgoing personality, and wanting to travel, it would have been rougher on me."
So Hardaway settled into life with his grandmother, which included sharing the single bedroom at 2977 Forrest Avenue.
"I was on one of those eggshell cots that you roll out," Hardaway says. "I slept like that until I was 14, on the floor. 
"You had to get up at 6 a.m. no matter what. She wouldn't let you sleep in at all, not one day, wouldn't let you sleep in.
"I did all the chores around the house. I took the trash out, washed dishes, learned how to wash clothes, learned how to iron, had to iron my own stuff if I wanted something ironed."
Note: Some people actually wondered if Hardaway would be willing to work hard enough to be a successful college coach. Did they not know how he was raised?
"My grandmother worked in the cafeteria at Richland Elementary and worked as a nanny, too," Hardaway says. "She never missed a day of work. I mean, not ever. I never even remember her being sick.
"Our house was different from the rest of the neighborhood because she had so much pride. She paid her house off on her own. The roof was bad, everything was bad when she moved in. She got it fixed up. She had nice furniture, she had nice jewelry. She believed in the finer things of life. She had a car but she couldn't drive. It was as a blue Ford LTD, longer than this building. She never even had a license but she wanted to have a car. She would pay people to drive her around."
On Sundays, the Hardaways would go to Early Grove Baptist Church. Or Penny would, at least.
"It's funny, she never went with me one time but she made sure I went," Hardaway says.
OK, but then how would she know?
"Believe me, when she told me I was going to church, I was walking to church, and I went to church, and I sat there. She didn't have to walk me to church."
Thus did Louise Hardaway set expectations. Thus was her grandson's character formed. It all seems impossibly quaint, in some respects. But maybe it shouldn't be.
"She was strict, but she had a big heart and I knew she loved me," Hardaway says. "She was a baker. She cooked everything. She baked fried pies, sweet potato pies, coconut cake, chocolate cake, lemon cake, cookies. She cooked all the time."
Indeed, after Hardaway made it to the NBA, he appeared with his grandmother in a series of television commercials for King Cotton, the local food company. 
"They were fun," Hardaway says. "I really did those as a tribute to her, because of everything she did for me."
Louise Hardaway died in 2011, the same year as Larry Finch. Hardaway was actually at the funeral of a friend's mother when he got the phone call. Louise Hardaway was 95.
So she lived a full life, certainly, a life which not only changed the trajectory of her family, but ultimately of the city she had moved to decades before.
That was never the goal, of course. How could anyone dream of a goal so grand? The goal was to get out of the Arkansas cotton fields. Then the goal was to fix the roof of the house. Then the goal was to get to her job at the cafeteria and bring home enough money to feed her kids. Then the goal was to teach one of her kid's kids — a boy named Penny — lessons he wouldn't get anywhere else.
"She taught me the right way to be," Hardaway says. "That's probably the biggest thing. I never wanted to disappoint my grandmother. I wanted to make her proud." 
---