Eric 'Cowboy' Robinson, local grassroots basketball staple, moves to heading prep school
Mid South Prep Academy started in Memphis as an effort to give local youths a second chance at reaching college. Their schedule includes a mix of prep schools and junior colleges. Mid South Prep CEO Eric "Cowboy" Robinson once ran the most successful AAU program in the Memphis area, and is now taking on the task of expanding the prep school scene in the Mid-South.
The team consists of players with direct or indirect ties to the city of Memphis, much like an AAU team. The plan is for the newly formed prep school to be a haven for those seeking redemption or a second chance through basketball.
Robinson granted The Daily Memphian an inside look at his prep school recently.
The CEO
"HE'S NOT ANYWHERE?," Eric "Cowboy" Robinson shouted into his phone while a mix of his new prep school, high school and Memphis Magic AAU players ran up and down the floor. This wasn't a recruiting call, but a call to help a player who needed a second chance.
Robinson assured the coach on the other end of the phone he could work with him no matter what. The Mid South Prep Academy started for just that purpose – to help. Whether it's to make up missed credits, retake the ACT or SAT, or advance their recruitment.
"We're just trying to help kids," Robinson said. "This is their second chance right here, whether they didn't take it seriously in the classroom and they came up short with the ACT or with their GPA."
Robinson coached the likes of Joe Jackson, Chris Crawford, Tarik Black, Adonis Thomas, Jaylen Crutcher and Darious Hall through his Memphis Magic AAU program. At one time, the Memphis Magic was among the most formidable AAU teams in Memphis.
The talent level is different and his shoe deal situation fluctuates, but Robinson still puts teams on the floor that can compete with anyone in Memphis. After all, he is 2-1 all-time against now-Memphis Tigers head coach Penny Hardaway.
Mid South Prep is another way for Robinson to utilize the connections he's built as a staple of the Memphis grassroots basketball scene to help local youth. A coach Robinson knew years ago may reach out with a player.
More importantly, Robinson's name is known throughout the basketball world for having players who can play basketball at the collegiate level.
"It's really nothing but relationships," Robinson said. "You build those relationships because at some point someone's going to pick up their phone and say, 'I need your help.' We may not have talked in 10 years, and they'll say, 'I need you to help my kid.' It's just building relationships because they know I'm going to have some kids who know how to play the game."
Memphis is home to Tennessee Prep Academy, but Robinson still saw an unfulfilled need so he started Mid South Prep Academy. Anyone is welcome, although the focus is at-risk youth in the city.
---
---
"I have a passion for the game. I love the game. I love these kids. I just put it together. I got a job and take care of my kids and wife. I got three kids living with me right now, and it's probably going to five here soon."
Eric 'Cowboy' Robinson, Mid South Prep Academy founder
---
---
A prep year does not start a prospective college athlete's eligibility clock so anybody who is a part of Mid South Prep will retain four years of eligibility. A player going to junior college will have the standard two years of eligibility.
"It's something that is really needed in the Mid-South," Robinson said. "It's very popular on the West Coast and in the north. Our kids are missing out on the year where their clock doesn't start and they get a chance to develop what's needed. Whether it's recruiting or more exposure to colleges, D1, D2, D3, JUCO, NAIA or if they need SAT or ACT prep. If they need to pick up some pounds. We offer all of that to these kids right here."
A love of basketball motivates Robinson to stay around the game – a love for the kids pushes him to coach and start a prep school. The responsibilities of running an AAU team, prep school, coaching another basketball team, coaching volleyball and having a family don't phase the longtime basketball coach.
"I have a passion for the game," Robinson said. "I love the game. I love these kids. I just put it together. I got a job and take care of my kids and wife. I got three kids living with me right now, and it's probably going to five here soon."
The ball is still going up and down the floor as Robinson talks through his signature Bluetooth ear piece. In the background, Mid South Prep President Cleo Hayes flicks through his phone looking at social media and a variety of edits and player graphics he made himself.
"Just let me know, coach. You know I'm here to help," Robinson says as he clicks off his ear piece. A sigh and a slump of his shoulders precede him massaging his surgically repaired left knee.
"That's another that needs help," Robinson said. "I'm hoping they let me. We'll see."
The 7-foot-4 Nigerian
The ball flew up in the air and off the backboard as Emmanuel Umoffia crossed halfcourt. The big man center spun around as the ball moved to guard Jaylin Scott, who took off toward the basket.
Instead of running to the rim like a normal player of his height, Umoffia drifted to the corner while Scott drove and kicked to his waiting hands.
"He can shoot, he can shoot it," Robinson's voice boomed across the gym to remind his team of something nobody expects from someone so tall.
The ball flew through the air and fell through the net with ease. Game over.
Umoffia, who stands at 7-foot-4 and weighs 250 pounds, made his way from the gym, bending his hulking frame over to pick up a water bottle off the floor. Hayes delivered a message before Umoffia ducked to avoid hitting the door frame.
"Keep shooting," Hayes said. "Just keep shooting. You gotta dominate."
Umoffia started playing basketball in 2014, but his first love was soccer. Growing to 7-feet tall eliminated the ability to play, so basketball became his primary sport.
An I-20 form, a certificate for non-immigration students, brought Umoffia to Florida from Nigeria in January 2015. Then he made his way to New York, where he spent time at different schools before ending up at Tennessee Prep for his senior season.
"I used to play soccer," Umoffia said. "I went to a high school tournament called Milo Competition. My high school team, the first time we went there, we won our district. We lost in the finals, but I won MVP for district."
A close relationship with former Tennessee Prep coach and current Mid South Prep head coach Jerry Randolph brought Umoffia to a small gym in Southaven that doubles as a wrestling arena. Robinson points out the building has hosted Jerry "The King" Lawler in the past. Two attempts at the ACT came up short for Umoffia. He didn't want to lose a year of eligibility at a junior college so he decided on prep school.
Umoffia is confident the academics will work out so he's focusing on rebuilding his body and confidence after a few months off. The Mid South coaching staff wants the center to shoot from outside rather than worrying about rebounding on every possession – an internal battle Umoffia struggles with even through his coach's encouragements.
"Confidence," Umoffia said when asked what he's working on the most. "I've always been able to shoot. I've never taken a lot of shots in the game because I've felt like I have to be a rebounding presence. If I shoot, who's going to rebound the ball? I still have that mentality, but this year we have a shooting team. We can really spread the floor. Coach Randolph is encouraging me to shoot more. My back to the basket, we're still working on. I've got to work from inside out, though."
He craves structure and a system that is going to make him better, rather than the distractions that come from staying home. Improvement is already happening at Mid South Prep where agility drills, pool exercises and conditioning drills make up the plan to get him in the best possible shape.
There were offers to go to junior college or even college, but Umoffia doesn't reveal those details. That's for motivation and not for anybody else. All he knows is that Randolph and Robinson can "definitely" get him where he needs to be.
"He had some schools on him, but we're just here to guide him and keep him straight," Robinson said. "We're here to make sure his head doesn't get too big, keep him hungry and keep him humble. Let him stay on this path of 'stay working and if you wanna be a pro you have to train like a pro'."  
The Complementary Backcourt
Jaylin Scott dripped with sweat after an hour of playing while wearing a weighted vest. Another player helped peel off the vest as Antonio Suttle walked into the gym. Scott and Suttle dapped and waited as teams were chosen.
Neither seemed phased as they were separated onto different teams. They are used to it.
The backcourt mates complement each other when they play together even though they are in completely different situations off the court.
"That could be the best backcourt in Memphis right there," Hayes said as Scott blew past his defender for a right-handed layup on the left side of the basket, interrupting his thought. "But you gotta use your left hand."
Some smaller schools were aware of Scott after he averaged 25 points and eight assists per game in his senior season at Milwaukee Career Tech and Education. Grades aren't the problem for the 6-foot-1 guard – he's worried about recruiting.
No local schools reached out to Scott in his time in Wisconsin. He was another player who wanted to avoid junior college and starting his eligibility clock.
"It was more of looking to get recruited," Scott said. "My grades are good. It was just my situation. I didn't play a lot of high school basketball and I didn't get seen. I played AAU but I didn't play a lot. The team was already pretty good and was built. I was the newcomer."
The belief he's destined to play college basketball pushed Scott to look for a prep school. The Wisconsin native's uncle and other family are based out of Memphis and learned what Robinson, Hayes and Randolph are doing for local players.
"He has family down here in Memphis," Robinson said. "He came here to Memphis and we're gonna help him out. That's a kid that spent his senior season averaging 25 points game. He didn't have any local colleges in Wisconsin offer him so that's a kid that needs help."
So far, the move has paid off for Scott. Some schools have reached out, including Missouri State, which is monitoring him. He still can't help but feel frustrated with his situation.
A partnership with Robinson gives Scott faith he can accomplish what he wants even if it takes some time.
"It is frustrating," Scott said. "(I) heard from small schools and I feel like I can get bigger schools."
When Suttle received a call from Randolph to join Mid South Prep he thought his basketball career was over. He was working in a warehouse and focusing on making ends meet rather than making a career in basketball work.
The belief he could better himself and go to college spurred him to join Robinson's team. The thought of moving on lingers in his mind sometimes. Basketball isn't the problem according to Suttle. He's worried about everything else.
"I did a couple of times," Suttle said when asked if he considered quitting. "I still do sometimes. It's not that I'm not interested anymore. It can be frustrating. I didn't do what I was supposed to do in school so I got discouraged."
The ability to score draws people to Suttle. He averaged more than 20 points per game in every season at Memphis Business Academy and put on a show in practice so far.
Mid South Prep's coaching staff knows he can score --- it even surprises them sometimes. Keeping Suttle focused on his academics and everything challenges the guard's will. The three former teachers Mid South employs as tutors work with the former Memphis Business Academy guard regularly to steer him on the right path.
"I heard about he scored 50 one game his senior season," Robinson said. "It's strictly academics with him. Our tutors are working hard getting ready for him to pass the ACT. Well you just have to motivate him and keep his spirits up and let him know everybody deserves a second chance in whatever. You have to take advantage."
Robinson believes he was introduced to Suttle for a reason. That feeling is reciprocated by the guard. Suttle says he knows for a fact Robinson can get him into school somewhere if he does what he needs to do off the court.
"I'm taking it one day at a time," Suttle said while watching Scott lead the team through a drill. "[I'm] trying to do what I need to do."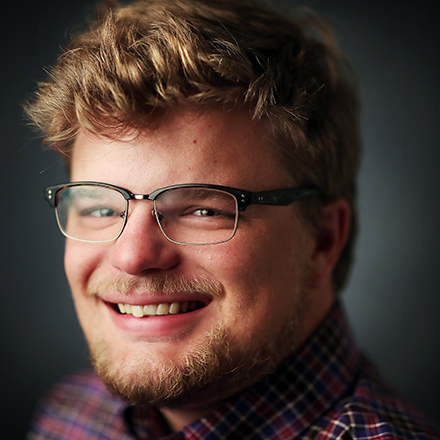 Jonah Jordan
Jonah Jordan was born and raised in Memphis, graduated from the University of Memphis and has covered the Memphis Tigers for three years. When he's not writing, he enjoys golfing and eating barbecue.
---