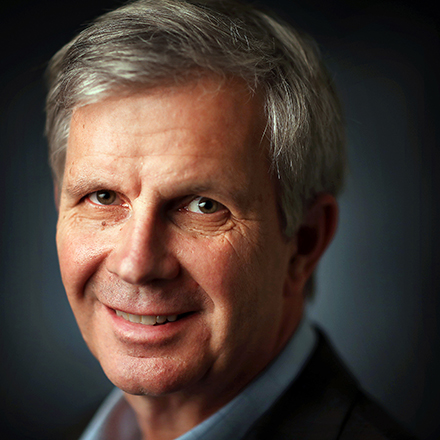 Geoff Calkins
Geoff Calkins has been chronicling Memphis and Memphis sports for more than two decades. He is host of "The Geoff Calkins Show" from 9-11 a.m. M-F on 92.9 FM. Calkins has been named the best sports columnist in the country five times by the Associated Press sports editors, but still figures his best columns are about the people who make Memphis what it is.
Calkins: Memphis shows its guts in thrilling double-overtime win over Yale
Tyler Harris stepped to the line with 2.9 seconds left needing to hit three straight free throws to tie the game and send it into overtime.
How many times have Memphis fans been disappointed by free throws?
How much pressure must Harris have felt in that moment?
A freshman, from Memphis, playing in just his second home game.
Nearly 15,000 fans standing and watching, with nearly 15,000 held breaths.
 "That was one of the hardest moments of my life," Harris said. "I felt like the game was on the line with me."
Harris bounced the ball four times, drained the first free throw, then pointed to the sky.
Harris bounced the ball three times, drained the second free throw, then pointed to the sky again.
Whereupon, the Yale coach called timeout. Just to make the kid think.
So after play resumed, Harris bounced the ball three times, drained the third free throw, then pumped his fist.
"I knew he was going to make them," said Memphis coach Penny Hardaway. "That's just how Tyler is, he relishes that moment, to get a second chance to stick the dagger in."
But here's the thing: That excruciating slice of tension was just the start of the drama, which continued into a first overtime, and then into a second overtime, before finally cresting into delirium as Memphis outlasted Yale, 109-102. And anyone who tries to tell you that this was just a win over Yale, 1) doesn't understand how good this Yale team happens to be, and 2) didn't watch this exhausting, mesmerizing game.
This was a game in which Memphis trailed Yale, 81-75, with 1:28 to play in regulation.
This was a game in which Memphis trailed Yale, 96-91, with 42 seconds left to play in the first overtime.
"We was on the ropes, on thin ice at the end," said Memphis guard Jeremiah Martin.
Not to mention, they were playing with fire.
It's nearly impossible for a veteran, game-tested team to escape from one of those situations. But this Memphis team — with a brand new coach and two true freshman guards — somehow escaped from two.
"I've learned that these guys are resilient, and they're tougher than I gave them credit for," Hardaway said. "I was like, `Hey man, we're not a really tough team, we got to get tougher.' But you win games like this, you come back on LSU being down 9 at halftime to take the lead in their building, we got a tough team."
The first escape came courtesy of Harris, who is so small, he must not have any room inside for fear.
The guy missed all six of his shots the last time he played in this building. He then lit up the gym for 20 points against LSU. But he actually missed one of two free throws with 35 seconds left in regulation against Yale, one of a whopping 19 misses (out of 56 attempts) by Memphis on the night.
So when Harris went to the line with 2.9 seconds left, needing to hit three straight free throws to tie the game, it was hard not to think of, oh, Darius Washington. Or the championship game against Kansas. Or pick your favorite Memphis heartbreak.
"What I did was, I prayed to God before I shot every free throw," Harris said. "He came through for me."
Hey, whatever it takes.
The first overtime required similar heroics, with Memphis rallying from five down to trail by a single point with 6.3 seconds left. 
That gave Hardaway his first chance to draw up a winning play for the Tigers, which turned out to be — after a backdoor cut by Martin didn't develop — a Kyvon Davenport drive to the rim.
Davenport's shot just failed to drop, but Davenport was fouled. So now Davenport was the one stepping to the line, this time with 3.6 seconds left, this time with the chance to hit two shots and seal the win.
He promptly missed the first one. Didn't I tell you this was excruciating?
"It was tough," Davenport said. "But Tyler kept telling me, `Just pray to God, pray to God.' I prayed like Tyler said and I hit my second."
And the people said, AMEN!
Or, at least the people in the building, who were having a blast. Because then it was on to the second overtime, which — for the first time all season — inspired Hardaway to take off his coat.
"I was cool and calm until that point but then I got a little hot," Hardaway said.
As which point, so did his team. Memphis scored the first nine points of the second overtime to end the drama and spark a party of a sort that hasn't been heard in that building after a Tiger victory for a long, long time.
Nobody can say what the future will hold for this particular team. It certainly has its flaws. The Tigers shot just 6 of 23 from deep, missed those 19 free throws and often appeared lost in their half-court offense.
But nobody can doubt the guts of the team, either. And nobody can say it isn't a blast to watch. 
So when the game finally ended, the players practically danced to the locker room, where a proper celebration commenced.
"It was all you would think, it was all mayhem," said Hardaway.
You know, just like the game.
---