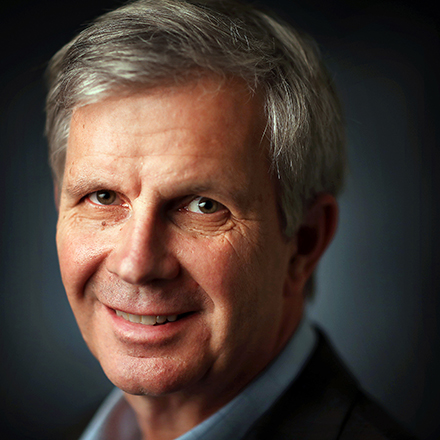 Geoff Calkins
Geoff Calkins has been chronicling Memphis and Memphis sports for more than two decades. He is host of "The Geoff Calkins Show" from 9-11 a.m. M-F on 92.9 FM. Calkins has been named the best sports columnist in the country five times by the Associated Press sports editors, but still figures his best columns are about the people who make Memphis what it is.
Calkins: Memphis Tigers win the West – by being who they are
Mike Norvell had time to think about the play, time to think about exactly what to call.
Houston and Memphis were tied at the end of the third quarter. Memphis had the ball on its own 44, facing a 4th-and-1.
A division title was on the line. A chance to play for the American Athletic Conference championship was on the line, too.
Should he go for it? If so, what to call?
"You sit there and you think about the moment," Norvell said. "You sit there, you think of who you are, you think of who you have, you think of the belief you have in those guys up front."
Norvell sent out what Memphis calls its 22 package, with Darrell Henderson lined up at tailback and defensive lineman JoJo Dorceus lined up at fullback.
There would be no trickery on this one. There would just be the Memphis offense, imposing its will.
"I talked to coach (Kenny) Dillingham on the headset, and he goes, 'Coach, this is who we are,'" Norvell said.
Henderson took the handoff and headed right. Dorceus threw a block.
"I just seen a seam and had to run a man over," said Henderson.
Which is how the West was won.
The Memphis Tigers won their second straight West Division title by running over the Houston Cougars, 52-31, and by sticking to who they are.
Memphis ran for 401 yards to set a new single-season team rushing record with 3,311 yards. 
Henderson ran for 178 yards to set a new single-season conference rushing record with 1,699 yards.
Tony Pollard stacked up 236 all-purpose yards. Patrick Taylor ran for 128 more.
The Tigers ran for six touchdowns, to increase their single-season program-record total to 42.
"People remember what you do in November," Norvell said. "It was definitely a special game that will always be remembered."
In a way, it was the season in miniature, complete with high expectations, early disappointments and victory in the end.
Memphis quarterback Brady White threw two first-half interceptions, including a pick six. Memphis trailed at the half, 21-17.
But just as the team hung together after losses to Navy, Tulane, Central Florida and Missouri, it hung together on this day, too.
That's a credit to Norvell and the entire program. In a way, it makes this season every bit as gratifying as last season.
Last season was all triumph. Last season was blue skies.
This year was a struggle. This year had plenty of rain.
The Memphis players certainly could have given up after getting routed by Missouri, 65-33. But they rallied to beat East Carolina, Tulsa and SMU to set up Friday's game.
"They're willing to respond when they get knocked down. That's what makes up a champion," Norvell said. "I told these guys a few weeks ago, 'You definitely control your own destiny.' Even though mathematically nobody would have said that when it came to our pursuit for a divisional championship, but we always controlled how we responded. We always controlled how we prepared."
There's a lesson in there for all of us, no? About what controlling one's destiny really means?
This team doesn't have a chance to play in a New Year's bowl game like last year's team did. Even if Memphis beats UCF next week – a result that became considerably more likely when UCF quarterback McKenzie Milton was carted off the field Friday with a leg injury – the Tigers will not play in a glamorous bowl.
But that doesn't diminish what the team accomplished over the course of the season, or in the fourth quarter of Friday's game.
After Henderson ran over Houston on that critical 4th-and-1, Norvell decided to keep running, and running, and running some more.
"After the fourth down, when we went for it, and we hit it, I said, 'Let's see if they can stop it,'" Norvell said.
They couldn't. Not even close.
The Tigers ran 18 plays in the fourth quarter. Not one of them was a pass. Taylor ran for a touchdown. Henderson ran for two touchdowns, one of them a 60-yard sprint with Dorceus – all 275 pounds of him – throwing the final down-field block. 
"We were just pounding them, we were just dominating," Pollard said. "That's when we knew we had 'em."
Usually, the Memphis players do their post-game interviews one at a time. After this game, Taylor, Henderson and Pollard sat at the lectern together. Then Dorceus told them to shove over and make room for one more.
It was quite the merry scene. And it was entirely representative of what this team is about. Nobody cares who gets the glory, or the carries, or the microphone.
Here's Dorceus, talking about his approach to blocking:  "Whoever is back there, you're getting out of there, we're going where we need to go. If somebody's in my way, they got to move."
Here's Henderson, talking about Houston's smack-talking: "Even when we were whooping them, there was a lot of talking. So we were like, 'We're not going to do a lot of talking, we're just going to whoop y'all.'"
Here's Taylor, talking about the touchdown scored by sixth-year senior Sam Craft: "When I saw Sam score that touchdown, I had the biggest smile on my face. I ran onto the field, I thought I was going to get a flag."
Here's Pollard, talking about the division title: "I don't know if words can explain how this one feels."
It feels like vindication. It feels like redemption. It feels like last year, but maybe even better, because there were more trials along the way.
"It's what we believe in, it's who we are," said Norvell.
They're West Division champions, that's who.
---