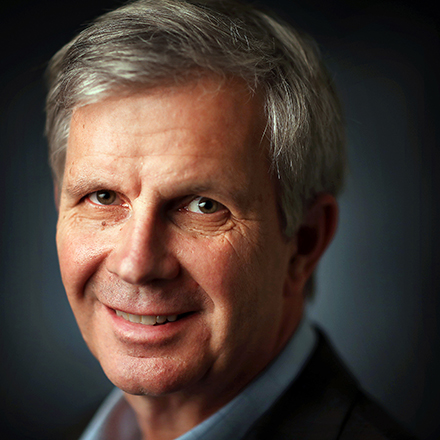 Geoff Calkins
Geoff Calkins has been chronicling Memphis and Memphis sports for more than two decades. He is host of "The Geoff Calkins Show" from 9-11 a.m. M-F on 92.9 FM. Calkins has been named the best sports columnist in the country five times by the Associated Press sports editors, but still figures his best columns are about the people who make Memphis what it is.
Calkins: A loss to UCF reminds us, it's not easy being a Memphis sports fan
ORLANDO — Nobody said that following Memphis sports was going to be all happiness and joy.
Nobody said there wouldn't be moments that test one's spirit.
Mario Chalmers hitting a 3.
Larry Kenon fouling out.
Darius Washington missing free throws. 
And Memphis losing heartbreaking football games to UCF.
It happened again Saturday at Spectrum Stadium, as UCF rallied to defeat the Memphis Tigers in the American Athletic Conference Championship Game, 56-41.
"It's a hard one to take," said running back Darrell Henderson.
"We should have won the game," said quarterback Brady White.
"Whenever you come up short, everyone hurts," said Memphis head coach Mike Norvell.
But here's the thing: All those quotes were delivered after the last game between these two teams, when UCF rallied from a 30-17 halftime deficit to win 31-30.  This time, UCF rallied from a 38-21 halftime deficit to win 56-41.
Deja vu?
No, deja blue.
This game was exactly like that game, including the pain at the end. Indeed, the pain may have been worse after this one, because of the championship stakes.
---
JONAH JORDAN: UCF dominates second half, defeats Tigers for championship
---
That game: Henderson had 172 rushing yards in the first half but just 27 in the second.
This game: Henderson had 207 rushing yards in the first half but just three in the second.
That game: Memphis scored 30 points in the first half and none in the second.
This game: Memphis scored 38 points in the first half and three in the second.
That game: Memphis got shafted by the officials when a bogus holding call wiped out a Henderson touchdown.
This game: Memphis got shafted by the officials, well, where to begin?
It's not like I didn't warn you. I told you that conference officials desperately wanted UCF to win and get to a New Year's Bowl. 
"We're rooting for the officials," said assistant commissioner Chuck Sullivan, at Friday's press conference.
They certainly came through!
Three times, the officials called penalties on UCF, then huddled and decided to say, "Never mind."
They took back a chop block call that would have wiped out a 44-yard pass play by UCF. Three plays later, UCF scored a touchdown.
They took back a defensive holding call on UCF that would have given Memphis a critical first down once UCF had cut the lead to 10.
They failed to review a UCF pass completion that wasn't actually a completion on a first-half touchdown drive. They took away another Henderson touchdown with a holding call.
Those calls don't excuse Memphis from being outscored 35-3 in the second half, but they certainly helped change the momentum — and helped keep UCF close — when Memphis was controlling the game.
After that came disaster, for which the officials cannot be blamed. UCF rolled up 698 yards of offense. With a backup quarterback calling the shots. Memphis, by contrast, couldn't muster much of anything and — after UCF scored two quick second-half touchdowns to draw within 38-35 — settled for a field goal instead of going for it on 4th-and-goal from the UCF 2.
Norvell will take criticism for that decision and maybe he should. That field goal did give Memphis a chance to retake the lead later in the half with a 46-yard attempt by Riley Patterson. But Patterson missed, UCF followed that miss with another touchdown and that was pretty much that.
Could going for it on 4th-and-2 have swung the momentum back to Memphis?
Sure, that's possible.
But I keep thinking back to what Memphis football used to be. I keep thinking that it's only because of the extraordinary work of Norvell and Justin Fuente that Memphis fans can feel the particular form of disappointment they are feeling today. 
It was a frustrating day to be a Memphis sports fan. While the football Tigers were blowing a big lead against UCF, the basketball Tigers were blowing a big lead against Texas Tech. But there is a vast difference between the futile sort of pain that Tommy West spoke of when he was fired and the came-this-close-to-a-title sort of pain that abounds today.
This latter sort of pain is a privilege. It is only earned by accomplishment. So let me take you under the stadium after this one, where offensive lineman Drew Kyser was lost in misery. 
Kyser is a senior. Saturday's game was his 51st straight start. He is one of the players who have redefined the Memphis football program. A reporter asked him that quintessential after-a-loss question: "How does it feel?"
"It stinks," he said. "I've never won a championship and now I'll never get the chance. It really stinks."
Kyser's eyes were misting up as he said this. Someone suggested that maybe he should still feel pride for what he helped build. 
"Yeah," he said. "But right now, it's sickening. I'd trade it all for a ring."
---