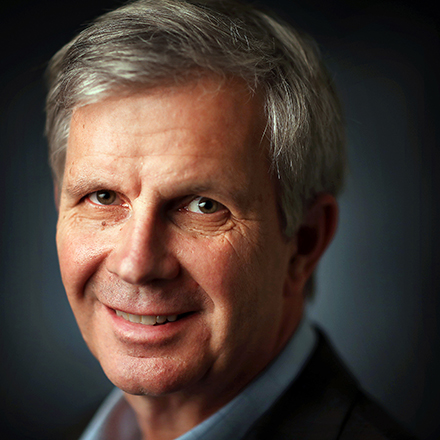 Geoff Calkins
Geoff Calkins has been chronicling Memphis and Memphis sports for more than two decades. He is host of "The Geoff Calkins Show" from 9-11 a.m. M-F on 92.9 FM. Calkins has been named the best sports columnist in the country five times by the Associated Press sports editors, but still figures his best columns are about the people who make Memphis what it is.
Calkins: Whatever happened to Nostalgia Man?
He was the biggest sports figure in Memphis for nearly two decades.
His image was on tens of thousands of caps and T-shirts.
He had a hip Downtown sensibility but an old-school charm.
He was – you already guessed this, right? – Nostalgia Man, the massive, left-handed hitter in a baggy uniform who used to stand astride the entrance to AutoZone Park.
Nostalgia Man was the 37-foot symbol of the return of baseball to Memphis. He welcomed Memphians back to the ballpark but also – in a very real way – back to Downtown.
"I sort of wondered why they took it down," said Allie Prescott, who served as president of the Redbirds when Nostalgia Man joined the team. "Were people tired of him? Were people not noticing him?"
No, it was nothing like that.
Like even the best ballplayers, Nostalgia Man got old.
But let us first recall the days of his youth, back in 1997, when a scout (OK, a creative director for Thompson & Co.) named Trace Hallowell discovered the slugger in the unlikeliest of places – a copyright-free book of designs published in 1925.
"Dean Jernigan needed a logo for the entity that was going to be Triple-A baseball in Memphis," said Hallowell, who now has his own firm, Tactical Magic. "It was before there was a team or a ballpark or anything. We had a very small budget. I found the image in a book that I'd had ever since college. It was at a time when all the minor-league logos were cartoonish and my instinct is to zig when everyone else zags. This was a simpler, classic image."
Hallowell and a designer named Dave Steinke put the figure in front of a blue oval. The temporary logo was so wildly popular, it became a permanent logo.
"People loved it," Prescott said. "We sold a lot of those hats. It represented baseball the way it used to be. That's what Dean Jernigan and I had in mind."
So the logo existed before AutoZone Park existed, before the giant Nostalgia Man stood astride the entryway.
Indeed, when the Redbirds and the Cardinals officially opened AutoZone Park on April 1, 2000, the Nostalgia Man sculpture was not yet in place.
It was there for the regular-season opener, though. And every game after that until, well, until Nostalgia Man went the way of all old ballplayers.
"He needed knee-replacement surgery," said Craig Unger, the current president of the Redbirds. "Double-knee replacement and hip replacement. He had some structural deficiencies, just from the structure being outside.
"It was an insert inside of a frame and whatever was holding it together – the glue – was beginning to come undone and things were in danger of falling out of the frames, and the structure was rusting, as well."
All this happened to correspond with the rebranding of the Redbirds, complete with a brand new logo. So, with little fanfare and no official notice, Nostalgia Man came down.
"It was before the 2018 season," said Unger.
Really? That long ago?
Prescott actually got a phone call about the big guy, a couple days after the end.
"Someone asked me what I thought. I said, 'Listen, I'm certainly not going to second-guess Craig or Peter (Freund), with all the wonderful things they've done,'" Prescott said. "Nostalgia Man served a valuable purpose at the time, but times change."
So that leaves just one question unanswered. Where is Nostalgia Man now? In a warehouse? A giant closet? Is he hanging out in Boca Raton and picking up a little spending money at card shows?
"No," said Unger. "Nostalgia Man does not exist."
Except in our memories, of course.
---