Grizzlies Postgame: Grizz come undone, run out of gas in loss to Knicks
The Grizzlies took a second straight loss and in both cases they needed Mike Conley a little too much.
Against the Los Angeles Clippers on Friday, Conley fouled out with the Grizzlies up eight points and less than three minutes to play. The team's offense fell apart without him and the Grizzlies lost in overtime.
In a 103-98 loss to the New York Knicks (7-14) and returning former coach David Fizdale on Sunday at FedExForum, the Grizzlies (12-7) were fighting uphill in the fourth quarter and rode Conley for the game's final 15 minutes, during which Conley shot 3-11 and seemed to be exhausted by the end.
---
---
With fewer than five minutes to play, Conley ran a pick and roll with Marc Gasol and seemed annoyed to get the ball back from Gasol late in the clock. He drove against Knicks forward Noah Vonleh and pulled up for a teardrop jumper to tie the game, building a two-point lead a few seconds later at the free-throw line, then getting a one-point lead back with a driving bank shot with fewer than two minutes to play.
Conley was closing, but he was also gassed. Seven seconds later, Conley fouled Knicks guard Trey Burke and spent the free-throw break draped over the scorer's table, taking several big, hard breaths and drinking some water from a cup one of the trainers handed him.
The Grizzlies took the ball out of Conley's hands on the ensuing possession, only for guard Garrett Temple to toss a pass into Burke's hands, resulting in a tomahawk dunk hoop-and-harm from the Knicks' other guard, Emmanuel Mudiay and a four-point Knicks lead. The Grizzlies came up empty on the next three possessions, two Conley shots and another that he set up, an airballed three from guard Shelvin Mack.
Conley's 39 minutes and 24 field-goal attempts were both season-highs in regulation (topped and tied, respectively, only in overtime against the Sixers). And if head coach J.B. Bickerstaff declined my suggestion in the postgame that perhaps the team needed Conley too much, especially for crunchtime offense, he did allow that the team may have asked a little too much in this one.
"We wore him out and that's on me," said Bickerstaff. "The third quarter kind of set the tone for us and put us in a hole, and I thought we needed to kind of press that group to give us an opportunity to win. So when you dig yourself a hole, you make those decisions."
It was a wild, weird, physical game, with 19 Grizzlies blocks, several errant Knicks elbows, and three technical fouls. But while it was anyone's game until near the end, that third quarter was probably determinative.
In the third quarter, the Grizzlies built a 13-point lead on back-to-back threes from Gasol and Conley, but then gave up a 25-5 run to close the quarter, which Gasol attributed to too little urgency and too much confusion from the Grizzlies' defense.
"We had control of the game, and then (when we lost control)  it took a lot of energy to get close again. We kind of ran out of gas at the end," said Gasol.
Man of the Match
Gasol (27-8-4, with two steals and five blocks) had the Grizzlies' best stat line, but Jaren Jackson Jr. had the most exciting game.
"Unicorns" have jumped the shark of late (how's that for an image?), especially in Memphis. The term risks losing meaning. People love to say it, but feel free to shout it to the heavens about 19-year-old Jackson's 19th pro game.
What is most commonly meant by the phrase is the ability in a big man to protect the rim defensively and spread the floor offensively, and coming out of college Jackson seemed like potentially the purest specimen of a "unicorn" we'd yet seen.
Fellow rising rookies Deandre Ayton and Marvin Bagley scored more points and gobbled more boards in college, but neither combined defense and shooting the way Jackson seemed to.
Early in his rookie season, Jackson was blocking shots, but not at an eye-popping rate, and his infrequent three-pointers weren't really falling. He impressed with a better-than-expected post game. Traditional big-man stuff. Not unicorn stuff.
Things done changed.
Against the Knicks, Jackson made four three-pointers (in four attempts) and blocked seven shots, duel season/career highs, the latter tying a franchise rookie record. He's the first rookie ever to hit both marks in a game.
He also finished out a close game with an extended fourth-quarter stretch for the first time in his career, and two of the three-pointers and four of the blocks came in the final quarter. In fact, three of the blocks came in a breathtaking 77-second stretch during which Jackson seemed to be devouring everything that came his way.
Over his past games, Jackson is averaging 3.4 blocks and 1.6 made threes (on 57 percent shooting).
Maybe the best thing of all: How much he did not care about these precocious feats.
Because I missed the Grizzlies home loss to Utah early in the season, this was the first loss I've witnessed at FedExForum, and the first time I've seen Jackson glum in the locker room. He's typically an ebullient post-game presence, cheerfully navigating his rookie season. This time out, he answered all questions that came his way curtly but professionally. He was far more disappointed in the team's loss than impressed by his personal exploits.
Clip of the Night
Jackson swallowing a shot for one of his seven blocks:
?????????? pic.twitter.com/A3rjkMkEch

— FOX Sports Grizzlies (@GrizzliesOnFSSE) November 26, 2018
Nightly Number
What will it take for this team to generate more and easier offense?
"We have to get our stops and run. Get easy layups," said Marc Gasol after the game. 
Like this?
Big Spain @MarcGasol moving in transition ??‍???? pic.twitter.com/9AYzf8AOUC

— Memphis Grizzlies (@memgrizz) November 25, 2018
The clip comes in a little to late to capture it, but that first-quarter Marc Gasol coast-to-coast didn't just come off a stop, it came off a steal. When it comes to generating easy offense, not all stops are created equal.
One of the stories behind the Grizzlies' surprising-to-most early start is that the team has (had) been able to mitigate its sluggish offense by creating turnovers, and scoring off of them at what had been a league-high rate for much of the early season. That hasn't been happening as much of late.
The Grizzlies won the turnover battle against the Knicks, but mostly because they took care of the ball themselves. They only forced 10 Knicks turnovers and only scored 10 points off of them. That's fewer than half of the turnover-generated points the Grizzlies were averaging earlier in the season. 
The Matchup
Jackson Jr. had an exciting game, but he was part of the problem in the matchup that got the better of the Grizzlies, especially in a third quarter that proved decisive.
Knicks center Enes Kanter is a pretty average NBA player overall. But that's because his considerable weaknesses tend to balance out his considerable strengths. That was not the case in this one.
Kanter is a deft finisher in the paint and one of the NBA's best rebounders, and he was at his best in both areas against the Grizzlies, shooting 9-15 (21 points) in the paint and grabbing 26 rebounds. He was too big for JaMychal Green and too strong for Jackson Jr. and gave Gasol fits too.
And while the Grizzlies' frontcourt generally had a good game offensively, it didn't feel like they really exploited Kanter's typically weak defense.
Meanwhile, Knicks forward Noah Vonleh didn't put up much of a stat line (7-6-2) but was a game-high +17 when he was on the floor and his physical but herky-jerky play frustrated the Grizzlies at times. On the whole, the Knicks' 14 offensive rebounds (six by Kanter) helped mitigate the 37 percent shooting the Grizzlies held them to.
Elements of Style
I don't know about "all heart," but it's definitely "all hands":
Watch & Enjoy.

ALL FREAKING HEART! pic.twitter.com/pFjcnNulQo

— Memphis Grizzlies (@memgrizz) November 26, 2018
The Tweets Were Watching
????????????????????????????????????????????????

— Natasha Sen-Fizdale (@natasha_sen) November 26, 2018
That aside ... 
What David Fizdale Did and Didn't Mean to the Grizzlies
That David Fizdale returned to Memphis on the Sunday after Thanksgiving after having coached his last game at the Grizzlies' helm on the prior Sunday after Thanksgiving was a juicy accident (?) of NBA scheduling.
But despite unavoidable efforts to drum some up, there wasn't much heat to this return. Partly that's because both Fizdale and the Grizzlies have come out of the departure in a better place. The Grizzlies are thriving with the return of a healthy Mike Conley, and Fizdale wasn't jobless for long, landing an at-the-moment lower-pressure gig in the nation's largest market.
As for the internal combustion that was Fizdale's relationship with Marc Gasol, the returning coach did a pretty good job of defusing that in his pre-game meeting with the media. Asked about his off-season talk with Gasol, Fizdale said: "It was a fantastic conversation. It was two men that evolved. That's pretty cool to see." The post-game cherry on top of this make-up session was a cordial on-court hug.
The other reason it felt like such a minor story is that the post-mortems last season were so extensive. What else, other than the looming draft lottery, did we really have to talk about in the winter and spring of 2018 when it came to Grizzlies basketball?
So, without relitigating too much, I'll reiterate that Fizdale's exit was absolutely about his relationship with Gasol. It may not have happened when it did without Mike Conley's injury absence. And Gasol wasn't the only Grizzlies vet rubbed the wrong way by Fizdale's brash entrance the season before.
But it was mostly about Gasol-Fizdale and had been a long time in coming, about a clash of personalities/philosophies/world-views. The final break wasn't Fizdale choosing not to play Gasol in the fourth quarter against Brooklyn a year ago, but the showy manner in which he did so.
That said, sometimes coaches get too much credit and too much blame, and that's probably especially true of Fizdale given the magnitude of his persona and the messiness of his exit.
The extent of on-court changes Fizdale wrought have tended to be overstated. Under Fizdale, until Conley went down, the Grizzlies were a slow-paced team that played high-level defense and mediocre offense while winning at a playoff-contending level. They excelled at taking care of the ball and were pretty good at forcing mistakes. This is essentially what the team had been before Fizdale arrived and it is what they are today.
That the fundamentals are mostly unchanged is a result of a more important continuity: A healthy Mike Conley and a healthy Marc Gasol have in recent years been the greatest determinant in what the Grizzlies are, both qualitatively and stylistically.
That said, Fizdale deserves credit, and has gotten plenty, for some elements of offensive evolution, namely stretching Gasol's jumper out to three-point range and pushing Conley into being the team's offensive alpha. The tides were likely to push in each of those directions. But Fizdale steered the team firmly in pursuit of both goals, and the franchise remains the better for it.
In terms of roster, Fizdale makes for an easy scapegoat for the departures of Zach Randolph and Tony Allen, for those who think the Grizzlies should have brought the exemplars of Grit-and-Grind back. It is my belief that these departures would have occurred when they did whoever was head coach.
But I do think the ideal of Fizdale as a player developer building his own culture rather than building on a pre-existing one had a role in two summers of dice rolls big (Chandler Parsons) and more so medium (Wade Baldwin, Ben McLemore) and small (Deyonta Davis, Tyreke Evans).
Those were talent-first decisions, and this is a talent league. But I do think this past summer reflected a conscious shift to a different value system, one rooted, to some degree, in a sense of core franchise values that had gone dormant. And a coaching change from Fizdale to Bickerstaff in some way abetted that. Also to the franchise's benefit.
Where They Stand
The Grizzlies fall to 12-7 and tied for fourth in the West. They were alone in first a couple of games ago. That's how tight it is, and how tight it's likely to remain for awhile.
Looking Ahead
Three's a streak, right? Losers of two in a row, the Grizzlies get an immediate shot at homecourt redemption to avoid a (three-game) losing streak. That's the good news. The bad news is that this game, on Tuesday night at FedExForum, will come against the best team in the NBA so far this season, at least record-wise, in the form of the 17-4 Toronto Raptors.
Announced Attendance
14,331
Deflections
Joakim Noah update: A month ago, when the Grizzlies cut guard Andrew Harrison, we reported in this space that the team had been in contact with free agent center Joakim Noah but did not have immediate plans to sign him. A couple of weeks ago, the New York Times' Marc Stein reported that the team was negotiating (anew?) with Noah. Over the Thanksgiving weekend, the Athletic's Shams Charania reported that the Grizzlies and Noah were likely to agree on a contract this week. I'm still not fully convinced that it happens that soon, but it might, and I do now expect the Grizzlies to sign Noah in the near future, to a veteran's minimum contract to fill the team's open 15th roster spot. The 33-year-old Noah most recently played for the Knicks, appearing in seven games last season. Noah did average 8.8 rebounds a game as a Knicks part-timer in 2016-2017. We'll get into the weeds on a Noah signing when it actually happens.
Jevon Carter's daily double: With a kind of home-home doubleheader today, rookie Jevon Carter had 30 points (including 6-9 from three), seven rebounds, six assists, and four steals for the Memphis Hustle in Southaven in the early afternoon and then headed up the highway to be a part of the Grizzlies' active roster against the Knicks. Carter didn't see the floor, but you have to wonder if his day is approaching.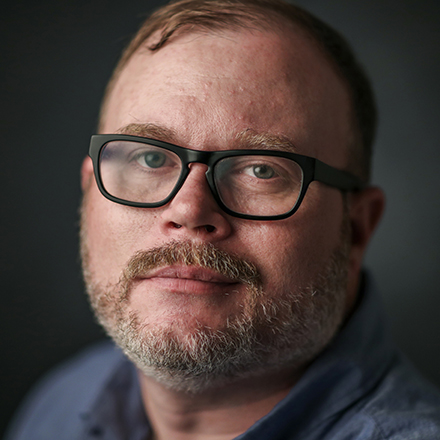 Chris Herrington
Chris Herrington covers the Memphis Grizzlies and writes about Memphis culture, food, and civic life. He lives in the Vollentine-Evergreen neighborhood of Midtown with his wife, two kids, and two dogs.
---