Grizzlies Mailbag: Revised expectations, Conley's All-Star odds, trade speculation, and more
After taking Thanksgiving off, it's time for a return of the Grizzlies Mailbag, where we're updating predictions after 20 games and already gazing ahead to the All-Star game and the trade deadline.
Grizzlies Questions of the Week
Now that we're 20 games in, would you make any revisions to your expectations for the season?

— Matt Waits (@mattwaits) November 28, 2018
At 12-8, the Grizzlies are on pace to go 49-33, which is more than 10 games better than the 38-44 prediction I settled on in the preseason, and even that was 3-5 games better than most outside prognostications.
Even if the Grizzlies settle into a .500 team going forward, they'd finish at 43-39, probably not good enough for a playoff spot, but good enough to stay in the race well into the spring. And I now think with decent health going forward, the Grizzlies are likely to be at least that. I do not think this 12-8 start has been a fluke -- the Conley/Gasol foundation, high-level team defense, Jaren Jackson Jr.'s growth trajectory all seem mostly real and sustainable -- and do think with the right breaks the team could win at an even higher pace -- north of 50 wins even -- going forward. But I don't think that's likely.
I agree with head coach J.B. Bickerstaff that the current three-game losing streak is mostly a blip in a long season, but I also think -- as I wrote here -- that it's revealed some structural problems likely to linger.
The big question, though, is health: Even in predicting 38 wins, I thought the Grizzlies had a good chance to have a winning record with Mike Conley and Marc Gasol on the floor. Banking 20 games of the duo together ups the odds that you can get north of 70 on the season, but I wouldn't assume it.
Revised prediction?  I'll say 44 wins and coming up just short in the playoff race. Maybe they'll Fosbury flop over that higher bar the way they have, so far, cleared preseason expectations.
What do you see as the biggest issue for this team that could be resolved with trades/free agents?

— Hunter McDonald (@hunter_mc18) November 28, 2018
Are there any shooting guards on year 3 of a bloated Summer of 2016 contract that you are particularly interested in for the Grizz if they try to trade expiring contracts for some more offense?

— scott mccullough (@bking53) November 28, 2018
Do you think the strong start will impact front office/ownership decision making if the Grizzlies start to settle back into something closer to a mid-30s win quality team? Do you think their strategic outlook is at all different than it was before this season?

— Chase (@deepfriedcouch) November 28, 2018
These three questions are linked and I could have added a few others in the same vein. The second anticipates an answer to the first, and the third hints at some complications to that answer.
The biggest issue that could be resolved in in-season free agency is a legit back-up center to Marc Gasol, and it seems like that's going to happen in the near future with signing of Joakim Noah.
The team's bigger need is for more offensive punch on the perimeter, and that's almost certainly not going to be solved by in-season free agency, especially for a team pretty close already to the league's luxury tax.
Could the Grizzlies address that issue via trade? Maybe. Barring additional hand-forcing injuries, I don't think anything would happen until closer to the deadline. On present course, the Grizzlies could be a buyer. But if things go south, they could be a seller. It might be best to wait as long as you can to figure it out.
The thing is, unless they want to trade Gasol or Conley (the big sells) or Jaren Jackson Jr. (the big buying chip), there's a thin line between buyer and seller. With those pieces highly unlikely to be in play and a limit to the team's ability (and willingness) to trade draft assets, the most likely trade pieces are the same either way: The expiring contracts of JaMychal Green and/or Garrett Temple.
"Buying" with those trade chips would mean taking back multi-year salary of players you think can help you more, presumably from a team eyeing 2019 free agency (or concerned about the luxury tax). "Selling" would mean taking back multi-year salary of players you don't think can help you in order to get draft assets.
"Buying" in this scenario would mean you believe you can compete not only this season, but beyond. Names to file away? For some reason there was a lot of chatter on my social media feed about Washington's Bradley Beal lately. Ignore that. The Grizzlies couldn't get Beal without dealing Jackson Jr., and that's not going to happen. More reasonable names you might hear at some point, with some preliminary editorial judgements: Dion Waiters (injured now, but no), Kent Bazemore (one year left and Hawks won't be desperate to move him), Jordan Clarkson (meh), Tim Hardaway Jr./Courtney Lee (both maybe doable, maybe not worth it), Evan Fournier (slumping, but maybe worth it).
(Different kind of scenario: Would I take a shot on Philly's Markelle Fultz? Absolutely, but I don't think Fultz's market value is low enough for the Grizzlies to be an option.)
Another thing to consider is that the Grizzlies' proximity to the tax line makes taking back more salary than they send out, even by a little bit, tricky.
If you want to trade expiring contracts for any of those players -- offensively productive but overpaid wings/guards -- it requires you to make a few linked decisions: 1. That you plan to be a playoff contender not only this year but next year. 2. That you think the offense you're adding, in most cases, will be more valuable than the defense/toughness you're losing. 3. That you'd rather have the player you're getting than the chance of re-signing Green and/or Temple, each of whom is a player I could see the Grizzlies bringing back this summer at the right price. (Although I will note that signing Noah could make trading Green more digestible.)
I'm skeptical. As to the broader third question of whether this start has changed the thinking from "be good enough to give up the Boston pick, then rebuild" to "be a playoff candidate this year and beyond": I think that's up in the air, and it relates not only to how this season goes, but how that impacts Marc Gasol's big summer decision on the player option in his contract: Stay, leave, or renegotiate?
If the team does fall firmly out of the playoff hunt but still seems in good shape to move the Boston pick? Does Conley and Gasol's good seasons make them more tradeable (yes) and do you entertain that to accelerate a rebuild around Jackson Jr.? I'll be surprised, but there would be a case for it. But that's a whole other road and this column's too long already to go too far down it. We'll revisit if and when it becomes less hypothetical.
Speaking of Gasol ...
If you had to give a prediction on what Marc does with his player option, what would it be? Less money, more years (like what Pau and Dirk have done), opt in, or opt out and bolt?

— Parker Fleming (@PAKA_FLOCKA) November 28, 2018
I haven't poked around on this and I suspect the relevant parties don't really know yet which way it's headed. So this is a pure guess, subject to change by next summer: I say he opts out in order to sign a longer deal (three years with some kind of option on the third?) for less per-year money ($20 million average?) to stay in Memphis. This tentative prediction could look dumb down the line.
@ChrisHerrington not sure if too late but do you believe the Grizz will sign Joakim Noah? And with the trade of Kyle Korver just announced why didn't the Grizz try to make a deal there?? #MailBag

— Charles Hurley (@CharlesHurley2) November 28, 2018
Yes on Noah, but as I wrote on Sunday, it might not happen this week.
As for Korver, in case you missed it, Cleveland traded the veteran sharpshooter to Utah last night for guard Alec Burks and two second-round picks.
Why not the Grizzlies? Korver makes $7.5 million and the Grizzlies are over the salary cap and close to the tax line, so they would have needed to match salaries pretty closely. The only purely expendable contracts the Grizzlies have are either too big (Chandler Parsons) or too small (Ivan Rabb, maybe MarShon Brooks). A Korver trade would have meant either Temple or Green.
Is Korver, at 37, better than either? I'd say no, but it is certainly debatable. Even if you say yes, is he enough better to lose one of those players and two future picks? Because the Cavs, in rebuilding mode, wanted the picks. I wouldn't have done that.
Is JJJ already the 3rd best player on the team? Is there any merit in starting JaMychal in the 3rd quarter, so that JJJ can an extended run in the late 3rd/ early 4th, when our offense always seems to struggle? JJJ's not playing in crunch time anyway for now.

— S. Lane (@LaneSA41) November 28, 2018
On the second part, I don't think the starting/rotation trickery is necessary. I think you'll see Jackson's fourth-quarter playing time begin to increase as the season unfolds.
On the first part: As you'd expect from a talented 19-year-old, he's got a wide night-to-night range. At his best, he's clearly the team's third-best player. At his worst, as against Toronto, he's barely rotation worthy. We'll continue to see both, but I'm guessing more and more of the former. I predicted in the preseason that Jackson would be the team's third-leading scorer. Ultimately, I think the answer to this question is yes, but it's still a volatile perch.
What's the pro and con with playing 3 PG's using Jevon every now and  then ?

— mehdi sadeghi (@mehdidds) November 28, 2018
Jevon Carter was the second pick in the second round and has not yet made his NBA debut. I do think it's time.
Once Carter had his offseason thumb injury and Shelvin Mack looked so good in training camp, the plan became to give Carter heavy minutes in the G League to speed his development and get him ready for later in the season.
In nine games with the Hustle, Carter has played about 35 minutes a night and averaged 22-5-6 with more than three steals a game on 46-39-77 shooting splits.
I'll confess that I haven't watched the Hustle any yet, but my friend Jon Roser, who calls their games, tells me that Carter's gotten better -- beyond the stats -- over his time there, improving his decision-making and shot selection.
Even with Mack's recent struggles, I don't think there should be a change in the current point-guard pecking order, but as Mehdi implies, it's pretty easy to play two point guard backcourts now. (Toronto threw out three at one time in the second half on Tuesday night.) Given the Grizzlies' shakey depth on the wing at the moment, I'd like to see Carter get a taste pretty soon.
At some point this season, Conley and/or Mack will miss games and Carter will be needed. I think you'd like to let him at least dip his toes into the NBA waters before you're forced to throw him in.
@HerringtonNBA Who on the current roster will be the next Grizz player on an All Star team? Whether first time or repeat All Star. #mailbag

— MattBenz-Whittington (@mattwhitty89) November 21, 2018
This question only applies to three players on the Grizzlies roster, and since I'm convinced Jaren Jackson Jr. will play in All-Star games (intended plural), it's really a question about Conley and Gasol this season.
It's a long time still until the February 17th game, but let's start with some givens. On the current trajectory, six players in the West are locks: Damian Lillard, James Harden, and (yes) Paul George on the perimeter; Lebron James, Kevin Durant, and Anthony Davis in the frontcourt.
Six spots left. At least two of those will come from the frontcourt and right now I'd say Gasol and Denver's Nikola Jokic are the clear frontrunners, pretty solidly ahead of Rudy Gobert, Karl Anthony-Towns, Tobias Harris (a strong case), and Steven Adams.
That leaves three or four spots for reserve perimeter players and for Conley it's the same old song, with nothing much changed since he's been gone. (Levi Stubbs voice.)
Let's cross off a few names: Conley's case, at the moment, is I think pretty clearly better than Klay Thompson, Devin Booker, De'Aaron Fox, C.J. McCollum and, yes, even Chris Paul.
If you were making teams right now, you might be tempted to leave off Steph Curry or Russell Westbrook because of missed games, but Curry was arguably the best player in the league when he went down and will be back this weekend. Westbrook has come roaring back in the past week or so ago. I think you have to assume they're in.
That leaves one or two spots and three primary contenders for them: DeMar DeRozan is averaging 24-6-6 for a Spurs team fluttering around .500. Jrue Holiday is averaging 20-5-9 (second in the NBA in assists) for a Pelicans team doing the same. Conley's averaging 20-3-7 for a team that, so far, has been a little better. I'd put Conley at the front of this line, but maybe that's some Memphis bias talking?
Another factor is that Conley is widely regarded as the best veteran in the league to have never made an All-Star game and is highly respected among the coaches who vote on reserves. If the current trajectory, for Conley and the Grizzlies, holds, I think he makes it, but it's still a close call. And the Grizzlies really need to keep up their first-20-games pace.
To (finally) answer the question: Marc Gasol (70 percent chance?) is the next Grizzlies All-Star (in what would be his fourth selection). There's a chance (40 percent?) that Conley finally joins him.
@ChrisHerrington Since you cover the Grizz and write about them so much, has it ruined your fandom or enhanced it?

— Matt Foley (@GrizzlyMan901) November 22, 2018
This is an interesting and unexpected question. It's something I thought about a lot when I first took a press pass to write about the Grizzlies, in the franchise's second season in Memphis and as someone who had never been a sportswriter. I'll try to answer without turning into "War & Peace," as my friend and podcast guest Chris Vernon likes to say.
The implication seems to be that I was or am a big Grizzlies fan, in a traditional sense, and that's not exactly the case. The reason I decided to do it initially was because I was a big NBA fan, and a fan of a certain strain of then fairly rare, now common non-traditional NBA writing, which I thought my perch as a mostly film/music writer at an alt-weekly would give me the freedom to pursue.
What I found out about fandom in stepping through the side door into the sportswriter world is that most, at least outwardly, seem to fall into two camps: Avowed fans and (avowed) dispassionate observers.
Vernon is the former, and the success of someone like Bill Simmons created space for him and others to pursue fandom and coverage on dual tracks. Most would probably label themselves the latter, but with a caveat. It tends to go like this: "I'm not emotionally invested in this team I'm covering, but I am emotionally invested in this other team, usually in some other sport or league, that is the team of my youth, and so I know how fans really feel even though my own writing is not influenced by fandom."
I don't really identify with either of those ways of being a sports media person.
I had teams I grew up with -- Arkansas Razorbacks basketball, the Boston Red Sox -- but I stopped being gripped by the fortunes of those teams a long time ago. These days, I'm closer to what Simmons would call a "sports atheist" or FreeDarko once dubbed "liberated fandom." But I don't claim to be dispassionate about the team I cover.
It comes down to this: I love the NBA and I love Memphis, loved both before they were joined, and so I have no issue admitting an investment in the success of that union.
And because of that, I also care about the how the city experiences the team, in the arena and in the wider fan culture that emerges. I love the game for its own sake, but for a specific franchise in a specific city -- this franchise in this city -- the fullest meaning comes in communion with those who watch or follow along.
And, so, I've always seen my role, if I'm at all successful, as enhancing that communion, as making, in whatever small way, the experience of NBA basketball more enjoyable or meaningful or graspable for the city.
The 'There's More to Life Than Basketball' Question of the Week
What should the area of town between Highland and East Parkway be called. It's not East Memphis or Midtown. The logical name is Center City.

— ChrisRTS (@ChrisRTS) November 28, 2018
A question that has long plagued us, and I don't think we can settle it here, but I'll entertain it.
Years ago I wrote something in which I referred to the long-gone Video, Movies and More (in a strip mall across from East High) as an "East Memphis video store." That drew chuckles -- "such a Midtown thing to say." I'm a Midtowner now, but the first two places I lived in Memphis were in in this general area, just barely west of Highland: Sherwood Forest in high school and just off Highland and Poplar after college.
I think I thought of it as East Memphis even then, but you're right. It feels like Midtown ends at East Parkway and East Memphis doesn't really start until you pass Highland. The in-between zone is obviously dotted with individual neighborhoods: Orange Mound, Binghamton, Buntyn, Chickasaw Gardens, etc. But what do we call the broader area, especially along Poplar?
I say "Center City" doesn't work. The Downtown Memphis Commission used to be the Center City Commision, even though Memphis is geographically odd in that Downtown is not at the center. DMC is better, but "Center City" as a alternative for Downtown still lingers, and the part of town we're talking about doesn't feel very city-ish, really.
University District? Fairgrounds District? Those feel like smaller subsections of a larger border territory. Maybe the answer is right in front of us. Midtown blending into East Memphis? The Middle East?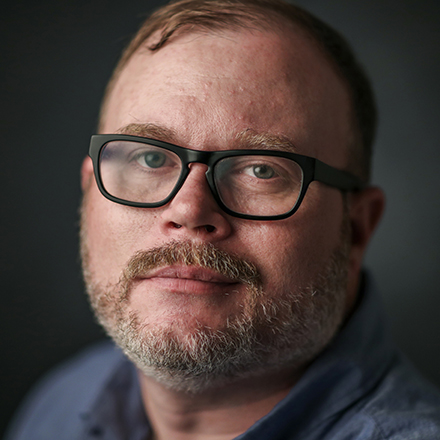 Chris Herrington
Chris Herrington covers the Memphis Grizzlies and writes about Memphis culture, food, and civic life. He lives in the Vollentine-Evergreen neighborhood of Midtown with his wife, two kids, and two dogs.
---