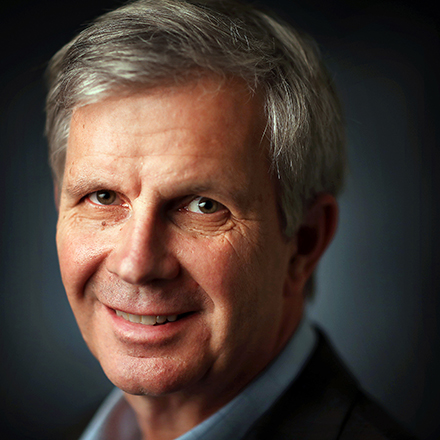 Geoff Calkins
Geoff Calkins has been chronicling Memphis and Memphis sports for more than two decades. He is host of "The Geoff Calkins Show" from 9-11 a.m. M-F on 92.9 FM. Calkins has been named the best sports columnist in the country five times by the Associated Press sports editors, but still figures his best columns are about the people who make Memphis what it is.
Exclusive Q&A: Robert Pera says he remains committed to Memphis and is more hands-on than ever
Robert Pera remains committed to keeping the Grizzlies in Memphis and is more active than ever in running the team. That emerged as the theme of The Daily Memphian's interview with Pera – the product of a longstanding request – during halftime of Friday's game against the Miami Heat. 
It was the first interview of Pera by an independent news organization since he exercised his right to buy out Steve Kaplan and Daniel Straus in April. The interview did not include questions about the aborted trade for Kelly Oubre because that drama did not unfold until later Friday night. Pera did answer questions about his decisions to retain Chris Wallace and hire J.B. Bickerstaff, the Grizzlies' organizational structure, his commitment to the city, his assessment of the Memphis market and the future of Marc Gasol.
Q: I remember before the season began, you predicted the team would win 50 games. People rolled their eyes, and you're not on that pace, but you're not all that far off. What do you think about the season so far?
A: Well, I set that expectation because I think it's healthy; the team has to believe our expectations are high and we want to be an elite team. But I'm not so concerned about the record. What I'm most encouraged by so far is, you look at our first game, we kind of got blown out by Indiana, and in game 25 we got blown out by LeBron and the Lakers, but there was a 23-game stretch where we competed every single game. And I think since I've been a part of this thing, I don't think we've ever had a 23-game stretch where we've competed every single game. So that's kind of what I tell the coach and the front office, don't worry about the end record, I don't care so much whether we win or lose, what I want to see is consistently every night competing. And if you establish that culture the results will follow.
Q: Are the playoffs your expectation?
A: I think the problem is that if you don't have a culture where you're disciplined to compete every single game, you're going to pay for it later on, no matter what your record is. So in the past you compete for five games, and you beat some good teams, and then you lose at home by 30 to one of the worst teams in the league. Well, if you have that culture where you only show up for certain games, there's no way you can outlast good teams for three rounds in the playoffs to get to the Finals. So for this year I don't look at it as making the playoffs or not, it's culture. And you saw what we did in the offseason, we brought in guys who are professionals first, high basketball IQ, could highlight the strengths of what we wanted to do with team defense and competing every night, and it looks like it's working pretty well.
Q: That was clearly intentional. How much of that was your doing? You said in your interview with Chris Vernon that you wanted to put an emphasis on culture this offseason. Is that your imprint on the team?
A: I think it's no secret that the ownership situation was contentious. I didn't feel it was right to fully invest myself because of all the external circumstances. Once I was able to clean that up, this offseason was the first one where I was completely involved. I personally was involved in pretty much every single one of those transactions. It comes back to the decisions we made, how we changed the locker room, and establishing a culture of accountability. You're only as good as your weakest link in a sense.
Q: You have to be excited about Jaren Jackson Jr. Is he exceeding your expectations?
A: I think so. One of the biggest reasons we drafted Jaren and also Jevon (Carter) is we did a really in-depth character background and he comes from very good upbringing. His mother is head of the Players Association of the WNBA. When you have players that have the physical attributes, a feel for the game, and they have solid character and solid upbringing, those are all characteristics of players who are some of the most special players in the league, like a Steph Curry. So I think, so far, so good. He's only 19 and I think you can see his development in real time this year. He's improved a lot.
Q: Why did you hire J.B. Bickerstaff? There were people who wanted the proverbial wide-ranging search.
A: I think continuity was a big part of it. One of the things I preached to the front office, I wanted continuity. I always say to the front office, if you want to build a high-performance team, the guys in the locker room can't see a new face every other week. Right? You need to build a continuity and a familiarity where people can depend on each other, they know who's in the room and they know they are going to war with the same people every night. A lot of the players knew J.B., so there's continuity. But on top of that, we have this selfless style of basketball and culture and he's a very selfless guy. He has the team's best interest in mind. He fits perfectly with the team. 
Q: Chris Wallace has taken a lot of criticism. He missed on Chandler Parsons, missed on some draft picks. You obviously still believed in him. Did you ever think about moving on from Wallace?  And do you feel vindicated by some of the moves this summer?
A: I obviously had my hands in a lot of the moves this offseason, but the way I look at it is, collectively you make some bad decisions, and we made some good decisions, but we don't like to point at certain people. It's a collective effort. Chris and the front office, I think this offseason we really surpassed a lot of expectations.
Q: How does the chain of command work?
A: Chris is the GM, he reports to me. But my style, like with Ubiquiti (Pera's company), pretty much everybody in Ubiquiti, all the engineers, pretty much have just one layer between me and them. And I'm trying to establish a similar culture in the basketball operations. So whether it's Zach (Kleiman), John Hollinger or Tayshaun (Prince), they all have a line to me. But Chris is the leader.
Q: What is Joe Abadi's role?
A: Joe was here to navigate all of that tumultuous ownership issue and I think he did a great job in doing that. He's my personal business manager and attorney. I have him a lot of the time working on a lot of other projects. And I've kind of stepped in and become more hands on this year.
Q: Is he still involved in the basketball side?
A: He's not much involved.
Q: In terms of the ownership situation, were you always planning to buy out the other owners and retain the team? Was that always your hope and your plan?
A: I always wanted to retain the team but, inherently, the agreement was contentious by nature. You had guys that wanted the team and I couldn't show my hand because, the way it was structured, if I showed my hand they'd have leverage on me. So I did the best I could. I wish I was wiser and more sophisticated at the time I did the initial deal. But I just did the best I could and cleaned it up. I think the end result is OK.
Q: And you expressed to the fans you are committed to Memphis. Is that still true?
A: Of course.
Q: People get skittish when they hear talk about the team moving to Seattle. What can you tell Memphis fans about your commitment to Memphis and whether they should worry about a place like Seattle in the future?
A: I don't want any part in relocation. I have my own career, I'm trying to focus on it, I want to keep distractions and chaos to the minimum. I'm committed to Memphis for the long term. And in the world today, it's so virtual. I have 15 research and development offices around the world, I probably only spend a third of my time in the U.S. When I'm in the U.S., I'm in a bunch of different cities. My employees are in a bunch of different time zones. I keep track of everything virtually. To me it doesn't matter where the team is located. Memphis is as convenient a place as any. So, yeah, there should be no concern.
Q: Were there, as part of the ownership restructuring in the summer, any additional provisions put in place that will help bind the franchise to Memphis?
A: I probably don't know the details regarding all that. 
Q: You obviously have local ownership partners. Were there any additional legal assurances to them that the team would remain here, beyond the lease?
A: I try to be clear on my intentions. Mike Conley donated $1 million to the Grizzlies Foundation and I matched that donation. I want to do whatever I can to show my commitment to Memphis. But when it gets into the legal intricacies of legal contracts, I defer to the lawyers on that. 
Q: What's your relationship with the local owners?
A: Good. I'm friendly with Staley Cates and Pitt Hyde. I think it was only contentious with the guys that had the buy-sell clause because they wanted to buy the team or create a distressed situation.
Q: Is owning a team as much fun as you thought it would be?
A: It's much more fun now, now that I don't have any overhang, and I know I'm the owner, and I don't have to worry about any of that nonsense, it's fun.
Q: That really held you back from putting your stamp on the team?
A: You can look at it like this. I'm an entrepreneur, I built my company from nothing, no investors. The other parties, lawyers by background, professional investors. And there was a contract in place basically where they could bid any amount they wanted and I'd have to buy them out. So if you just think about it logically, if I was the super fan, and they knew I wanted this more than anything in the world, what would have happened? I would have had to buy the team for $2 billion (instead of a reported $1.3 billion).
Q: In terms of your enjoyment of the team, you said it can be located here as well as anywhere. But in terms of the business model, are you satisfied with where the team is?
A: I think it's a tough market. You'd like to see more fans and you'd like to break even. But it's fine. There's not enough economic pressure where things are going to go down.
Q: You don't expect to break even this year?
A: It's tough because as the league revenue goes up, as you know the players get 51 percent of it, and so, yeah, we could bring in more money but the roster expense is always going to keep going up. So the areas where you could turn a profit, or make a difference in turning a profit, are local TV rights or gate receipts, a lot of the things that depend on the local market. But we can't raise those things up because we want to be fan-based. So it is what it is, we want to do the best we can, but I'm not looking at it as an investment that has to turn a profit.
Q: Inevitably in this league there are ebbs and flows in a franchise. Someday Marc and Mike will be gone. Can you eventually rebuild while remaining competitive or will you have to bottom-out someday?
A: I think that's the biggest challenge. To get really great assets, sometimes you have to go into a rebuild. But if you rebuild and start losing games, sometimes it's impossible to maintain a professional culture where guys want to compete every night and not develop bad habits. So that's the trick. How do you keep a culture and somehow get assets and become elite again? Where you're not stuck in no-man's land and mediocre forever. I think we took advantage, we had a bad year last year and we got Jaren out of it. And I think, very efficiently, we got a great group of role players. So let's see, maybe we can repeat that this offseason and get incrementally better. 
Q: Marc Gasol can be a free agent at the end of this year. Do you want him to retire a Grizzly? Are you confident he'll stay?
A: I can't read his mind but if it were up to me I certainly want him to retire as a Grizzly.
---