Grizzlies Postgame: Conley scoreless as Grizz collapse against Pistons, then talk it out
It took so long after the Grizzlies' 101-94 loss to the Detroit Pistons for head coach J.B. Bickerstaff to emerge from the locker room and into his post-game presser that you'd be forgiven for thinking the team was once again trying to figure out which Brooks they were trading.
Maybe post-game presser delay time should be a new statistic. If so, this one -- well north of 30 minutes -- may have topped that wild non-trade night last month. The Grizzlies will only hope this is one they can laugh about later.
What was happening in the locker room?
"A conversation that needed to be had that will stay between those of us that were in that locker room," said Bickerstaff when he finally, in a bleary state, took to the dais.
"I think addressing larger issues was the conversation that we needed to have," said Bickerstaff, by way of meager elaboration. "Right now it's not X's and O's that need to be resolved. I think we resolved some of those issues tonight."
You couldn't find much clarity once the locker room finally opened, where only veterans Marc Gasol and Mike Conley remained after media were allowed in. There were reports later, from Shams Charania of The Athletic, that Garrett Temple and Omri Casspi got into some kind of altercation in the locker room.
---
---
The most infamous teammate fight in Grizzlies history occurred in 2011, eight years ago nearly to the day, when Tony Allen blackened O.J. Mayo's eye in a card dispute on the team plane. Mayo missed the next game with what the team initially labeled "bronchitis." 
Whatever happened between Temple and Casspi apparently did not reach this level of physicality.
"Nobody got Mayoed," said a team source.
Grizzlies general manager Chris Wallace was spotted on the phone in the hallway outside the team's locker room later in the evening, but declined comment "at this time." 
Before news of this apparent altercation leaked, those who spoke on the team's behalf put a gentler spin on the night's communications.
"We were openly sharing our thoughts and trying to fix the situation," said Gasol. "Once you lose more than win, frustration builds and you carry those feelings into all the possessions. It's more of looking into the mirror and trying to see what you can do better to solve the situation instead of pointing out the situation and why it's wrong. OK, what can I do to fix our defense? Or, what can I do to fix our offense? What can I do to help my teammates out and encourage them and help them accomplish their job?"
"It was productive," Conley said, with more than a hint of exasperation in his voice. "It's not the first talk we've had this season. We've had plenty of talks as a team. We try to be honest with each other and move forward."
When you're one of the NBA's worst offensive teams and your leading scorer goes scoreless, you probably didn't have a very good night. Even if you played a team that came into your building on the second night of a back-to-back set, losers of 12 of their past 15 games.
So it was for the Grizzlies (18-19), who fell under .500 for the first time since their season opener. Despite allowing the Pistons to shoot 16-40 from three-point range, the Grizzlies probably did enough defensively in the end. It was the offense, as it so often is, that failed them.
Conley, his shoulder wrapped on the bench and taped in the game after a first-quarter collision with Pistons center Andre Drummond, was 0-8 from the floor in 28 minutes. Gasol was scoreless in the second half after notching 11 before the break. It was the first time in more than three years that Conley and Gasol combined for a scoreless half. As a team, the Grizzlies were 4-18 from the three-point line.
Conley said after the game that his shoulder injury didn't appear to be serious, but he would find out more after a night's sleep and treatment the next day. He also theorized that if not for his shoulder injury, the Grizzlies would have won and the postgame locker-room "conversation" wouldn't have happened.
"Losing causes a lot of frustration at the end of the day," said Conley. "If we won tonight, nobody's talking."
Since Thanksgiving, the Grizzlies are 3-7 on the home floor, with losses to the Knicks, Heat, and Pistons. After Friday's home game against Brooklyn, the Grizzlies will play six of their next eight games on the road, with all eight against playoff contenders.
Whatever is at issue -- and anyone who's watched the Grizzlies play of late could theorize -- it will be primarily on Bickerstaff, Gasol, and Conley to lead the team through it.
"This is a fairly new group," said Conley. "We're still trying to acclimate and get used to new people. We have to get together and handle this adversity as a team, whether that's vocally or by example. Not all of us are the type to get in somebody's face, but we have to do what we can.
"The conversation we had was a good conversation and it wasn't just (Conley and Gasol)," said Bickerstaff. "Guys are willing to address the issues and they're willing to fix them. That's the most important thing, that you've got guys that do care about more than just themselves and do care about this team. We still believe that our guys will figure this out."
Tomorrow is a new day?
"We'll see … at practice," said Gasol. "I expect each of us to compete hard, as we should, and get ready for a must-win for us against Brooklyn (on Friday)."
Man of the Match
A rare bright spot was rookie Jaren Jackson Jr., whose game-high 26 points (8-11 from the floor, 2-2 from three, and 8-8 from the free-throw line) included nine of the team's 12 points in a 21-12 third quarter that proved decisive. Jackson fouled out, but not until after more than 35 minutes and with an essentially intentional as the Grizzlies were mounting a hopeless crusade in the final couple of minutes.
Jackson spent much of the game matched up with Pistons star and longtime Grizzlies nemesis Blake Griffin, who matched Jackson's 26 points but took 23 field goal attempts to get there. Griffin added eight rebounds and seven assists for the Pistons. 
Also showing well was Dillon Brooks, who battled foul trouble in the first half, but went hard in the second, finishing with 14 points on 6-10 shooting. 
Clip of the Night
Here's one of those gutty Brooks buckets, a leaning lay-in:
We call that a "weight room bucket" ?? pic.twitter.com/bGmkcthHCx

— Memphis Grizzlies (@memgrizz) January 3, 2019
Elements of Style
Let's return to happier times: The first half, when Kyle Anderson was 5-5 from the floor and doing nifty stuff.
When Slo-Mo paints his masterpiece it's in the form of a loping Euro-step into a double-clutch banked jumper (?) over Blake Griffin:
HAVE ALL THE SLOW MO EURO STEPS!@memgrizz | #GrindCity pic.twitter.com/ABiqWO116X

— FOX Sports Grizzlies (@GrizzliesOnFSSE) January 3, 2019
Or maybe it's an immobile pocket-pass to set up a Euro-step from a Euro (the clip comes in late on the good part):
EURO GASOL

???: https://t.co/kHvLpMe1Ib pic.twitter.com/JYsy9rDzEK

— Memphis Grizzlies (@memgrizz) January 3, 2019
Or maybe it's something suitably passé, like a series of mid-range pull-ups landing like jabs:
THAT SLO-MO SNATCH THO @KyleAnderson5 pic.twitter.com/tsk9fqLElb

— Memphis Grizzlies (@memgrizz) January 3, 2019
The Tweets Were Watching
This was three minutes in:
Already tired of looking at Blake Griffin. #gogrizz

— Andria K. Brown (@andriakbrown) January 3, 2019
This was near the end:
I don't mean to be a jerk, but I was shocked Memphis retained their interim coach. This loss to the Pistons would send them below .500 and I suspect this will mark the best record of 2019.

— david b. thorpe (@coachthorpe) January 3, 2019
Arena Action
Should old acquaintance be forgot and never brought to mind? Not for Bongo Lady.
.@JonLeuer30 came off the floor and hugged my neck! I miss him being a Grizz so much! Much respect for him always! A real class act!??

— Bongo Lady (@GrizzBongoLady) January 3, 2019
No arguing with these assessments:
The dunk: ??

That hair flip: ?? pic.twitter.com/9f04UOGuoV

— Memphis Grizzlies (@memgrizz) January 3, 2019
Where They Stand
The Grizzlies fell to 18-19 and continued to slip in the Western Conference playoff race, where they're now 2.5 games back of the current 8th place San Antonio Spurs.  
Looking Ahead
The Grizzlies stick around and host the Brookyln Nets on Friday at FedExForum, where they'll try to return to .500.
Announced Attendance
14,109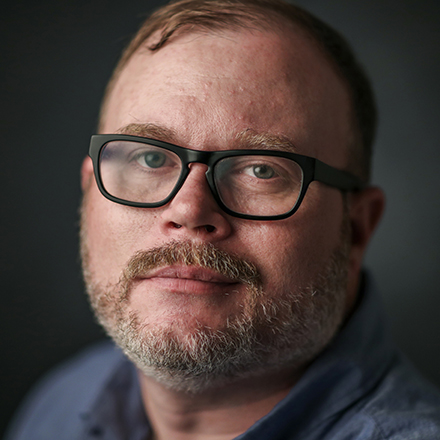 Chris Herrington
Chris Herrington covers the Memphis Grizzlies and writes about Memphis culture, food, and civic life. He lives in the Vollentine-Evergreen neighborhood of Midtown with his wife, two kids, and two dogs.
---