Conley, Parsons strong in Grizzlies preseason debut
The Grizzlies made their preseason debut Tuesday night in Birmingham with a 131-115 loss to the Houston Rockets. Scores don't really matter in the preseason, but here's a chain of thoughts on things that might:
1. On the second Grizzlies possession, less than a minute into the game, Mike Conley teased his defender with a dribble up top before finding Marc Gasol flashing to the elbow. Conley slipped toward the corner and Gasol found him with a two-hand dart for an open three-pointer. The ripple of familiarity and comfort felt like stepping into the house where you grew up when you haven't been there in a while. We've got basketball – and the Conley/Gasol two-man game – back.
2. Conley looked fine, by the way, with hesitation dribbles and beep-beep bursts and everything else that matters. He was 1-6 from three-point range. It's a preseason game.
3. Also in good form: JaMychal Green, a bit of a forgotten man of late, who exhibited the kind of hard-nosed two-way work that will be crucial if this team is going to have a good season.
4. Head coach J.B Bickerstaff warned Monday not to draw too many conclusions from the game's lineups and rotations, but it was notable that Chandler Parsons started at small forward. I've been pretty dismissive about this possibility, at which no-one prior to Tuesday had even hinted. That's less a presumption of the quality of Parsons' play than of its reliability.
Despite the good reports from training camp, it's hard to see Parsons playing traditional "starter minutes" given his history. Who knows how Parsons will hold up as games and minutes accumulate, but this was a promising start. His 12 points in 20 minutes included a couple of catch-and-shoot threes and a strong drive into the lane for a runner. His mobility wasn't entirely unencumbered, but Parsons certainly looked as good as he ever has in a Grizzlies uniform.
Could he stick in this role? I doubt it, but Parsons' scoring ability makes some sense alongside the more limited three-and-D game of fellow wing starter (in this game) Garrett Temple.
5. It's a guard's game, but an early look at this Grizzlies team suggested halfcourt style more dictated by big men. In our offseason review piece a couple of weeks ago, Grizzlies executive John Hollinger talked about the team playing half court basketball that wouldn't be as reliant on low-post play as when the team paired Gasol with Zach Randolph. And when the offense was at its best in this game, it was often with big men facing up on the perimeter, hitting cutters going to the rim or shooters in the corner. On a team where two of the three best passers are a 7'1" center (Gasol) and 6'9" forward (Kyle Anderson), this makes a lot of sense. Defensively, the scheme seemed to change based on who was manning the middle, with Gasol more often dropping back on pick-and-rolls and Jaren Jackson Jr. more often switching onto guards. Speaking of which …
6. The basketball definition of getting thrown into the deep end: Switching onto Chris Paul and James Harden as a 19-year-old big man in your first game against NBA veterans. Jackson was game for the challenge, but it didn't go well for him. He ran over Paul twice in one play and you could almost sense Paul muttering "rookie" under his breath. Late in the second quarter, Jackson traveled on a simple high-post pivot. This was the basketball version of gasping for air. Jackson fouled out in 19 minutes. Foul rate was one of the red flags for Jackson in college last season. I was firmly in the camp of not being worried about this. That's not because I didn't think Jackson would have foul problems this season. He's a 19-year-old rookie big man. C'mon. But it's a long journey and this hurdle is unlikely to linger very deeply into it. Jackson was a perfect 6-6 from the floor, showed a nice little jump hook, and drilled his only three-point attempt. Everybody take a deep breath.
7. Late in the first quarter, Kyle Anderson took a handoff beyond the three point line, got a shoulder into his defender, and took a long -- yes, slow -- stride past him toward the lane. Then Anderson downshifted in a way that threw off the timing of a potential help defender and got himself to the rim for a hoop-and-harm. Effective, and this different kind of unicorn game is going to be fun to watch up close this season. Anderson looked good all-around in his Grizzlies debut.  
8. Scoring guard battle, inconclusive: With MarShon Brooks sitting due to illness, the three potential starters each got meaningful run, but combined to shoot 4-17. Garrett Temple (17 minutes) made a couple of spot-up threes. Wayne Selden (15 minutes) bobbled a Conley pass on the break, had a couple of strong drives late. Dillon Brooks (14 minutes) never found his way into my game notes.
9. Backup point guard battle, inconclusive: Shelvin Mack (14 minutes) got the first call behind Conley, and I do suspect that's an indication of initial pecking order. Jevon Carter (13 minutes) and Andrew Harrison (13 minutes, much of it at scoring guard) got more run late. No-one made a strong case in this game, but if Mack had the edge coming out of camp, nothing here would seem to change that.
10. Elements of style: The Grizzlies wore the "midnight blue" variation of their new uniforms. These were my least favorite of the three new looks when they debuted them earlier in the summer. A little too Hornets; too little yellow accent. This is the only time this season I will note or particularly care about this. … It was disorienting to see all the Piggly Wiggly ads in the arena. It gave the slight sense that you were watching a time-travel Memphis game, until you remembered the game was in Birmingham. (Where I guess the Pig's still the place.)
11. Doral Moore is huuuge. The Memphis Hustle-bound rookie walked by me a few days ago on his way off the practice court and I thought for a second that former Laker/Sixers center Andrew Bynum was making a comeback. His is the kind of huge that can impact a game by virtue of its mere existence. Think Javale McGee. A big project -- in more ways than one -- but an intriguing one.
12. MarShon Brooks (illness), Yuta Watanabe (shoulder soreness), Ivan Rabb (concussion), Ismaila Kane (coach's decision) didn't play.
13. The Grizzlies return home for preseason games Friday (against the Atlanta Hawks) and Saturday (Indiana Pacers) at FedExForum.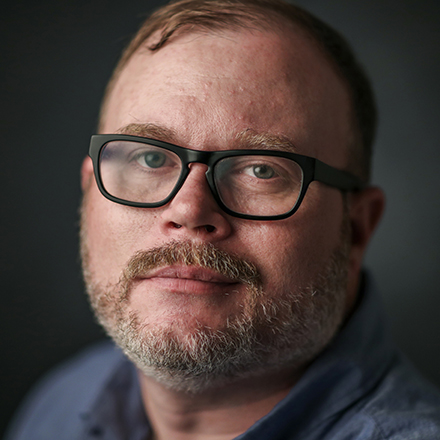 Chris Herrington
Chris Herrington covers the Memphis Grizzlies and writes about Memphis culture, food, and civic life. He lives in the Vollentine-Evergreen neighborhood of Midtown with his wife, two kids, and two dogs.
---