Grizzlies veterans lead way in home preseason debut
Score one for the grown folks.
On Media Day, a couple of weeks ago, rising second-year wing Dillon Brooks joked that an infusion of youth would put a pep in the step of the Grizzlies grandparents, Mike Conley and Marc Gasol.
It was a zippy Conley and more assertive Gasol, along with a cooly efficient performance from the third most-tenured Grizzly, JaMychal Green (Uncle J?), that led the way as the Grizzlies beat the Atlanta Hawks 120-110 in the team's home preseason debut Friday night at FedExForum.
Looking back to form after season-ending heel surgery, Conley shot 5-10 in a team-high 27 minutes. After shaking off the cobwebs from a listless debut on Tuesday night in Birmingham, Gasol scored a game-high 21 points in 24 minutes. And Green, a somewhat forgotten man amid the hoopla of Conley's return and the team's influx of new faces, was perhaps the team's best all-around player for a second consecutive game, with 13 points on only six field-goal attempts, a team-high nine rebounds, and two blocks, one so forceful the follow-through spiked the ball against the Grizzlies' new "against the grain" court.
"He sets the tone in that manner for our team," head coach J.B Bickerstaff said of Green. "He makes those energizing plays that everybody else feeds off of. (He can) go out and get a double-double and you don't have to call a play for him."
Playing a regular rotation -- 11 deep, as Bickerstaff had hinted earlier in the week -- the Grizzlies pulled away in the third quarter against a Hawks team expected to be one of the league's worst. The Grizzlies led by 29 points at one point early in the fourth quarter, before emptying the bench.
Grizzlies fans can hope this amounted to a preview of the Grizzlies' October 19th regular-season home opener, when the Hawks will return.
Speaking of veterans, two 29-year-old offensive X-factors had promising nights.
Most entertaining was probable sixth-man MarShon Brooks, making his preseason debut after missing Tuesday's road game due to illness. Brooks arrived back in the NBA last spring after a four-year overseas sojourn, and no one, including Brooks, by his own admission, was sure if his brief scoring outburst for the Grizzlies last season was for real. So far, so good.
Hitting twisting layups and deep threes and not missing any of his seven field-goal attempts, Brooks looked every bit the off-the-bench bucket-getter that the Grizzlies hope he can be again.
. @Marshon2 with a little english off the glass.

Professional. Bucket. Getter. pic.twitter.com/DH73iSIWwN

— Memphis Grizzlies (@memgrizz) October 6, 2018
"He has a rare ability (to put the ball in the basket) that not many guys have," said Bickerstaff. "Sometimes when you have a guy like that, they can be a hog, and their teammates can get frustrated. But because of his playmaking ability and his willingness to pass as well, our guys love it when he gets going."
Conley concurred.
"You need guys like that in this league … guys who can come off the bench and really spark your team. We know we have that in MarShon, and as much as he can score, he's a good playmaker. He makes guys better. I don't know how we got him. I'm just thankful we do."
The most meaningful night may have belonged to Chandler Parsons, who is so far backing up his training camp promise of a breakthrough third season in Memphis. Parsons made 4 of 7 shots and his 24 minutes was only three shy of his most ever in a Grizzlies uniform. Parsons has played only one set of back-to-back games in two years with the team, in March of 2017. Bickerstaff said after the game that Parsons would play Saturday against Indiana. 
It was a quieter game for the kids, though rookie two-way contract player Yuta Watanabe came one step closer to being the second Japanese player to play in a regulation NBA game when he made his preseason debut at the 7:20 mark in the fourth quarter. Six seconds later he got dunked on by Hawks backup center Miles Plumlee. Welcome to the league, kid.
It was probably a more frustrating night for top pick Jaren Jackson Jr., playing his first game in FedExForum. Jackson didn't have the foul trouble that he had in his preseason debut earlier in the week, but didn't have the offensive impact either. He scored six points in 18 minutes and struggled to find a rhythm on either end of the floor.
"It's going to take time and all of us need to be patient with him," said Bickerstaff. "His ceiling is extremely high and he will get there, but it's going to be a process. Learning to play against this level of talent every night isn't easy."
Things finally clicked for Brooks, the "kid" who'd made the grandpa crack to begin with. Facing high expectations after a surprising rookie season, Brooks struggled in Tuesday's opener and again for most of the first half Friday, despite moving into the starting rotation. Brooks made his first shot of the night at the first-half buzzer and then looked more like his last-season self in a strong third quarter.  
Deflections
Rookie Markel Crawford checked in with 8 minutes left in the fourth quarter, a FedExForum Grizzlies debut for the Memphis native and former University of Memphis guard.
With forward Kyle Anderson held out with heel soreness, Parsons started again. The only change in the starting lineup from Tuesday's preseason opener was Dillon Brooks at scoring guard, with Tuesday starter Garrett Temple coming off the bench.
Another rotation change from the team's debut was veteran backup point guard Shelvin Mack getting the night off and Andrew Harrison getting first crack behind Mike Conley. Harrison and rookie Jevon Carter split the 21 minutes Conley didn't play. Harrison made the stronger showing, but not enough to suggest he's passed Mack.  
After getting a few minutes in the first half, third-year wing Wayne Selden played in a fourth-quarter lineup with rookies Carter, Watanabe, Crawford, and second-year center Ivan Rabb. Probably a good indication of Selden's spot on the fringes of the potential rotation.  
Wearing the same jersey number 11 and standing roughly the same height with a slighter frame, Hawks rookie point guard Trae Young looked something like a Mike Conley mini-me. A highlight machine in college, Young had 15 points on 4-10 shooting but did not have a memorable night. 
A time to get reacquainted: Pre-game, Marc Gasol chatted with former teammate and new Hawk Vince Carter. In addition to chatting up Gasol, Carter spent some pre-game time talking to Temple, his replacement, one year removed, as veteran wing role player/locker-room leader. Bickerstaff talked up Temple's leadership qualities before the game: "As soon as he stepped into the gym with the guys, he's been very vocal. I think there's an automatic respect there for him."
Speaking of Carter: Hit a three over Jackson Jr. late in the first quarter. One suspects this might have been the first time Carter has scored on a player who was not yet born when Carter made his NBA debut.  
Among the debuts was one for the Grizzlies' new court design, with horizontal hardwood, which raised some eyebrows from near and far at the beginning of the game:
Gonna take some time to get used to this new Grizzlies floor. https://t.co/BDo846dHmj

— John Schuhmann (@johnschuhmann) October 6, 2018
Something about Memphis' court bothers me. Probably that the sideline and baseline out of bounds are the same color as the court.

— Danny Leroux (@DannyLeroux) October 6, 2018
The new Grizzlies floor is nice but it's doing something to my eyes.....it looks wider.

— Greg Gaston (@Greg_Gaston) October 6, 2018
The Grizzlies will play again Saturday night at FedExForum against the Indiana Pacers, an early exposure to the back-to-back grind of the NBA for the team's rookies. "For the young guys, it gives them a chance to start developing a routine," Bickerstaff said before Friday's game. "How do you sleep tonight? What time do you wake up and eat breakfast? Those types of things that young guys who haven't been in this situation as much have to go through."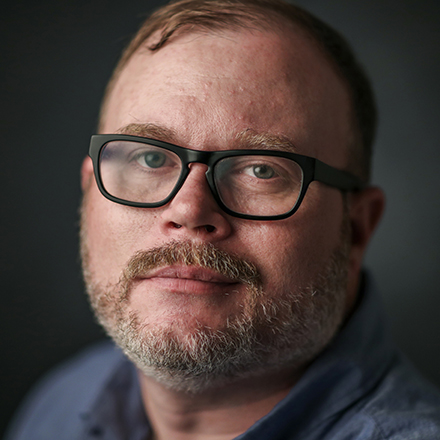 Chris Herrington
Chris Herrington covers the Memphis Grizzlies and writes about Memphis culture, food, and civic life. He lives in the Vollentine-Evergreen neighborhood of Midtown with his wife, two kids, and two dogs.
---