Grizzlies Notebook: Lottery day, last open coaching job (or is it?) and more
Elsewhere on this site today, colleague Jared Boyd joins me for the second part of a three-part bicentennial road map through the evolution of Memphis music. Today's installment is on the "Golden Age," which revs up via the electric blues and birth of rock and roll at Sam Phillips' Memphis Recording Service and Sun Records.
Phillips presided over some of Memphis' greatest moments. But he's also responsible for one of the greatest Memphis moments that happened outside of Memphis.
In 1987, in New York, a few months after Cleveland had been awarded the Rock and Roll Hall of Fame over Memphis, inaugural inductee Phillips inducted his former charge Carl Perkins into the second class and paused to say this: "I mean no disrespect to the people of Cleveland, who I'm sure are a fine people and a spiritual people, but Cleveland ain't ever gonna be Memphis."
Not all heroes wear capes.
Why do a I tell this story in a basketball column, on the day of the NBA Draft Lottery?
Because while I mean no disrespect to the people of Cleveland, who I'm sure are a fine people and a spiritual people, Cleveland should not be winning this lottery.
Last week, we offered a Grizzlies-centric lottery preview that purported to tell you everything you wanted to know (and more) about tonight's draft lottery, which begins broadcast at 7:30 p.m. on ESPN.
One avenue I neglected to go down: The forces of fairness that would impact the results were the basketball gods actually fair-minded. (Grizzlies fans would tell you they have been innocents in the hands of angry draft lottery gods.)
The Cleveland Cavaliers -- among three teams with a 14 percent chance at the top pick tonight -- have won the draft lottery a record five times since it began in 1985: In 1986 (Brad Daugherty), 2003 (LeBron James), 2011 (Kyrie Irving), 2013 (Anthony Bennett) and 2015 (Andrew Wiggins).
That's enough for you, Cleveland. No more.
The next most frequent winners -- the Orlando Magic and Los Angeles Clippers, with three each -- are not in this year's lottery. But of the 14 teams who could land the top pick tonight, nine have won the lottery before, including double winners the 76ers, Wizards and Bulls. Three others have had top overall picks in the modern era, pre-lottery: The Atlanta Hawks (1975, David Thompson), Dallas Mavericks (1981, Mark Aguirre), and Los Angeles Lakers (1979, Magic Johnson and 1982, James Worthy).
Only two of the 14 teams have never picked #1: The Miami Heat (1% chance) and Memphis Grizzlies (6%).
Sure, it's been 34 years since the Knicks, the team with the worst record in the NBA last season, won the first lottery, and 44 years since the Hawks, also better odds than the Grizzlies, had the top pick. But I'd still say the home team is due.
We'll know later tonight. Read that earlier piece if you haven't already for lots more lottery info. The most likely individual scenario tonight is that the Grizzlies get pushed back and send their pick to Boston. But overall, the team has about a 56% chance of keeping its pick, whether that's #1-#4 or #8.
Pelton's rankings and other lottery links
I've long been a fan of ESPN's Kevin Pelton, who was a guest on our Grizzlies Podcast back before the trade deadline. Pelton's annual draft rankings, which equally balance his own statistical projections with ESPN's traditional scouting rankings, are up, at least for college prospects. (International prospects will likely be added to the mix closer to the draft.) You'll have to be an ESPN+ subscriber to read the whole piece, but I'll share Pelton's rankings through #8, the lowest pick the Grizzlies might have:
Zion Williamson
Ja Morant
RJ Barrett
Darius Garland
Cam Reddish
Bol Bol
Jarrett Culver
Chuma Okeke
Auburn forward Okeke is the wild card here. The traditional scouting rankings have him at #41, while Pelton's statistical projections have him at #3. Okeke was great in the NCAA tournament before he tore his ACL late in Auburn's Final Four run. That injury probably cost him a chance at being a first-round pick. File his name in the sleeper file. Ninth on the list is another outlier of particular local interest: Memphis product (and former University of Memphis player) Dedric Lawson, who is #44 on the scouting list but #5 on Pelton's statistical projections.
Related: ESPN's updated mock draft now has North Carolina guard Coby White up to the Grizzlies pre-lottery slot at #8.
The quiet coaching search
Things have grown quiet in recent days on the Grizzlies coaching front, and it now seems near-certain that a hire will wait until after the lottery.
The Grizzlies' job appeared to be the only open one in the NBA. Two other remaining open jobs were filled in recent days: Former Indiana and Orlando coach Frank Vogel being hired by the Lakers and University of Michigan coach John Beilein hired Monday to coach the Cleveland Cavaliers. They join Luke Walton (fired by the Lakers and immediately hired by the Sacramento Kings) and Monty Williams (previously head coach in New Orleans, now the top man in Phoenix) among new head coaches.
It had been pretty widely assumed that Ryan Saunders, who finished the season as Minnesota's interim head coach, would be retaining that job. But it was reported Tuesday morning that Gersson Rosas, Minnesota's new lead executive, is opening the job to other candidates. Saunders will be a candidate, but so will assistants Juwan Howard (Miami) and David Vanterpool (Portland).
While the 66-year-old Beilein isn't a former NBA head coach, he's got extensive head coaching experience at the college level. That means none of the jobs filled so far this offseason have gone to the kind of mostly unproven assistants that have marked recent Grizzlies hires and most of the names so-far associated with the Grizzlies' pursuit.
But maybe the Grizzlies have candidates we haven't found out about? What was most notable about the Beilein hire from a Grizzlies perspective was that he had not been reported as a candidate (unless I missed something) until he was hired. I suspect the Grizzlies list of candidates -- and very likely interviewees -- is longer than we currently know.
Another local note on the Beilein hire in Cleveland: Recent Grizzlies head coach J.B. Bickerstaff is rumored as a strong candidate to join Beilein's staff as "associate head coach," the same role Bickerstaff had in Memphis under David Fizdale.
Playoff notes
The conference finals start tonight with Portland at Golden State in the West, Toronto at Milwaukee following in the East on Wednesday. Some quick thoughts on each series, starting in the East, which carries more local intrigue.
Milwaukee-Toronto: We're getting our Gasol Brothers Conference Finals, only Pau, on the Bucks roster, won't be playing after having the same foot surgery little brother Marc had a few years ago. Pau probably wouldn't have been in the Bucks rotation anyway, and at 38 facing major foot surgery, you wonder if he's played his final game.
As for Marc, he averaged a 9-6-3 stat line in the Raptors' seven-game series against Philly and the bet here is he's either more productive against Milwaukee or he's playing less. And it might be both.
Gasol's positional defense was crucial against Philly, where he matched up with behemoth Joel Embiid. For Milwaukee, center Brook Lopez has been eighth in scoring and fifth in minutes in the playoffs, and when he does play he's mostly a three-point shooter.
Toronto trended toward big lineups against Philly over the course of the series, going against the recent playoff grain. They closed out game seven with a super-sized lineup of Kyle Lowry-Kawhi Leonard-Pascal Siakam-Serge Ibaka-Marc Gasol. It could instead flip the other way against Milwaukee, where wing Danny Green and reserve guard Fred Van Vleet need to be bigger factors and Ibaka might be the better center match up as the Bucks go smaller make superstar forward Giannis Antetokounmpo a kind of de facto center.
Every indicator -- including won-loss record -- would tell you that Milwaukee has been the best team in the NBA all season. They also have home court advantage and the presumptive league MVP. Toronto was my pick to come out of the East when the playoffs began, but even though they've made it this far, their shaky performance against Philly gives pause. In that series, the Raptors' third-seventh options on offense combined for 41 points a game. They can't expect Leonard to carry them through another series. They need better balance.
Golden State-Portland: With both Gasols and Lowry on the East rosters, there's a lot of former Grizzly action there. In the West? Who remembers that backup Portland guard Seth Curry had a cup of coffee with Memphis early in his career?
The playoff bracket in the West shaped up as a kind of winner's/loser's bracket, and it feels like the Warriors really won the West when they held off Houston. Still, they're more vulnerable than usual. Kevin Durant will miss Game 1, at least, and Portland should probably steal that game if they want to have a chance at an upset.
Most notable about the series: The two splashiest backcourts in the league are squaring off. Table that for later consideration.
Citizen Conley
Mike Conley has been selected as a finalist for the J. Walter Kennedy Citizenship Award for "outstanding and dedication to the community." The other finalists this season: Charlotte Hornets center Bismack Biyombo, Phoenix Suns guard Devin Booker, Golden State Warriors head coach Steve Kerr and Portland Trail Blazers guard Damian Lillard.
Sure, why not?
Zach Randolph appreciation post ?? pic.twitter.com/87wFOvWAF7

— SLAM Rewind (@SLAMRewind) May 13, 2019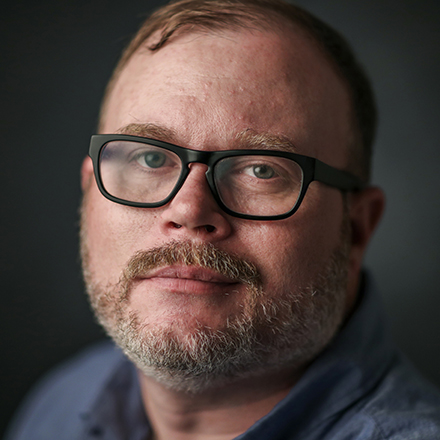 Chris Herrington
Chris Herrington covers the Memphis Grizzlies and writes about Memphis culture, food, and civic life. He lives in the Vollentine-Evergreen neighborhood of Midtown with his wife, two kids, and two dogs.
---