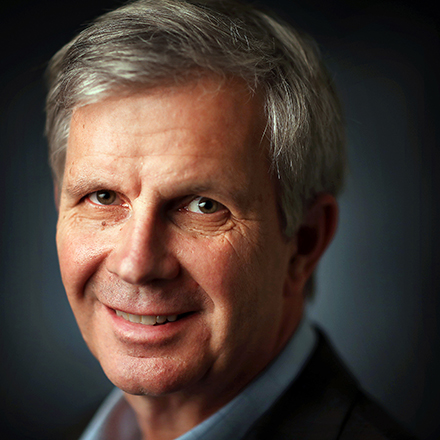 Geoff Calkins
Geoff Calkins has been chronicling Memphis and Memphis sports for more than two decades. He is host of "The Geoff Calkins Show" from 9-11 a.m. M-F on 92.9 FM. Calkins has been named the best sports columnist in the country five times by the Associated Press sports editors, but still figures his best columns are about the people who make Memphis what it is.
Chapter Six: Why the Penny Hardaway bobblehead means so much
At precisely 11:42 a.m. Saturday, the Memphis Tigers ran out of Penny Hardaway bobbleheads.
One of the dozens of employees who had been tasked with handing them out flipped over two open cardboard boxes, to show the crowds that, no, there were no more bobbleheads to be had.
"It's like Black Friday," she said.
But much, much happier.
The Memphis Tigers won two games this week, handily dispatching South Dakota State on Tuesday (88-80) and then routing UAB on Saturday (94-76).
In the process, they showed the kind of improvement that gives fans hope for the season to come. Isaiah Maurice looked much better. Kyvon Davenport looked much better. Alex Lomax looked much better. Jeremiah Martin looked much better. 
But the lasting memory of the week – if only because it will be preserved on mantles and on bookshelves and in memorabilia collections all across the city– may be the mania over the Penny Hardaway bobblehead.
Or, I should say, the latest Penny Hardaway bobblehead. There have been others, of course. 
Right now, on eBay, you can find bobbleheads of Hardaway in an Orlando Magic uniform and in a Phoenix Suns uniform and in a Memphis State uniform. 
But this one is different than all those.
"I've had bobbleheads before, of course, but not in a suit," Hardaway said. "I'm going to cherish this one. Everything that's going on this year, I'm definitely going to cherish." 
Hardaway seemed genuinely moved when he said this. As if this particular bobblehead represented a new and unexpected second act in his life. For as long as he can remember, he knew he'd be a basketball star. But the coach of the Tigers? The successor to Gene Bartow and Larry Finch?
Hardaway never expected that.
Editor's note: As Penny Hardaway begins his first year as coach of the University of Memphis Tigers, Geoff Calkins is going to write the book.

That's right, a book. Written in chapters, with a new chapter arriving every Monday, Calkins will capture all the anticipation, the excitement and the challenges of the season.

He'll explore what Hardaway and Memphis basketball mean to the city and the people who call it home.

It'll be the definitive chronicle of the return of an NBA icon, as he tries to restore the basketball program he loves.
That's why he's keeping this bobblehead even though he said he doesn't have any of the bobbleheads that came before. This one is surprising – even humbling – in a way that those were not.
The bobbleheads themselves were supplied by Tiger Promotions, which was commissioned to provide them back in June.
"It involves finding the best pictures possible that would work for the sculptors," said Lee Raney, the sales director for Tiger Promotions. "And then, 15 or 20 revisions later, it's done.
"We knew we couldn't screw up Penny. We did the Stephen Gostkowski bobblehead, that was easier. Just make it look like Gostkowski and you're fine. But this one was stressful. Because you can't mess up Penny in this town."
The bobbleheads are actually produced in China. The sculptors send photos of their work as it proceeds.
"They did a clay model first, with no color at all," Raney said. "Then they painted one. The first thing was the hair. He was bald. It looked really bad. That was the first revision. Then we tweaked his eyes a little bit. The suit was pretty much on point the whole time."
Hardaway himself approved the final design. But it was still all by photo. The finished bobbleheads didn't arrive until last week.
"The waiting is terrifying," Raney said. "What if it's wrong? I had a pit in my stomach all of last week. It's nerve-wracking. It's a lot of risk and not a lot of reward unless it's perfect."
Raney finally got his hands on an actual bobblehead Tuesday. 
His reaction?
"THANK GOD," he said.
So then it was just a matter of distributing the bobbleheads to the first 7,500 fans, and, OK, let's stop to consider that number as a representation of how the program has been transformed.
There wasn't a single game last year that drew 7,500 fans. You would have had to combine the crowds from the Mercer (2,771), Samford (3,143) and Bryant (3,015) games to give away 7,500 bobbleheads.
Saturday, the Tigers ran out of bobbleheads 20 minutes before the tip.
People started to line up an hour and a half before the doors opened at 11 a.m. When I asked why, I got the same answer from nearly everyone. 
"Because it's Penny.
"Because it's Penny.
"Because it's Penny.
"Because it's Penny."
What more explanation does one really need?
When the doors finally did open, you should have seen how fast those bobbleheads went. Former Memphis player Austin Nichols came through and got a bobblehead. So did Congressman Steve Cohen. So did Linda Case, a Memphis fan with a story to tell.
Case started at Memphis State the same year as Larry Finch. She was so excited about the hiring of Hardaway, she went to his opening press conference.
Later that same week, Case was diagnosed with cancer. She sat next to Karim Sameh Azab when she was getting some of her treatments.
"I told him he was going to be coached by a great man," she said. "I'm heartbroken Karim is no longer here."
---
Geoff Calkins chronicles Season One with Penny Hardaway
---
Case has been told her cancer is in remission. She's immeasurably grateful for that. And if the presence of Hardaway as coach at Memphis seems like a small thing compared to matters of life and death, Case will tell you it's all connected in a way. 
Hardaway represents the future to Case, he represents promising tomorrows she plans to see. So of course she claimed her very own bobblehead. The first one of Hardaway in a suit.  
"It's been a hard year but I think we have a lot of things to look forward to," she said.
Inside its box, the bobblehead was doubtless nodding right along. 
---