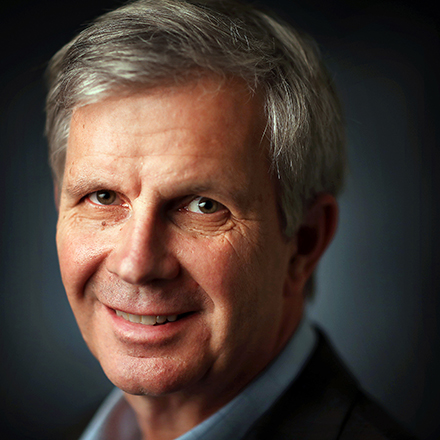 Geoff Calkins
Geoff Calkins has been chronicling Memphis and Memphis sports for more than two decades. He is host of "The Geoff Calkins Show" from 9-11 a.m. M-F on 92.9 FM. Calkins has been named the best sports columnist in the country five times by the Associated Press sports editors, but still figures his best columns are about the people who make Memphis what it is.
Chapter Two: How Penny Hardaway proved the skeptics wrong – and a university president right
Penny Hardaway's final assignment at the University of Memphis – the final assignment before he could get his degree – was a paper on Martin Luther King Jr.'s "Letter from Birmingham Jail."
He got an A.
Of course he did.
"He was an excellent student," said Gina Pickens, the former academic adviser for Memphis football and basketball.  "He wanted to prove to people he could do it, you know?"
Hardaway won his first game as head coach of the Memphis Tigers Tuesday night at FedExForum, as the Tigers defeated Tennessee Tech, 76-61. It was a magnificent night for the program, a family reunion and a civic celebration all wrapped up in one raucous event. It felt exactly like Memphis basketball is supposed to feel. After it was done, Hardaway explained that the game ball – which he carried with him from interview to interview, always keeping it close – was particularly meaningful because "I never really envisioned me being a college coach." 
Editor's note: As Penny Hardaway begins his first year as coach of the University of Memphis Tigers, Geoff Calkins is going to write the book.

That's right, a book. Written in chapters, with a new chapter arriving every Monday, Calkins will capture all the anticipation, the excitement and the challenges of the season.

He'll explore what Hardaway and Memphis basketball mean to the city and the people who call it home.

It'll be the definitive chronicle of the return of an NBA icon, as he tries to restore the basketball program he loves.
And why would he have?
Now that Hardaway is the head coach at Memphis, now that he seems to fit the role so perfectly, it feels almost inevitable that he would get the job. But it was anything but inevitable. It required a series of circumstances that – considered together – seem almost absurdly farfetched.
It required that Hardaway move back to Memphis after his NBA career ended, although he could have lived anywhere in the world.
It required that Hardaway not have quite the NBA career he seemed destined to have, so he would be driven to achieve even more.
It required that his buddy, Desmond Merriweather, ask him to help coach the Lester Middle School team.
It required that Hardaway take to coaching, that he enjoy it enough to make it an ever larger part of his life.
It required that he start an AAU team, and ascend to the head coaching job at East High School, and win multiple state championships.
It required that Merriweather – before he died of cancer – put the vision of coaching at Memphis in Hardaway's head.
It required that Tubby Smith flop so badly as Memphis coach that he was fired just two years into the job.
And way back before all that, nearly three decades ago, it required that a university president take a chance on Hardaway and that Hardaway take a chance on himself.
---
Calkins: Chapter One: The second Penny Hardaway era begins at Memphis
---
In the summer of 1990, Hardaway's sisyphean effort to get a qualifying score on the ACT was headline news. 
"Memphis State basketball coach Larry Finch said he will announce today whether prized basketball signee Anfernee Hardaway of Treadwell High is academically ineligible to play for the Tigers as a freshman," wrote Lynn Zinser, of The Commercial Appeal, on July 12 of that year.
Hardaway had already taken the ACT four times in an attempt to get a minimum score of 18. He would do no better on the fifth. Not only that, because Hardaway didn't have a 2.0 GPA in high school, he would require a presidential exception just to be admitted to the school under the NCAA program known as Prop 48, which would require him to pay his own way, sit out a year and not even practice with the team.
The entire episode highlights the built-in cultural biases of standardized tests, not to mention the longstanding absurdity of NCAA  rules. But on Aug. 23, 1990, Dr. Thomas Carpenter, the university president, granted Hardaway the exception.
"They feel he is a young man worth working on," Carpenter said. "I decided he'd be worth the risk."
Hardaway still had to decide if he'd rather just go play at San Jacinto Junior College, where he wouldn't have to endure the frustration and ignominy of sitting out the year.
"San Jac coaches keep calling me," Hardaway said, at the time. "I've told them I'm going to Memphis State."
Enter Pickens, the ebullient and efficient academic adviser, who had guided Billy Smith and Anthony Douglas through the Prop 48 process the year before.
"Ms. Pickens played a humongous role," Hardaway said, after the Tennessee Tech win. "She kind of calmed me down and helped me understand it was time to buckle down on things."
The year would not be an easy one. Some Memphians sent letters complaining about the university lowering its standards for an athlete.
"There are people who didn't graduate from high school, people doing drugs on the street telling me I'm dumb,'' Hardaway said. "You've got to be kidding me.''
Every day, Hardaway would walk with his teammates to practice, then veer off to the academic center instead of the gym.
"That way he didn't have to be alone in his room when they were practicing," Pickens said. "I think he was really determined. He wanted to prove Dr. Carpenter right. He wanted to prove to the skeptics that they got the wrong guy."
Hardaway had the highest GPA on the team both years he played at Memphis. He made the Dean's List his second season, before leaving for the NBA.
And then he kept working at it, even as he accumulated fame and riches, finishing that paper on "Letter from Birmingham Jail" in time to walk across the stage at the Pyramid and accept his diploma in May of 2003.
"He obviously didn't have to do it," Pickens said. "He made plenty of money in the NBA. But it's something he thought he should do. Something he felt he owed the people he loved and owed himself, too."
It's not unlike Hardaway's decision to take the Memphis job, in that respect. He certainly doesn't need the cash. He could spend the rest of his life playing golf and selling sneakers. He doesn't have to be sitting in high school gyms wooing 17-year-old kids.
But that is not how Hardaway is wired. It's not how he was wired three decades ago, and it's not how he's wired today.
Pickens, 66, understands this as keenly as anyone. She eventually left the university to return to high school teaching and retired from Ridgeway High School after suffering a stroke last January.
Hardaway called her after the stroke. He's kept in constant touch all these years. 
"He calls me Ms. P," Pickens said.
And she calls him?
"I'm not going to tell you," Pickens said. "That's for us."
But Pickens marvels at the way things have have turned out, at the symmetry of Hardaway's return. Then he arrived in ignominy. Now he arrives in triumph. Then he wanted to prove he could flourish as a student. Now he wants to prove he can flourish as a coach. 
But none of this was inevitable. It was the product of circumstance and of relationships and of Hardaway's unyielding drive.  
"They feel he is a young man worth working on," is how Carpenter put it.
That young man – now the leader of the program – is still at it, proving them right.
---