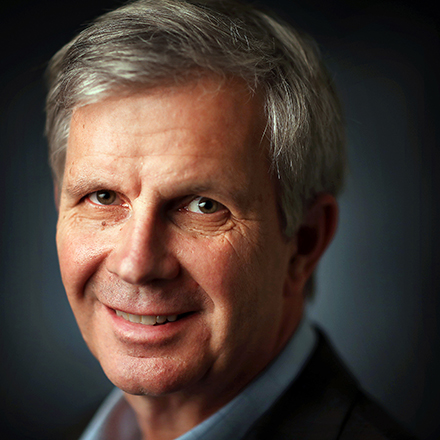 Geoff Calkins
Geoff Calkins has been chronicling Memphis and Memphis sports for more than two decades. He is host of "The Geoff Calkins Show" from 9-11 a.m. M-F on 92.9 FM. Calkins has been named the best sports columnist in the country five times by the Associated Press sports editors, but still figures his best columns are about the people who make Memphis what it is.
Chapter Four: Penny Hardaway has his greatest triumph – then frets about being a laughingstock
ORLANDO – Just a few days earlier, Penny Hardaway had been sitting along the baseline at the Landers Center, watching three gifted recruits light up the court.
Malcolm Dandridge, DJ Jeffries and James Wiseman drew nearly 5,000 fans to the arena for a high school game. That's more actual fans than the Memphis Tigers averaged the previous year at FedExForum. Three thousand of the fans at the Landers Center bought tickets after Wiseman — the top-rated recruit in the country — announced his commitment to Memphis earlier in the day. 
It was a day of extraordinary promise. It was everything Memphians had dreamed about the Hardaway era, coming true.
But now Hardaway was sitting at a lectern in Orlando, in the wake of a second dispiriting loss in four days, this time to College of Charleston, 78-75.
"I'm all in for this year," Hardaway said. "I don't want to be a laughingstock."
It was an astonishing thing for the head coach to say. But it was revealing, too. Because even in the wake of his greatest triumph as a basketball coach – winning a recruiting battle with Kentucky's John Calipari for the best player in the country – Hardaway's pride and competitiveness came spilling out.
He will not let his team be a laughingstock.
He will not let himself be a laughingstock.
Even though nobody had even suggested either might be a laughingstock. That was Hardaway projecting, and reacting bitterly to defeat.
"I knew there were going to be some ups and downs," he said. "It's just the downs hurt so bad. I don't believe in moral victories. I don't believe in `Hey, wait until next year.'"
Which is understandable, and the only thing a coach should say, but not consistent with reality. 
Editor's note: As Penny Hardaway begins his first year as coach of the University of Memphis Tigers, Geoff Calkins is going to write the book.

That's right, a book. Written in chapters, with a new chapter arriving every Monday, Calkins will capture all the anticipation, the excitement and the challenges of the season.

He'll explore what Hardaway and Memphis basketball mean to the city and the people who call it home.

It'll be the definitive chronicle of the return of an NBA icon, as he tries to restore the basketball program he loves.
The week of Thanksgiving 2018 included Memphis getting smashed by Oklahoma State, Memphis struggling to beat Canisius and Memphis losing to College of Charleston. But it will not be remembered for any of that. It will be remembered as the week that a 7-foot athletic wonder named James Wiseman reached into a black garbage sack and pulled out a stuffed unicorn wearing a blue Memphis band around its waist. It will be remembered as the week that Hardaway out-recruited the best recruiter in the country. It will be remembered as karmic payback for all those recruits that were once bound for Memphis but wound up in Lexington instead. 
The history of Memphis basketball has turned on a handful of critical recruiting decisions. The decisions of Larry Finch and Ronnie Robinson. The decision (however incentivized) of Keith Lee. The decision of Hardaway himself. The decision of Derrick Rose. If those players had decided differently, Memphis basketball would not be Memphis basketball. Wiseman's decision to attend Memphis could turn out to be as significant as those. 
Wiseman decided via unicorn because he is considered a basketball unicorn, both magical and rare. He is freakishly tall and athletic but has the touch to shoot from beyond the 3-point line. 
"He reminds me of Kevin Garnett," said Jeremy Whitten, one of the Memphis fans who drove down to the Landers Center to see Wiseman's East team play Olive Branch. "He has the potential of a Kevin Garnett."
---
Geoff Calkins chronicles Season One with Penny Hardaway
---
The idea that a first-year head coach could sail in and take Wiseman away from Kentucky is testament to the persuasive power of Hardaway. This is a school whose previous coach told the fans that Memphis kids didn't want to play for Memphis any longer. The arrival of Wiseman, Jeffries, Dandridge and whomever else might be added to the class will elevate Memphis into the upper echelon of college basketball.
And yet, none of that will make it easy for Hardaway to accept getting blown out by Oklahoma State and losing to College of Charleston. It's a curious phenomenon. Memphis fans — or most of them — will likely be able to take a broader view than their head coach. They understand that the addition of Wiseman is far more important than any win or loss this season. But Hardaway has to live those wins and losses, has to endure the frustration and futility.
Memphis lost to Oklahoma State, 84-64.
"I don't think I've ever lost by 20," Hardaway said. "It's really weird."
Hardaway's teams in middle school, high school and AAU were always stacked with superior talent. So this is new territory for the coach.
After the Oklahoma State loss, Hardaway blasted his own coaching in a way that neither of his predecessors ever would. After the College of Charleston loss, he touched on many of the same themes.
"We have to be more serious overall, as a group," he said. "I put all this on my back. I have to continue do a better job of developing the freshmen and getting these seniors ready to play."
It's easy to question various of Hardaway's decisions, if you are of a mind. Why is Alex Lomax – who has been struggling – on the court in the final minutes?  Why is the defense so consistently inept?
But the reality is this: Hardaway is trying to win with a mix of true freshmen and junior college players. He is – and he admits this right up front – learning on the job. And he's doing it under the sort of scrutiny most first-year coaches don't receive. There are still plenty of people who would revel in Hardaway's failure. There are plenty who will be quick to say that Hardaway "can't coach." Indeed, during the broadcast of the Memphis-College of Charleston game, ESPN's Tim Welsh went out of his way to praise Hardaway's predecessor, Tubby Smith.
None of those pressures are going to go away this season. Especially as the early losses accumulate. 
But this was not a bad week for Hardaway and Memphis. This was a transformational week for Hardaway and Memphis. The coach can't say it, but everyone else understands.
Wait until next year.
---