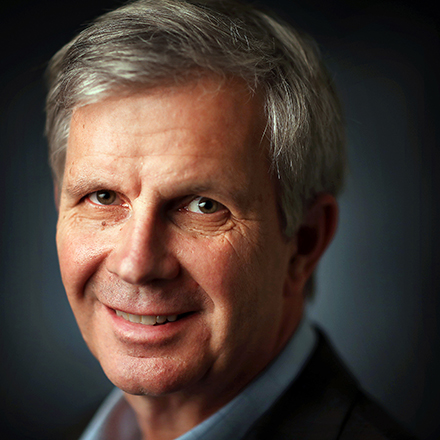 Geoff Calkins
Geoff Calkins has been chronicling Memphis and Memphis sports for more than two decades. He is host of "The Geoff Calkins Show" from 9-11 a.m. M-F on 92.9 FM. Calkins has been named the best sports columnist in the country five times by the Associated Press sports editors, but still figures his best columns are about the people who make Memphis what it is.
Chapter Eight: In 2018, Penny Hardaway changed everything
As soon as he heard the news, Rudy Martin knew he had to go to the game. So he called a buddy and made his pitch.
"I just told him that James Wiseman had committed to Memphis and would be playing at the Landers Center," said Martin, 64. "So here we are."
I happened to bump into Martin in the concourse that night. I was talking to fans – there were nearly 5,000 of them – who made the trip to watch a high school game. I even included a quote from Martin in my column from the event.
The next day, I got a gracious E-mail from him, thanking me for the brief conversation.
"On a personal note, I am battling cancer," he wrote. "Frankly, it's a one-side battle. No sob story here though – it's just my time."
I wrote Martin a return E-mail. We subsequently talked on the phone.
He told me that he was actually born in Cuba. That he was one of the 14,000 Cuban children flown to the United States in the early 1960s – without their parents – as a part of what was called Operation Peter Pan. 
He told me about the Memphis family that took him in until his parents could slip out of Cuba. He told me about becoming a fan of what was then Memphis State basketball. He told me about getting a music scholarship to play in the Mighty Sound of the South.
He told me about going to classes with Dexter Reed, about finishing school and building a life in his adopted city, about getting married and having two daughters and working for First Tennessee.
Then Martin told me about his cancer. 
"Well, honestly, my diagnosis is not good," he said. "It's a tumor they found in my colon that is normally found in the lung. What I have, there's no cure for."
---
Geoff Calkins chronicles Season One with Penny Hardaway
---
OK, then why did he take the time to drive to the Landers Center to watch a high school basketball game? What was the thought behind that?
"I'm at peace with everything," Martin told me. "My faith has been strengthened through all of this. But I'm a wuss at heart. I love my wife. I want to grow old with her. I want to walk my daughter down the aisle when she gets married.
"And this isn't the biggest thing on the list but I want to see Penny win a championship. In my heart, I think he will. It may take four or five years but I think he'll win one, I really do.
"I'm just so excited about Penny and the program. I wanted to see James Wiseman for myself. I figured, I'm probably not going to be here to see him play for the Tigers, but I wanted to get a look at what's down the road."
What a difference a year makes
It has been a transformative year for Memphis basketball, a year that could scarcely have been imagined 365 days ago. 
On Dec. 31, 2017, Memphis lost to Cincinnati, 82-48. It was the worst loss in the 75-game history of the series. The Tigers scored 16 points in the first half. In the wake of the loss, a petition popped up on change.org asking Memphis to "Fire Tubby Smith, please."
Shockingly, Memphis did.
University president David Rudd mustered the nerve – and the required cash – to replace Smith with Memphis icon Penny Hardaway.
So on Dec. 31, 2018, every single aspect of the program is better than a year ago. Season ticket sales have nearly tripled. The built-on-the-fly roster has wins over two teams (South Dakota State and Yale) ranked in the top 100 at KenPom.com. Memphis has scored 90 or more points in five straight games, the first time that has happened since 1975-1976, when Martin was in the Memphis State band.
In the meantime, Hardaway's recruiting has been – if this is possible – even more effective than Memphis fans dared dream. He somehow landed both Alex Lomax and Tyler Harris. He persuaded DJ Jeffries to decommit from Kentucky, the first time a player had done that since John Calipari arrived in Lexington. Then Hardaway secured a commitment from Wiseman, the No. 1 player in the country, and a player who has the potential to change the trajectory of the Memphis program.
Hardaway has been so impressive that even those who want him to fail as a result of their misplaced loyalty to Smith have a hard time coming up with legitimate criticisms. The best example of this is ESPN's Dan Dakich, who never made the NCAA Tournament in 10 seasons as head coach at Bowling Green but blasted Hardaway and assistant coach Mike Miller in a recent podcast because, well, they wore sweats on a recruiting trip. 
"I'm not surprised by anything coming out of Memphis," Dakich said. "When they got the job they were in sweats and they were in a private plane looking like two little kids trying to play coach."
It was a comment that epitomized exactly the sort of resentment some outsiders have toward Hardaway. It's not grounded in anything substantive because – at least up until this point – there is very little of substance to criticize. Hardaway dresses differently than other college coaches. He sometimes wears a flat-brimmed hat. He tends to speak directly and honestly. He wears sweats on a private plane. Mind you, nearly every coach at a big-time program uses private planes to recruit, and nearly every coach at any-sized program wears sweats. But Hardaway took a photo and posted it on social media. Maybe that's what angered Dakich. Hardaway appeared to be having fun.
None of this means that 2019 won't bring fresh challenges or that Hardaway won't ultimately generate legitimate criticism. Indeed, as Memphis prepares to embark on conference play, it's hard to know how good or bad the team really is. Memphis has won every game it has been picked to win. It has lost every game it has been picked to lose. The Tigers can be blisteringly effective offensively but stunningly porous defensively. Take Saturday's game against Florida A&M, a team that is ranked No. 340 at KenPom.com. Yes, Memphis scored 57 points in the second half to win 96-65. But Memphis also allowed Florida A&M to shoot 50 percent from the field and 47 percent from deep. 
After the game, I asked Jeremiah Martin if the team had established an identity.
"We're still trying to find it, I can't say right now," Martin said. "You'll be able to tell when y'all see it."
Hardaway had a clearer answer to the same question. He said, "We play hard." And that's absolutely true. The team does play hard. But is it sufficiently cohesive? Is it sufficiently disciplined? Will playing hard be enough to flourish in the American Athletic Conference? We're about to find out.
But this first season has never been about wins and losses, as convenient as that may be to say. It is about a community falling back in love with a basketball program. About a coach who understands what that means. 
Exactly a year ago, when my colleague Don Wade asked Smith why attendance was so pathetic, Smith said, "Scheduling. The days we schedule. We've had four Tuesday games. We have to wait for the NBA schedule to come out ... and you don't want to play on Tuesdays, because that's when high school teams play." 
Memphis has played two Tuesday home games this year, against Tennessee Tech and South Dakota State. Average attendance in those two games: 14,407.
Editor's note: As Penny Hardaway begins his first year as coach of the University of Memphis Tigers, Geoff Calkins is going to write the book.

That's right, a book. Written in chapters, with a new chapter arriving every Monday, Calkins will capture all the anticipation, the excitement and the challenges of the season.

He'll explore what Hardaway and Memphis basketball mean to the city and the people who call it home.

It'll be the definitive chronicle of the return of an NBA icon, as he tries to restore the basketball program he loves.
But it's not just the number of people pouring back into the building. It's the way those people feel. Smith went out of his way to tell fans that times have changed, that Memphis basketball isn't so special any more. Hardaway goes out of his way to tell fans that Memphis basketball has always been special and can be special again. And when Hardaway says this people tend to believe him because it is the story of his life.
That is why Memphians have responded with over-the-top giddiness. Why 2018 will be remembered as the year those two words – Memphis basketball – began to mean something again. 
"It's just been so much fun for me, over the years," Martin said. "I got to school the year after Larry (Finch) took Memphis to the Final Four. And Penny is such a sweetheart of a guy. I've met him a couple times because I volunteer as a marshal at the FedEx St. Jude golf tournament. Every time I would bump into him, he would talk to me. Penny doesn't have to do that. He doesn't have to coach. But he's doing it because he loves Memphis, the same way a lot of us do."
Martin had just gotten some bad news before we spoke on the phone. The tumors in his liver had grown.
"I thought it was time to throw in the towel," he said. "Then the doctor said he wanted to keep fighting and that kind of fired me up. We may be able to extend this. They can't give me a timetable, they don't know how long I'll live. But I'm just going to keep doing it as long as I can. So many wonderful things could happen. So many wonderful things."
---