Silver Bells delivers joy to homebound seniors
Alma Blankenship: 'Meritan is my godsend'
At age 85, Alma Blankenship lives in the Bartlett house she's called home for more than 50 years.
Generations of framed photos fill the tabletops. A Christmas tree with ornaments collected over the years shines from the living room window.   
In her later years, Alma developed lymphoma and blood disease. She rattles off the myriad doctors she sees each year: a kidney specialist, neurologist and dermatologist, to name a few.
When her husband of 61 years, Malford Allen Blankenship, died on his 89th birthday, Sept. 21, five years ago, her youngest son, James, 59, moved in.
"I live here with James," Alma said. "He does all the cooking, but I sit at the table and help chop celery or pickles. I can still come up to the stove and make what he calls a 'juicy egg.' He doesn't know how to make them over easy."  
For the past three years, Phyllis Taylor, 51, has come to visit twice a week.
Taylor has been a home health and homemaking services employee for 10 years at Meritan, a Memphis-based social services organization that delivers health and life services to vulnerable populations.
"I help with her bath and shower and put her hair up. I feel like a beautician sometimes," Taylor said. "Then, I clean up and just sit and talk with her."  
Sometimes they talk about church, but most of the time they talk about their grandchildren and great-grandchildren. Alma always wants to see pictures of Taylor's twin grandboys. They turned 10 months on Dec. 5.
"She sweeps and mops the floors and only vacuums where I go," Alma says of Taylor. "We talk sometimes more than we work."  
Each December, Taylor comes bearing Christmas gifts donated as part of Meritan's Silver Bells Holiday Gifts for Homebound Seniors initiative.
Started in 2004, each year local families go to the Meritan offices and pick a silver bell off a Christmas tree. The bell contains a wish list from a senior in need.
"While there were a lot of opportunities for children throughout the city, we recognized our seniors, who also have a lot of needs not just around the holidays but year-round, were forgotten at Christmas time," said Meritan president and CEO Melanie Keller. "We wanted to provide that same level of holiday cheer to the seniors in our community as well."  
Each year, Alma is grateful, of course, but also modest.
"I don't like people giving me gifts," she said. "I'd rather be the gift giver. There are so many who need it more than I do. I always say, 'Phyllis, give this to somebody else for me.'"
Alma has a reusable shopping bag stretched across the walker she uses to get around the house, where she keeps tissues and a notepad to keep up with the budget.
"If we don't save $200 to $300 a month, we're over budget," she said.
The 1,400 seniors Meritan helps each year make $600 to $800 a month, or less than $10,000 a year.
"When they are on a fixed income, they have to make a choice between paying their heating bill, buying a new blanket or even the laundry detergent to wash it," said Tammy Pierce, Meritan's associate vice president of development. "These are items we take for granted every day."
Last year, Alma got a new electric blanket, pajamas and candies and cookies. The pair of house shoes she got did not fit, but there's always a grandchild or two who could use some, she said.
In Alma's case, there are 13 grandchildren and eight great-grandchildren. 
"They have always been satisfactory," Alma said of the gifts. "I'm not a complainer."
This year, Alma's wish list consists of new bed sheets, new bath towels and a new house shoes to replace the ones that were a "mile too big." She's requested a white pair.
What's not on Alma's Christmas list? 
"I've never had a cell phone and I don't want one," she said. "I think that's the sin of all sins, whoever created those phones. Every time I try to talk to one of my grandkids, their heads are down in the phone." 
Other seniors are asking for bath robes, towels, dog food for their pets and even Depends.
"They aren't asking for frivolous items," Keller said.  
Others might ask for something they really want, but could never afford, like a vacuum or set of pots and pans.
"They'll be more excited than anything because some say that's the only gift they're going to receive," Taylor said. "I feel like it's important to them because it's Christmas and half of them don't have family members. We are their family, by us coming out and showing our appreciation, and they love it."
This year, Meritan will distribute donated gifts to about 600 seniors throughout Shelby County and North Mississippi.
More than 200 bells have yet to be claimed.
"A mother came in this week and adopted five Silver Bells to show her children the experience of giving is better than receiving," said Chessie Biggam, Meritan's development and communications coordinator.     
Keller has several friends who are participating this year who have lost their mothers or grandmothers.
"They don't have that person in their life to shop for any more," she said. "Silver Bells fills a void they have in their lives as well."
---
"I love working with the elderly. Sometime, you come to their place and speak to them, they rise up out of bed with a large smile on their face. You know you're doing something right. I feel like a person who feels appreciated will always do more than expected."
Phyllis Taylor, Meritan employee
---
Families and individuals aren't the only ones who participate.
First Tennessee Bank has committed to buying 65 gifts for homebound seniors this year, Medtronic is buying 30; Acuff & Associates is making a monetary donation; and Yuletide Office Solutions has volunteered to pick up the corporate donations.
In addition to Alma, Taylor helps take care of six other seniors, Monday through Friday.
"I love working with the elderly. Sometime, you come to their place and speak to them, they rise up out of bed with a large smile on their face," she said. "You know you're doing something right. I feel like a person who feels appreciated will always do more than expected."  
Alma teared up when she started to talk about the things she can no longer do independently.
"It's hard," she said. "I'd like to do my own housework, take a bath for myself and just take care of myself."    
In addition to Silver Bells, Meritan arranged for local employees of the Valero Memphis Refinery to come out and rake leaves in October as part of United Way's Day of Service.  
"Meritan is my godsend," Alma said. "I love my church, my family, and I thank God for everything I have."
Those wishing to donate to Silver Bells can come to the Meritan headquarters, 345 Adams Ave., Monday-Friday from 8:30 a.m. to 4:30 p.m. and select a bell on the Christmas tree. A bell can be requested via email at ChessieBiggam@Meritan.org.
Donated gifts need to be dropped off at the Meritan offices by Dec. 14 to arrive to seniors by Christmas.
For those who don't like to get out and shop, Meritan also has a Donate Now option at www.Meritan.org.
"Any bells that aren't adopted, we take a big shopping trip and buy for those who weren't," Keller said. "We also shop for needs that come up throughout the year."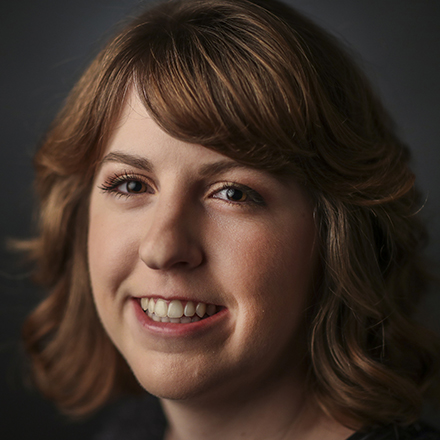 Michelle Corbet
Michelle Corbet covers business for The Daily Memphian. Prior to, she was a reporter at the Memphis Business Journal. A native Memphian and University of Memphis graduate, Michelle covered business in Conway, Arkansas after college. Michelle got her start covering business as an intern at The Commercial Appeal.
---